[이데일리 손의연 기자] David Beckham, a world famous star and legendary football player, has appeared as an advertising model promoting the 'Qatar 2022 World Cup'. Beckham also has many fans in Korea. Fans are in the mood to welcome Beckham's appearance during the World Cup season. Recently, Beckham is also showing his face as a global PR ambassador for the Italian luxury car brand Maserati.
David Beckham and the Maserati MC20 (Photo Credit = Maserati)
Maserati chose Beckham as its Global Ambassador last year and is collaborating with him. Beckham is famous with wealth and honor as he is an unprecedented football star. That's why they say they own a lot of expensive cars.
Representatively, he is known as a Cadillac Escalade enthusiast and owns several luxury car brands such as Mercedes-Benz, Ferrari, Porsche, Aston Martin, and Rolls-Royce.
Beckham has been attracting attention recently by riding a Maserati. Maserati unveiled the 'MC20 Poliserie Edition for David Beckham' in December last year. The vehicle was jointly designed by Beckham and the Maserati Design Centre. Beckham says he gave his feelings about Miami, his second hometown.
The MC20 is a model that has won 'the most beautiful sports car in the world' and is a strategic model that Maserati, which has a history of 108 years, has introduced to show change and innovation. The MC20 has a Nettuno (V6 3.0L) engine designed and produced independently by Maserati, and accelerates from a standstill to 100 km/h in 2.9 seconds. It also had an engine capable of reaching a top speed of 325 km/ha producing 630 horsepower.
In developing the MC20, Maserati spent more than 2,000 hours (1,000 times) simulating fluid dynamics so that drivers could feel a stable sense of speed. The 'butterfly door' which shows the sensibility of a sports car is also impressive.
The domestic price of the MC20 starts at 309 million won. Maserati also plans to introduce the super sports car 'MC20 Cello' with an open roof early next year in Korea. The electric folding glass roof can be opened and closed in 12 seconds at speeds of up to 50 km/h. Polymer Dispersed Liquid Crystal (PDLC) allows glass to be transformed into a transparent or opaque state. The body is made of light and rigid carbon fiber.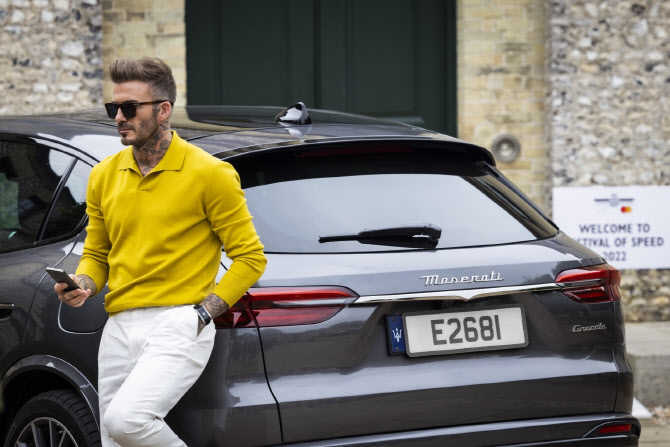 David Beckham and Maserati SUV Grecale (Photo Credit = Maserati)
Beckham recently appeared in Maserati's second sports utility vehicle (SUV) 'Grecale'. The Grecale is a mid-sized SUV that attracts attention as a successor to the Levante. The name of the car contains the meaning of 'powerful north-east wind of the Mediterranean'. Grecale brought much of the personality of the MC20, but is said to differ from the Levante.
Grecale is due to be delivered to customers in Korea early next year. In Korea, △GT version equipped with a 300hp mild hybrid engine △Modena version equipped with a 330hp mild hybrid engine △ High performance Trofeo version equipped with a 530hp V6 engine based on the Nettuno engine such as the MC20. It is released in eggplant trim and the price starts at 99 million won.
In the case of the Grecale Trofeo, it has a top speed of 285 km/h and a no-back performance in 3.8 seconds. Compared to the previous Maserati model, the interior is the biggest change. For the first time in the brand, a digital clock was applied instead of analog, and a digital screen and head-up display were installed to change the skin according to taste. With a 12.3-inch central display and an 8.8-inch comfort display, digital elements have greatly increased compared to the previous ones, improving customer convenience.