[로이슈 편도욱 기자]
◆Health store launches renewal of 'Lutein Vitamin α, good for eyes'
Health Bio Platform's health food brand 'Health Shop' renewed and introduced 'Lutein Vitamin α, which is good for eyes' with a new package. It has been upgraded to sevenberry concentrated powder with a fresh and sweet taste so that the whole family, from children to adults, can consume it without any burden.
Since 'Lutein Vitamin α good for eyes' contains 20 mg of lutein, you can easily consume the maximum recommended daily amount of lutein with just one sachet per day. In addition, it contains antioxidant nutrients such as vitamin C 550mg, which is 5.5 times the daily recommended amount of the Ministry of Food and Drug Safety, vitamin E, and selenium that protects cells from free radicals.
Marigold flower extract, commonly known as lutein, is a component that makes up the macula, which is responsible for central vision of the retina. It is an essential element that protects the eyesight of modern people who are exposed to PCs and smartphones for a long time from various factors and helps them to function normally.
A health store official said, "Lutein vitamin α, which is good for the eyes, is an easy-to-take powder type that can keep your eyes healthy anytime, anywhere, so it is expected to be a favorite holiday gift for all men and women, young and old, ahead of the Lunar New Year." "Recently, it was introduced through the crowdfunding platform Wadiz, and it has greatly exceeded the funding target and has received full support from consumers," he added.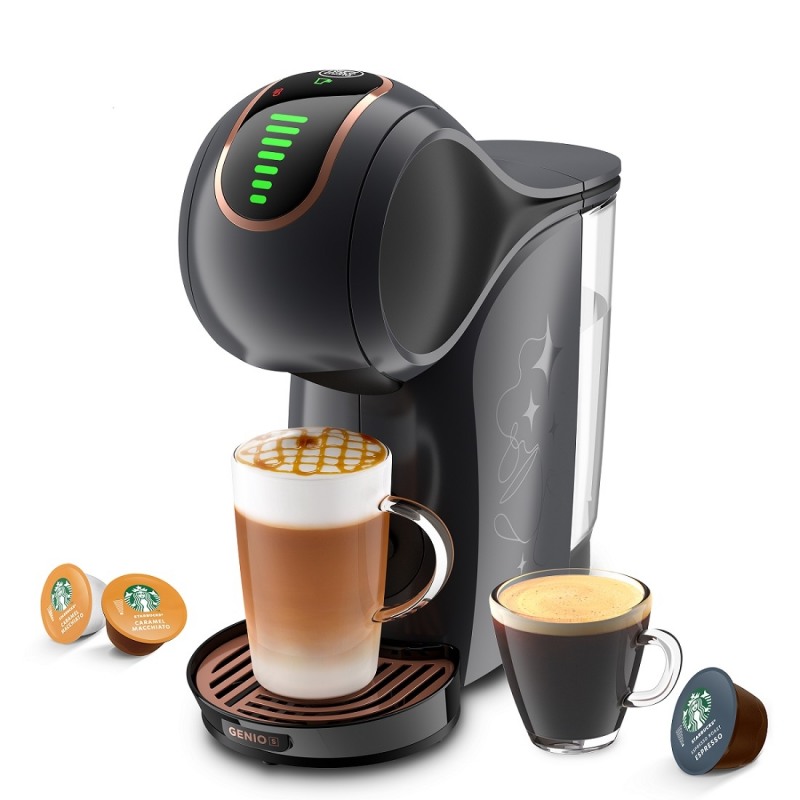 Nescafe Dolce Gusto launches limited edition 'Ginio S Star Bundle Pack'
Nescafe Dolce Gusto, a leading capsule coffee brand, is launching the 'Ginio S Star Bundle Pack' that allows you to enjoy Starbucks' special cafe experience at home. 'Ginio S Star Bundle Pack', which will be released as a limited edition in 2022, includes Nescafé Dolce Gusto's premium capsule coffee machine 'Zinio S Star', Starbucks Athome popular capsules, House Blend and Caramel Macchiato 2 types, and 2 Starbucks exclusive goods mugs. Dog, made up of white markers.
As the trend of home cafes accelerates, the demand for premium coffee to be enjoyed at home according to individual tastes is also increasing significantly. In line with this consumer trend, Nescafé Dolce Gusto, which has been leading the domestic home cafe culture, introduced the 'Ginio S Star Bundle Pack', which provides a coffee experience similar to that of a Starbucks cafe according to individual tastes at home.
The newly launched Nescafé Dolce Gusto 'Ginio S Star Bundle Pack' contains the warm heart of a barista who wants to experience the coffee enjoyed in a cafe at home based on the Starbucks brand value to share 'the joy of a cup of coffee'. To this end, two types of Starbucks at-home coffee capsules, which are loved in Korea, House Blend and Caramel Macchiato are provided together. In addition, you can freely write your own message on a Starbucks mug with the marker included in the bundle pack and decorate it as a mug with your own special story.
Nescafe Dolce Gusto is holding various online and offline events to commemorate the launch of 'Ginio S Star Bundle Pack'. On January 21st, the Genio S Star bundle pack sales event will be held through the 'Naver Brand Day' held at the Naver Smart Store. In particular, special Starbucks goods will also be introduced in the shopping live broadcast to commemorate the Naver Brand Day event. In addition, from January 10, you can meet the 'Ginio S Star Bundle Pack' at E-Mart stores nationwide.
In addition, through collaboration with YouTube creators, we plan to release various lifestyle contents that allow you to enjoy your home cafe more abundantly.
Wave, Harry Potter 20th Anniversary 'Return to Hogwarts' OTT Exclusive Release
Wave invites fans into a magical world with the release of a special retrospective to one of the most loved films of all time, the Harry Potter series.
The online video service wave (CEO Tae-hyun Lee) announced on the 10th that it would unveil 'Harry Potter 20th Anniversary: ​​Return to Hogwart' for the first time in Korea over OTT.
Harry Potter starring Daniel Radcliffe (Harry Potter), Rupert Grint (Ron Weasley), Emma Watson (Hermione), and other actors and crew, who are in their 30s, gather for the first time in 10 years to tell the story behind the eight-part series. .
'Harry Potter 20th Anniversary: ​​The Return to Hogwarts' visits the Hogwarts boarding school set, the setting for the Harry Potter series, to stimulate nostalgia, as well as interview behind-the-scenes casting and production.
Earlier, on December 28, Wave presented a four-part Harry Potter quiz show, 'Harry Potter: Hogwarts Tournament of Houses'.
In this quiz show hosted by actor Helen Mirren, Harry Potter fans are divided into teams of Hogwarts dormitory Gryffindor, Slytherin, Ravenclaw and Hufflepuff to compete for knowledge of the magical world. Tom Felton (Malfoy) and Shirley Henderson (Morning Myrtle) appeared as special guests, drawing attention.
By Do-wook Pyun, staff reporter toy1000@hanmail.net
<저작권자 © 로이슈, 무단 전재 및 재배포 금지>
.