Weibo capture of Korean insults
While China insists on Korean traditional culture such as Hanbok and Kimchi as its own culture, a picture of insulting Korea has recently been posted on Weibo, a Chinese version of the Twitter, leading to controversy.
According to Weibo on the 16th, a picture of a woman wearing a traditional Chinese costume'Hanpu', a Korean woman wearing a'Hanbok', and a Japanese woman wearing a'Kimono' are standing side by side.
The author said, "Don't blame the painting of hanbok for being ridiculous. I hope you think that creation is freedom."
When looking at the paintings, unlike Chinese and Japanese women in colorful and luxurious traditional clothes, the paintings of Korean women as if drooling in skirts and sandals in a colorless jeogori are particularly shabby.
In particular, the unusually short jacket and the color that seems to reveal a little bit of the chest is frowning. The Japanese woman next to him shouted, "Get on your clothes first."
Also, a Korean woman looks at the Chinese and asks, "Did you take the pretty clothes you are wearing from us?" As a result, the Chinese woman is showing a confused expression.
Chinese netizens who have seen the painting show reactions such as "100% accurate drawing", "a neat drawing font that comes in at a glance", and "recently, Koreans keep claiming Chinese culture as their own."
This post is constantly being shared in China, with more than 50,000 sympathies and 2,000 comments posted so far.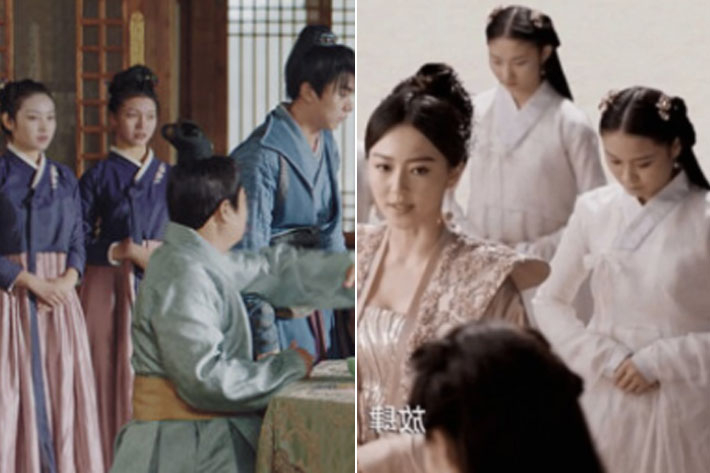 Screen capture of a Chinese historical drama drama'Suzhou Tea Manhaeng (少主且慢行)'
It's not just pictures. In the Chinese historical drama'Soju Cha Manhaeng', which aired in February of last year, only the actors who played the role of maids are wearing clothes close to Korean traditional clothes, from the shape of the sympathy of the jeogori to the location and direction of the clothes. .
In contrast, the protagonists in the play are dressed in traditional Chinese costumes, Hanfu.
Since last year, China has insisted that Hanbok, a traditional Korean costume, was worn during the Ming Dynasty in China, and has continued to distort through YouTube and SNS.
Accordingly, Korean netizens are responding to Chinese imperial claims with the message "Hanbok is a traditional Korean costume" by attaching hashtags such as'#Hanbok Challenge' and'#Korea_hanbok_challenge' around Instagram.