Fire scene – Weibo capture
On the 24th, a fire in a high-rise apartment building in Urumqi, the capital of the Xinjiang Uyghur Autonomous Province, killed 10 people and injured 9 others.
The problem is that the 'zero corona' policy has increased human casualties. Accordingly, the Wall Street Journal (WSJ) reported on the 26th (local time) that anti-zero corona protests are spreading in Xinjiang.
The reason for the great loss of life in this fire was that many vehicles were parked in the flat as residents were banned from going out under the zero-corona policy, and the fire engine was having difficulty large to enter the apartment.
In particular, it is known that the fire truck failed to extinguish the fire early because it took a long time to enter the apartment because barriers were placed in front of the apartment according to the zero corona policy, lead to casualties.
Scenes of firefighters struggling to enter the scene at the time of the fire were posted on Chinese social media such as Weibo.
The fire started at 7:49pm on the 24th and was extinguished in approximately 2 hours and 50 minutes. The fire authorities believe that the fire which started on the 15th floor has spread a lot of toxic gas in the process of spreading to the upper floors, leading to more casualties.
Intensive quarantine measures have been implemented throughout Urumqi, where the fire started, since the beginning of August this year.
As zero corona increases human casualties, protests against zero corona are spreading. On the 25th, several videos were posted on Chinese social media, showing residents shouting "zero corona lift".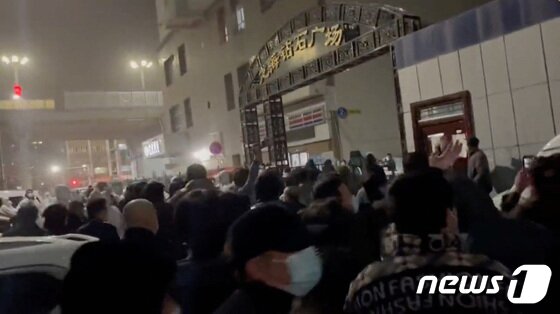 On the 25th, countless citizens hold an anti-zero corona protest in Urumqi, the capital of the Xinjiang Uyghur Autonomous Region. © Reuters=News1 © News Reporter1 Park Hyeong-gi
The WSJ reported that there were also 'rumours' that they had fired at the protesters.