A young security guard drives to pick up his girlfriend. Falling off the curve, jumping across the island in the middle of the restaurant died on the spot
On November 25, Pol. Lt. Col. Saifon Lakphet, Deputy Inspector General of Muang Suphan Buri Police Station was informed that There was an accident where the pick-up truck lost control over the island in the middle of the road and crashed into a restaurant. At the edge of Phai Khwang Road, Phai Khwang Subdistrict, Mueang District, Suphan Buri Province, 1 person died and 1 injured, so they rushed to check with a doctor on duty at Chao Phraya Yommarat Hospital. Rescue workers are always in Suphanburi.
at the scene Found a Mazda pickup truck, bronze color, registration plate on 7461 Bangkok. Destroyed condition, overturned, driver found dead Stuck in the car, 1 person, later known as Mr. Porn Somsri, 47 years old, worked as a security guard at a private hospital, body condition, broken neck, deformed right arm, died at the scene And found 1 injured woman, a customer who was waiting to buy food at an a la carte shop. The officers took them to the hospital.
From the question of eyewitness Mr. Sane Chuchuen, owner of a pet food shop At the scene of the accident, said that at first he was sitting inside the shop. going to store There was a loud bang. The front of the house was shocked, so he hurriedly got up and back. After a while, I heard a loud noise again. When I came out, I saw a pickup truck across the road crashing into an a la carte restaurant. On the side of the shop and in front of the shop, the stone horse table floated away, very shocked.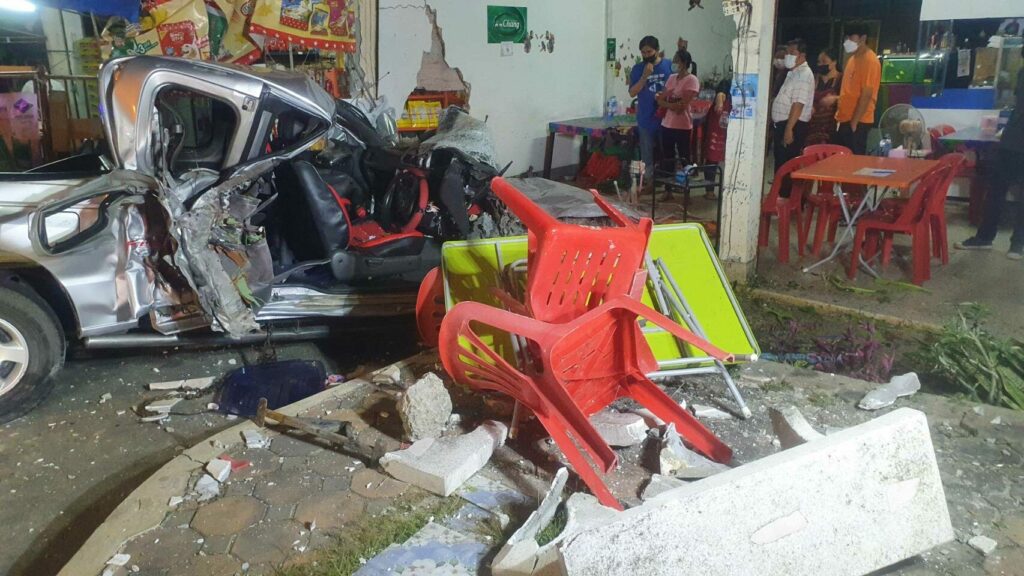 Miss Thidaporn Champa-ngern, owner of an a la carte restaurant said with shock that standing, cooking and have customers The two mothers and daughters parked their cars in front of the shop to buy food. The female customer hurriedly jumped away, but was unable to catch up and was injured. Officers rushed to the hospital. The child, the child, stood crying, luckily no injuries. The condition of the shop is damaged. The front of the table and chairs.
The deceased's boyfriend said that in the evening, his girlfriend was driving to pick him up at work at a private hospital to take him home. It's a few kilometers away. when I heard the news that the accident was very shocking Still can't make up my mind
Initial investigations suggest that the deceased may have been driving at high speed. and then enter the curve The car smashed across an island in the middle of the road, crashed into a tree, and crashed into an a la carte restaurant and pet food store. causing the driver's death And a villager who came to buy food was injured. However, the police will conduct a thorough investigation again.