5 hours ago
Former British Prime Minister Tony Blair spoke for the first time since Kabul fell into the hands of the Taliban, describing the US decision to withdraw from Afghanistan as "tragic, dangerous and unnecessary."
Blair said that this decision was made "to follow the stupid political slogan about ending the "eternal war"."
After the "September 11" attacks in 2001, under the leadership of then Prime Minister Tony Blair, Britain decided to attack Afghanistan together with the United States.
Blair said that the withdrawal of coalition forces from Afghanistan would make the "jihadist" group "cheer."
He also stated that Britain has a "moral obligation" to stay in Afghanistan until "all those who need to be evacuated are evacuated."
The former Labour Party leader wrote on his personal website: "We must withdraw and shelter those who are responsible for us, those Afghans who have helped us, stood with us, and have the right to ask us to support them."
He also stated that this should not be done "reluctantly", but should be "out of a deep sense of humanity and responsibility."
On August 22, British Secretary of Defense Ben Wallace (Ben Wallace) stated that seven Afghan civilians were killed in the chaotic crowd outside the airport in Kabul, the country's capital.
Blair also stated that the decision to withdraw from Afghanistan was politically driven and referred to an expression used by US President Joe Biden during his campaign-ending "eternal war."
"We didn't need to do this. We chose to do it," he wrote.
"We are doing this to follow the stupid political slogan about ending the'forever war', as if our participation in 2021 is somewhat comparable to our commitment 20 or even 10 years ago, and the current situation is The number of troops has dropped to the lowest level, and no coalition soldiers have died in 18 months."
The U.S. planned evacuation deadline is August 31, but Biden has indicated that it may stay after this date to assist in the evacuation of U.S. troops.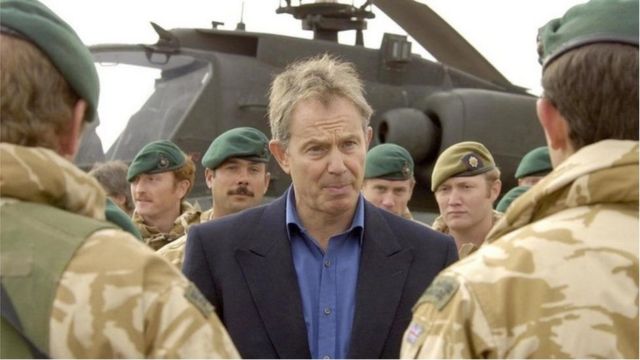 Blair admitted that all parties have made mistakes on the Afghanistan issue, but "unfortunately, the reaction to our mistakes is more mistakes." He said that although the "real gains of the past 20 years" are "imperfect", they may now be lost.
He said that the evacuation will make "every "jihadist" organization in the world cheer."
He also said that Russia, China and Iran will take advantage of this incident. "All those who get promises from Western leaders will understandably regard them as unstable currencies."
Biden has promised, "If any American wants to go home, we will take you home", but he also described the evacuation as one of "the most difficult airlift in history."

Analysis
BBC Political Affairs Correspondent Chris Mason (Chris Mason)
As a former prime minister, he is most often remembered for getting into a huge controversy because of the conflict in Iraq.
But before that, a few weeks after the September 11 attack occurred 20 years ago, Tony Blair sent British troops to Afghanistan.
His criticism of President Biden is very straightforward.
His so-called "radical Islam" is more familiar.
In this 2,700-word article published on his website, the main content he wants to express is that the Taliban is a case study of a strategic problem facing the Western world. The problem is that someone is eager to transform this religion into one. An extreme political ideology.
Bligh worries that the Western world lacks will and strategy.
However, the problem is that in Western countries and democracies, long-term military commitments with no expiry date do require public support.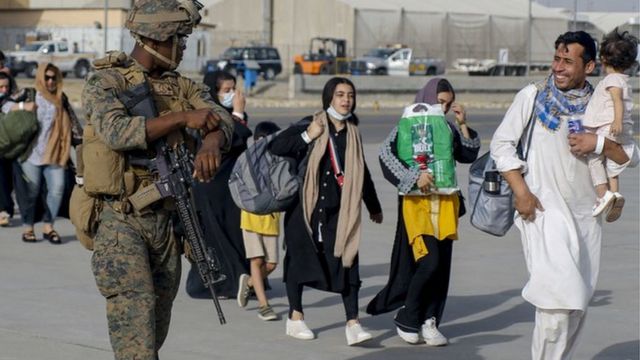 Before Blair spoke up, Lisa Nandy, the British shadow foreign secretary, also urged Dominic Raab, the foreign secretary of the British government, to take action to allow British and eligible Afghans to enter the UK.
Nandi said he heard that someone was beaten, shot or raped while applying for a certificate in Kabul.
The British Foreign Office stated that it is trying to organize the evacuation of people from Afghanistan as soon as possible. Since last Sunday, more than 3,000 people have been evacuated from the country.
The British Secretary of Defense Ben Wallace issued a statement on the 22nd that the withdrawal of the West from Afghanistan "lost face" will "bring consequences for all of us in the next few years."
Wallace praised the British soldiers working at Kabul Airport, saying that they were dealing with "unimaginable challenges-public order, overcrowded environments, extreme heat, and desperate people."
"Soldiers trained for war have to carry babies and coordinate the crowd," he wrote.
He said that "every second counts" to evacuate people from Afghanistan, but also said that if the United States decides to postpone the evacuation deadline, it will have its own full support.