Afghan President Ashraf Ghani (left)'s son Tarek Ghani (right) is living in a luxury townhouse in the United States, a foreign media report said. (Facebook/Twitter capture by Ashraf Ghani) © News1
Afghan President Ashraf Ghani's daughter, followed by a son living in a luxury townhouse in the United States, is enjoying a luxurious life, foreign media reported.
According to the Daily Mail and The New York Post on the 20th, President Ghani's son Tarek Garney (39) is living in a $1.2 million (about 1.42 billion won) townhouse in Washington, DC, USA.
Tarek bought this three-bedroom, three-bathroom home for $959,000 (about 1.13 billion won) in 2018. Located in an area lined with luxury buildings, the townhouse is just a mile from the Capitol and is one of the mildest neighborhoods in the country, the report said. The average real estate price is in the top 7% of the nation.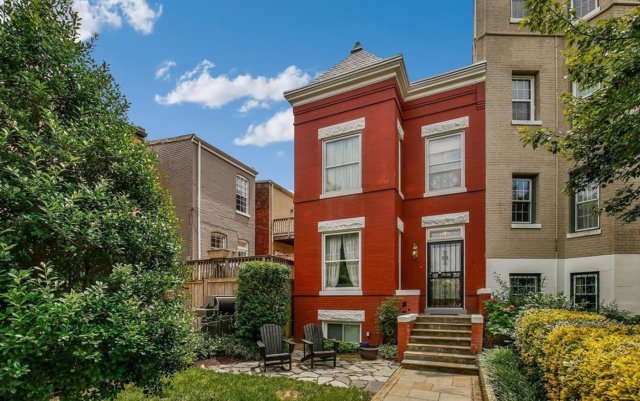 The townhouse where Tarek is known to live is priced at 1.42 billion won, and Tarek bought the house for 1.13 billion won in 2018. (New York Times captured) © News1
Born in the United States, Tarek received his bachelor's and master's degrees in international security from Stanford University. Afterwards, he obtained a doctorate from Haas Business School at the University of California, Berkeley, and is currently serving as a professor at the University of Washington. During his time at Stanford University, he took a year off from school and lived in Afghanistan, working as an aide to his father, who served as finance minister after the fall of the Taliban. He also served as chief economist for a non-profit organization for two years. The Daily Mail reported that Tarek visited his townhouse and asked him to interview him about the situation in Afghanistan, but shut the door after he said "no". Hours later, the media reported that Tarek was spotted enjoying his leisure time in the Logan Circle area of ​​Washington, DC. He said he walked into a luxury watch and leather goods store in a blue shirt and shorts and talked with a friend at an outdoor table in the cafe.
Meanwhile, President Ghani is currently in the United Arab Emirates, saying, "I left to prevent bloodshed" after the Taliban entered the Afghan capital of Kabul.
His daughter Mariam Garney (42), living in a luxury house in Brooklyn, USA, was known to be living a leisurely life as an artist.

(Seoul = News 1)
close the window
Recommend an article
After Afghan President's daughter, son lives in luxury in the US… When asked about the situation in his home country, he said, "I don't like it."
Best Featured News