A black bear that lived in Colorado, USA, left 400 selfies of itself on the Boulder Mountain Greenery Park surveillance camera. Boulder Mountain Greenery Park website
An American black bear took hundreds of pictures on a wildlife viewing camera in the sanctuary.
According to the British Guardian and others on the 29th (local time), hundreds of selfies left by a black bear were found on the camera of the City Of Boulder Open Space and Mountain Parks (OSMP), a nature reserve in Colorado, USA.
On the 27th, OSMP posted a post on Twitter, calling the black bear 'Selfie Bear'. The bear took what is known as a 'beautiful angle' by looking straight ahead or looking to the side. They stuck out their tongues or pushed their faces towards the camera. From full body to close-up facial shots, he left behind various compositions and expressions.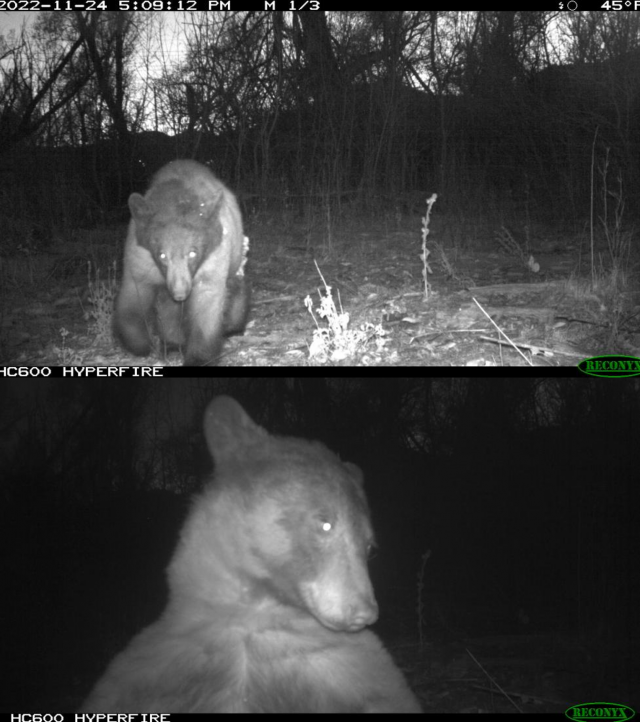 A black bear takes a selfie in front of a surveillance camera in Boulder Mountain Park in Colorado, USA. Boulder Mountain Greenery Park website
According to the city of Boulder, there are a total of nine surveillance cameras in the OSMP, which are motion-activated cameras that take pictures when they detect the movement of wild animals. It was installed primarily to monitor and protect the ecology of wild animals. The results are also used to study the behavior of wildlife.
The OSMP said, "(Surveillance cameras) take pictures of various wild animals such as coyotes, beavers, pumas, and bears, but they usually pass by without looking at the camera. However, this black bear appears to have been completely captured by the surveillance camera," he said. "A total of 580 photos were taken that day, 400 of which were selfies of the black bear. this."
OSMP spokesman Philip Yates said, "It appears that the bear has taken a particular interest in one of the wildlife cameras and has taken hundreds of 'selfies'."
According to the OSMP, Colorado is home to black bears and currently has about 12,000 black bears. The black bear is considered a rare protected species in Colorado. In 2017, the authorities enacted the Bear Protection Ordinance 8161 to protect black bears.
A black bear in Boulder Mountain Greenery Park, Colorado, USA, climbing a pine tree. Boulder Mountain Greenery Park website
Lee Ye-ji, Donga.com reporter leeyj@donga.com