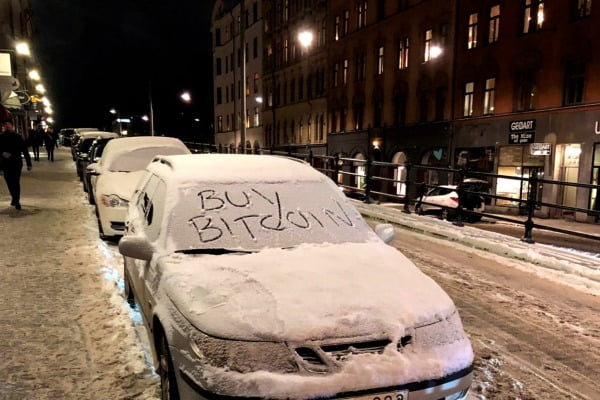 On the 16th of last month, a snowy car parked in Stockholm, Sweden, engraved the phrase "Buy Bitcoin". Reuters Yonhap News
The value of most cryptocurrency (virtual currency) assets such as Bitcoin Ethereum is soaring again. New York Mellon Bank (BNY Mellon), the oldest bank in the United States, is the first mainstream financial sector to deal with digital virtual assets.
According to Coinbase, the largest cryptocurrency exchange in the U.S. on the 11th (local time), the price of bitcoin soared to $48627.20 each day. It is the best record ever. Ethereum is also trading at the highest level of $1,800 each.
While the US government and the central bank (Fed) are planning to provide additional large-scale liquidity, cryptocurrency-related good news is continuing.
On this day, BNY Melon Bank announced that it would start holding, transferring, and issuing bitcoins and other cryptocurrencies for asset management customers. It is the first time that a traditional bank treats cryptocurrency as a major asset and trades.
Roman Regelman, CEO of BNY Melon Asset Services and Digital Sales, said, "Digital assets such as cryptocurrencies are shifting to the mainstream. We are proud to be the first global bank to announce plans to provide integrated services for digital assets. I said.
Until last year, there were many views that it was difficult to see cryptocurrency as an'asset' in mainstream financial sectors such as Wall Street. The atmosphere changed when major institutional investors such as Mass Mutual disclosed their Bitcoin investment.
The industry explains that BNY Melon Bank would have made such a decision to preempt the rapidly growing cryptocurrency trading market. Separately, the bank also conducted a team leader-level personnel to lead the integration of digital assets and existing sales teams.
BNY Melon Bank is a large financial company created by the merger of New York Bank and Melon Financial in 2007. Its headquarters is in Manhattan, New York. Its mother is New York Bank, founded in 1784. The history of the integrated bank reaches 237 years.
Mastercard, the world's largest credit card company, also decided to come up with a plan to support specific cryptocurrencies within this year.
New York = Correspondent Cho Jae-gil [email protected]
Ⓒ Hankyung.com prohibits unauthorized reproduction and redistribution