Attorney Center reveals 8 people arrested in Din Daeng police station, confined to detention of 'Sam' for arson at Phra Phum Court
On October 30th, following the dissolution of youth groups in front of Din Daeng Police Station, Mitmaitri Road, Bangkok yesterday (October 29) after the youth liberation group, through gas, volunteer guard team, a group of teenagers and a number of people. Travel to pay tribute to Warit Somnoi, a 15-year-old youth who was shot in the head in front of Din Daeng Police Station, died yesterday (28 October).
during the activity Teenagers poured red water and set fires at the Phra Phum Shrine in front of Din Daeng Police Station to express their displeasure that the authorities had not been able to bring the gunman to blame. Others, including at least 3 cases, before disbanding the youth group to restore the area in front of Din Daeng police station with rubber bullets and tear gas. At least 2 villagers were struck by the crossfire.
Read news :
• The police splashed rubber bullets to clear the area in front of the Din Daeng water filter. Two villagers were injured
• Din Daeng Police Station still smoldering. C.D. Shepherd-Teens escape from 'Die' screaming, can't follow the villain Still holding people to mourn the victims
• Din Daeng Police Station is busy! Police arrest teenagers Fire at Phra Phum Shrine After setting up wreaths – placing flowers Candle-lighting procession to pay tribute to 'Children 15'
Reporters reported that Lawyers for Human Rights Center Periodic progress reports on the case, stating that at 10:28 p.m. on October 29 at the Narcotics Suppression Bureau (Bor Por Por Sor) on Vibhavadi-Rangsit Road Lawyers were not allowed to meet with Sam Samat, although Sam had been detained since 6 p.m. and lawyers had been waiting since 8 p.m.
At 8:55 p.m., the lawyer informed that Three more people are currently being arrested in the investigation room from around the water purification plant. But lawyers are still not allowed to meet. As a result, a total of 6 people have been arrested.
At 12:21 a.m., lawyers reported that a total of eight people had been arrested, seven of whom were detained in the Din Daeng police investigation room, including two youths aged 16 and 17, and one, Sam Samat. All detained at the NESDB, all lawyers have not yet been found. Even lawyers waiting in the area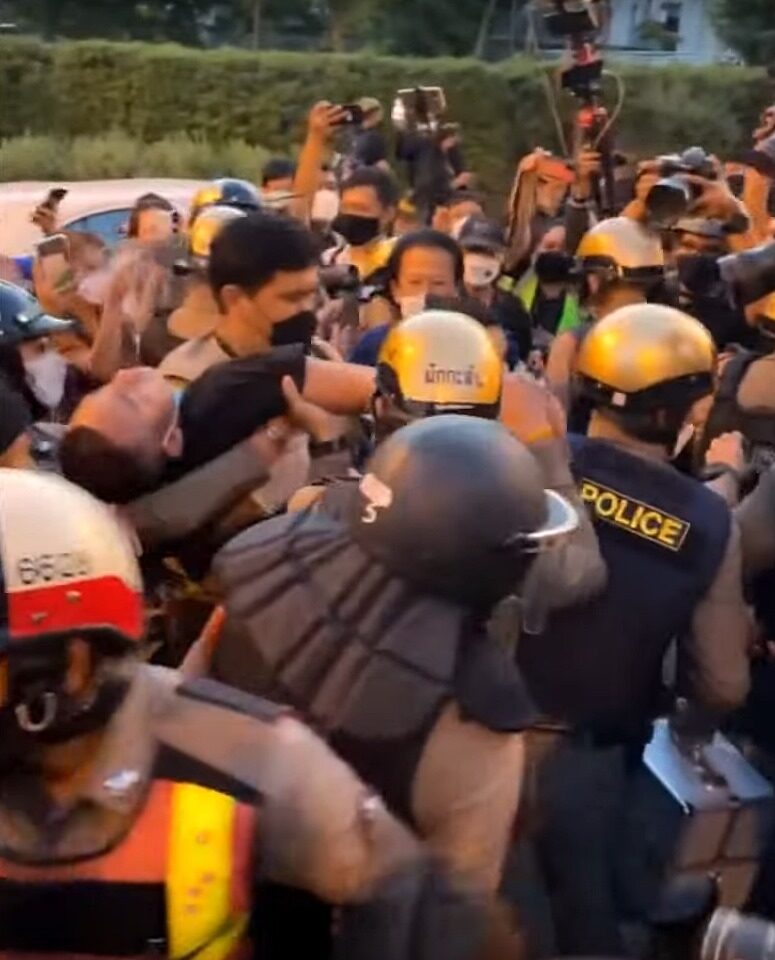 Latest time 10.28 a.m. Today (30 Oct.) Lawyers for Human Rights Center progress report that Police released two youths for irrelevance and one fine for nuisance.
Sam Samat has been charged with arson and vandalism. Detained at the Criminal Court this morning (October 30), another four were charged. Emergency Decree, Mossum detained the North Bangkok District Court, with three out of five being attacked during detention.
While Mr. Thatchapong Kaedam, a political activist from the People's Front, posted a message on Facebook saying that the police stomped on the youth, or Arif Andre Pierre, until he coughed up blood all night in his cell. Be careful! The policeman walked People will be lynched back!!!
Reporters reported for Reeve, a youth arrested yesterday (Oct 29) posted a picture of himself on his personal Facebook page. A blood-like stain appeared all over the t-shirt he was wearing.
"Reeve" also stated the message, "I've never been hit by any police station who stomped blood through my shirt like this. Ais*!!! #Here Din Daeng #Waiting for insurance today
Update on the arrested #Mob29 October 64 Police release 2 youths due to irrelevant and fined 1 base of nuisance

Sam Samat is charged with arson, vandalism. Sentenced to the Criminal Court this morning. Four more were charged. #Emergency decree #mingle Detention at the North Bangkok District Court Three out of five were attacked while in custody. pic.twitter.com/aJw2HnLH1X

— TLHR / Center for Human Rights Lawyers (@TLHR2014) October 30, 2021