Current major cryptocurrency market conditions at this time – Take a look at CoinMarketCap
(Seoul = News 1) Reporter Hyung-ki Park = Bitcoin, which had surged the previous day, continued its upward trend and settled at the $41,000 level. In particular, Bitcoin rose for 10 consecutive days, continuing the longest rally in 8 years.
As of 6 am (Korean time) on the 1st, Bitcoin is at $41,517, up 2.07% from 24 hours ago on CoinMarketCap, a global coin market relay site.
Bitcoin also crossed $42,000 during the day. It is the first time since May 20, when Bitcoin broke through the $42,000 mark.
On the previous day, Bitcoin not only kept $40,000, but also broke through $41,000, despite the number of put (sell) options being cleared on the day of option expiration.
Recently, Bitcoin has engaged in fierce buying and selling battles over $40,000, but it is evaluated that it has not only surpassed $40,000 the day before, but also surpassed $41,000, showing a new upward momentum.
As a result, experts believe that Bitcoin is likely to rally in the future.
US Bloomberg News reported that after breaking the $40,000 resistance level, Bitcoin could reach $45,000, but new momentum is needed to break through the $50,000 mark.
Pankai Balani, who runs the cryptocurrency derivatives exchange Delta Exchange, said that while Bitcoin has moved in the range of $30,000 to $40,000, it has expanded the range from $30,000 to $42,000. I thought it could go up to $5,000.
He said, however, that Bitcoin needs new momentum to break through the $50,000 mark.
At the same time, on Upbit, a Korean trading site, Bitcoin is trading at 48,257,000 won, down 0.61% from 24 hours ago.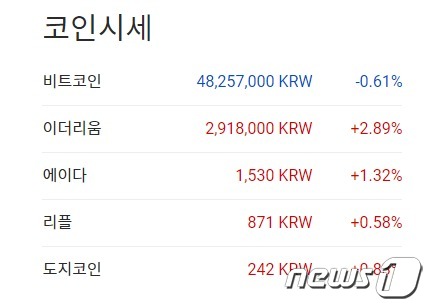 Current domestic market conditions of major cryptocurrencies at this time – Upbit Capture
Copyright owner ⓒ 'Economic News of People Dreaming of Success' Money S, unauthorized reproduction and redistribution prohibited
.