Bitcoin ​​is trading at $42,411 per unit as of 8 p.m. EDT on the 30th, with the price of Bitcoin reaching its highest in the past 24 hours. The total market cap of all 10,000+ crypto assets reached $1.64 trillion on Saturday, up more than 6% on the last day of July.
The price of Bitcoin (BTC) and several other digital assets has increased in value over the past few days. Five days ago, a massive "short squeeze" caused the price of Bitcoin to jump from a low of $34,500 per unit to over $41,000 per unit. Meanwhile, a large number of short positions were liquidated as the maturity of large-scale derivatives arrived around 8:00 pm (EDT), which ended in July. According to liquidation data from bybt.com, positions worth $284.7 million were liquidated on the same day.
Since 8pm, the price of Bitcoin (BTC) has risen rapidly to $42,411 per unit, and has declined slightly since then, but remains above $41,000. Bitcoin is up more than 7% today and more than 20% in the past seven days. Of the total cryptocurrency market capitalization of $1.64 trillion, Bitcoin (BTC) is $781 billion, accounting for 47.66% of the total.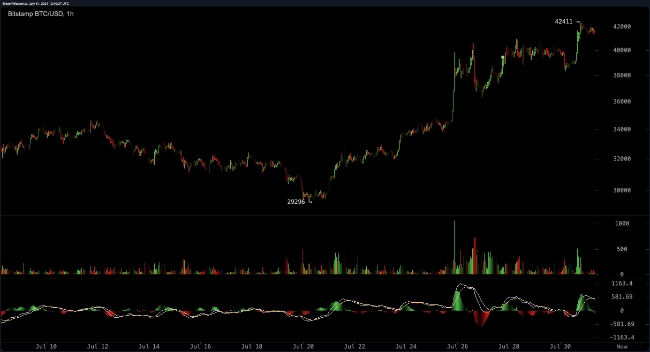 Bitcoin recorded global trading volume of around $33 billion on Saturday, with Tether (USDT) accounting for 59% of all transactions. It was followed by USD (12.29%), BUSD (5.85%), JPY (4.34%) and EUR (3.41%). At the time of writing, Bitcoin is trading at $41,522 per unit. Ethereum (ETH), the second-largest cryptocurrency by market cap, rose more than 5% in one day. ETH has risen 12% over the past seven days, and ETH is trading at $2,455 per unit at press time.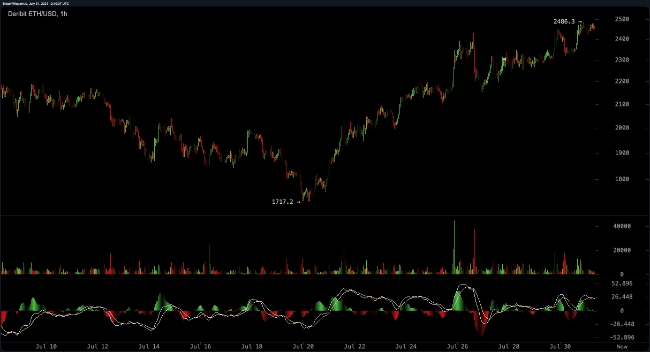 In the past 7 days, the coins that showed the largest rise were easyfi‧EASY, which rose by a whopping 2,854%, flexacoin‧FXC by 706%, and omix‧OMX by 500%. The coins that fell the most were the Beetle coin (BEET) with 83%, the chip (CHIP) with 54%, and the iov blockchain (IOV) with 51%.
Among the top 10 crypto assets in terms of market value, the coin that rose the most in 24 hours was Polkadot (DOT), up 12% today and 20% last week. Of all crypto assets worth $1.64 trillion, reported on Saturday was $84 billion, with Tether (USDT) accounting for 47.36% of global trading volume at $57 billion of all crypto assets recorded.
Kyungsoo Kim, Editor-in-Chief, Global Economics [email protected]
[알림] This article is for investment judgment reference only, and we are not responsible for any investment loss based on it.
.
Related