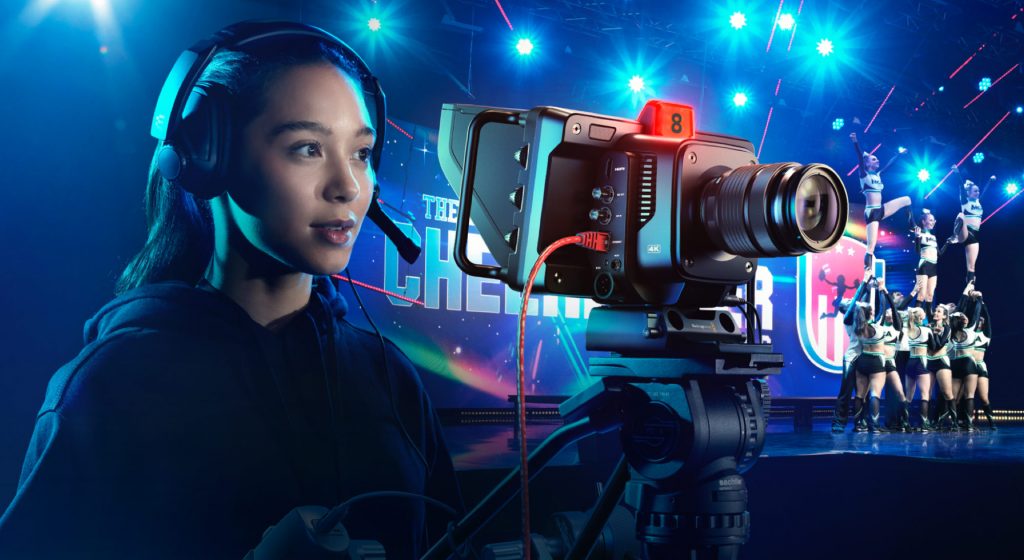 Blackmagic Design has announced a new series of Blackmagic Studio Cameras for live production. The price is 162,580 yen for "Blackmagic Studio Camera 4K Plus" and 224,180 yen for "Blackmagic Studio Camera 4K Pro" (both including tax).
Blackmagic Studio Camera has the same features as a large studio camera in a compact and portable body. It supports the dynamic range and color science of digital film cameras. The sensor supports up to ISO 25,600, and you can get an excellent image even in a dimly lit room. It has many advanced features such as talkback, tally, camera control, built-in color collector and Blackmagic RAW recording to USB discs.
"Blackmagic Studio Camera 4K Plus" is the perfect studio camera to use with ATEM Mini. This model is equipped with a 4K sensor up to ISO 25,600, an MFT lens mount, HDMI output, a 7-inch LCD with a sunshade, a built-in color collector, and a USB disk recording function.
"Blackmagic Studio Camera 4K Pro" is a studio camera that can be used with professional SDI / HDMI switchers. In addition to all the features of the Plus model, it features 12G-SDI, professional XLR audio, a bright HDR LCD, a 5-pin talkback connection, and 10G Ethernet IP.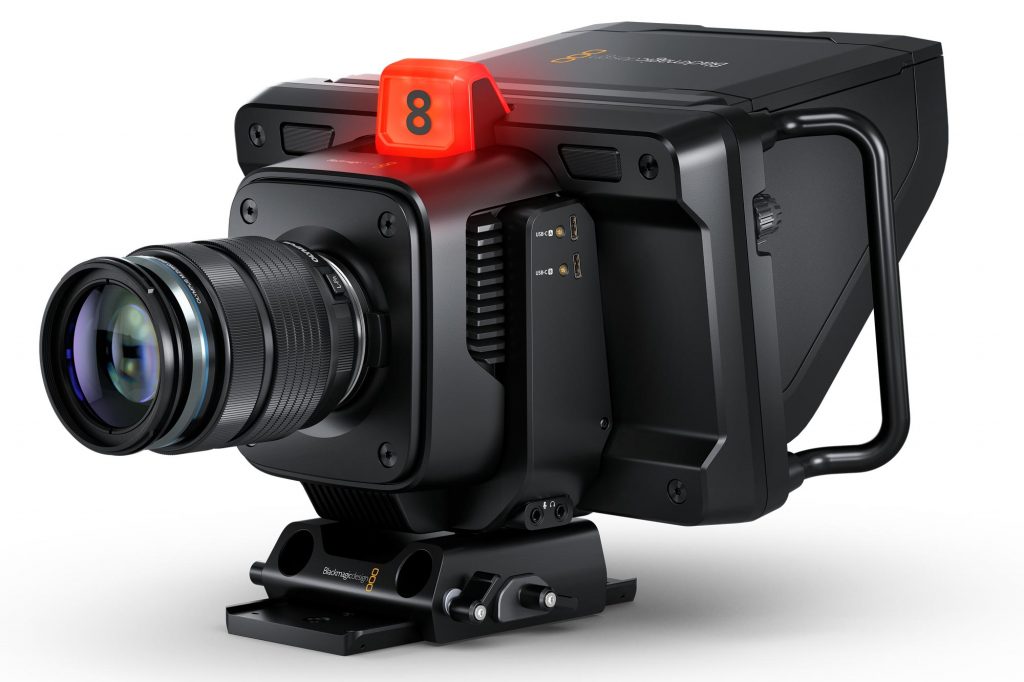 Although Blackmagic Studio Camera is designed for live production, it can record Blackmagic RAW on USB discs so you can use it in any tripod situation. Equipped with a large 7-inch viewfinder, it can be used for talk shows, TV production, news programs, sports, education, presentations at conferences, and even weddings. The large-screen high-brightness display with side handles, touch screen, and physical controls make it easy to follow the subject, making it comfortable to use even when shooting for long periods of time.
Innovative technology is also installed in a compact housing made of lightweight carbon fiber reinforced polycarbonate. Designed for live production, the large 7-inch viewfinder makes it easy to track and frame your subject. A touch screen gives you access to a menu of camera settings, including knobs for brightness, contrast, and focus peaking. In addition, a tripod mount on the mount plate is installed for quick setup.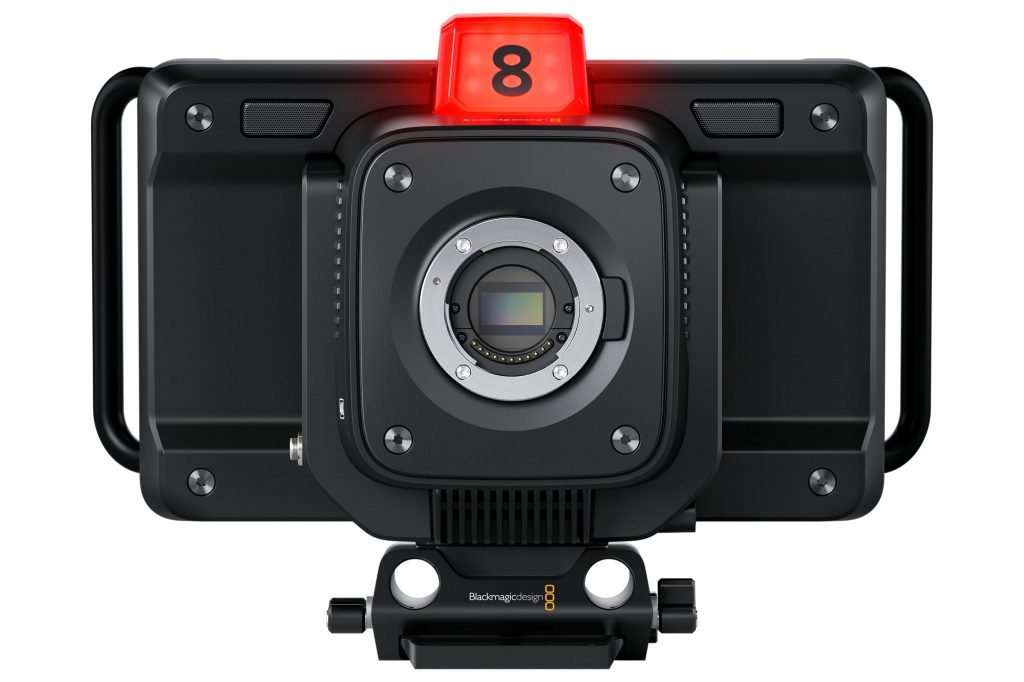 Blackmagic Studio Camera supports gains from -12dB (100 ISO) up to +36dB (25,600 ISO). Optimized to minimize grain or noise in the image, while maintaining the full dynamic range of the sensor. Gain can be set on the camera or remotely from the switcher using SDI and Ethernet remote camera controls.
Combining 4K sensors with Blackmagic's 5th generation color science gives you the same imaging technology as a digital film camera. The color collector can also be controlled from the switcher. With a dynamic range of 13 stops, you can capture from dark black to bright white, making it ideal for color correction. The sensor supports 4096 x 2160 resolution and is suitable for both HD and Ultra HD work. In addition, all models support from 23.98 to 60fps.
Equipped with a popular MFT lens mount, it is compatible with a wide range of low-cost photographic lenses. Photograph lenses are of high quality because they are designed for high resolution photography. As with larger studio cameras, you can adjust the lens from the tripod handle with optional focus and zoom demand, so you don't need to access the camera to adjust the zoom or focus.
The 7-inch large screen, high-resolution screen makes it easy to frame shots. Screen overlays show status, recording parameters, histograms, focus peaking indicators, levels, frame guides and more. You can apply a 3D LUT so you can monitor your shots in the color and look you want.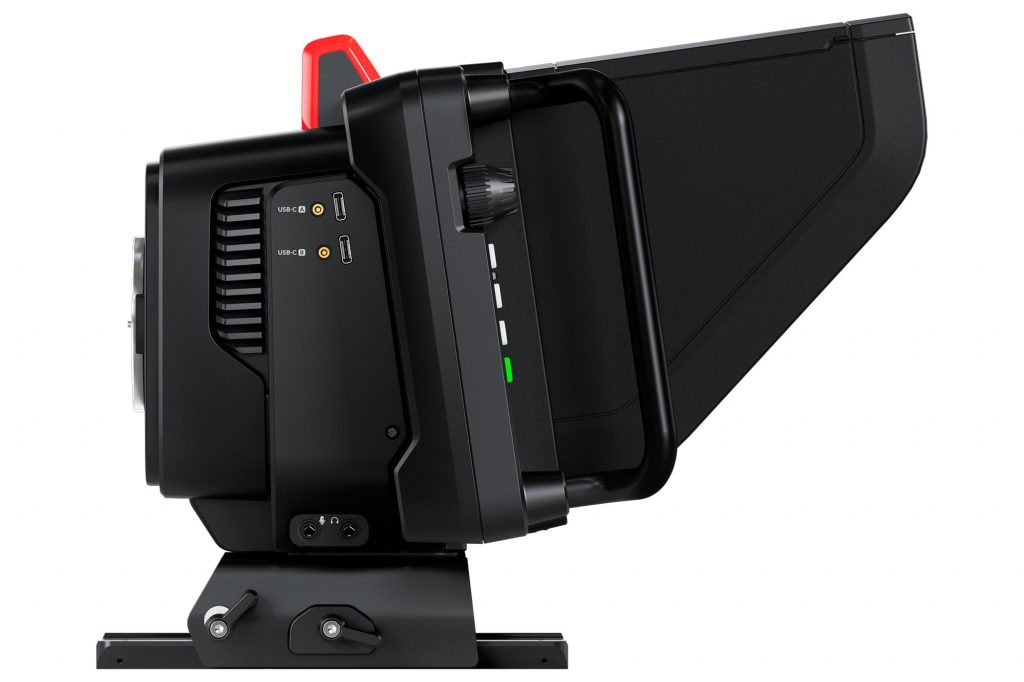 The Blackmagic Studio Camera 4K Pro model has a built-in talkback feature on the SDI interface that allows switcher operators to communicate with the cameraman during a live event. The talkback connector is on the side of the camera and is compatible with standard 5-pin XLR broadcast headsets.
Blackmagic Studio Camera has many connectors that allow you to connect consumer / broadcast equipment. All models are equipped with HDMI for tally, camera control and recording triggers, making them ideal for use with ATEM Mini switchers. It also has a headphone and microphone connection, and two USB-C expansion ports.
Designed for broadcast workflows, the Blackmagic Studio Camera 4K Pro model also supports 12G-SDI, 10GBASE-T Ethernet, talkback and balanced XLR audio inputs. It also supports camera connection with a single Ethernet cable. Traditional broadcast studio cameras use SMPTE fiber for communication and power to the camera, but SMPTE is very expensive, but the Blackmagic Studio Camera 4K Pro model is a cheaper 10G alternative to SMPTE fiber. Uses Ethernet. 10G Ethernet supports camera video, program return feed, tally, talkback, camera control, and can be powered.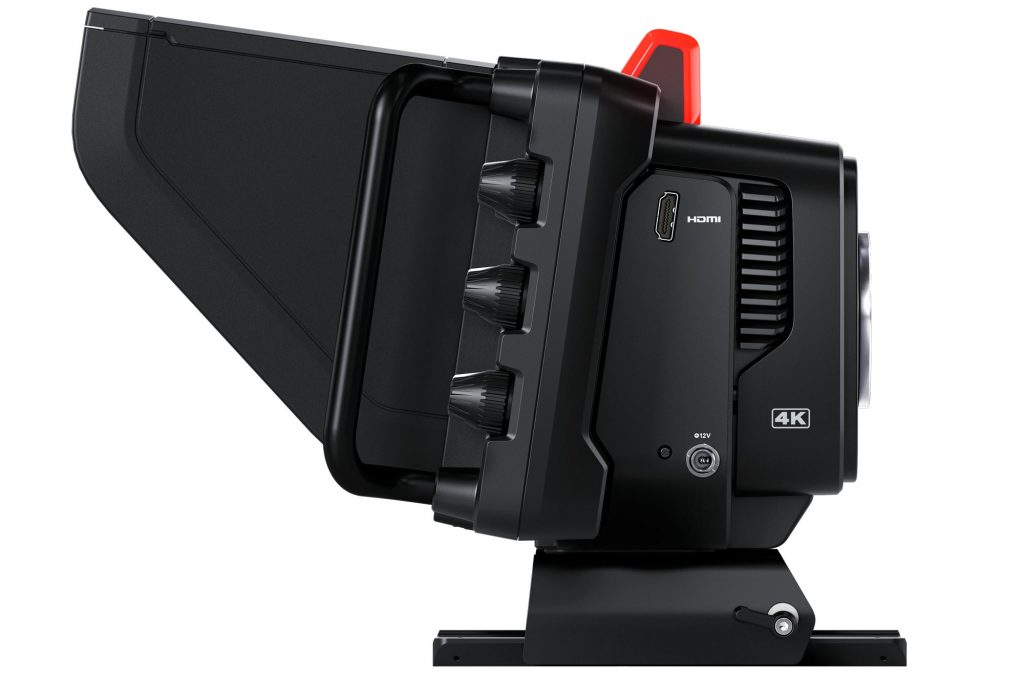 Blackmagic Studio Camera has a high speed USB-C expansion port for recording to external discs and connecting a wide variety of accessories. Connect an external USB flash disc to record high quality 12-bit Blackmagic RAW files for later editing and color correction. Furthermore, the USB port can be powered by connecting a mobile phone or optical disc.
Since the camera settings are saved as metadata, you can change the ISO, white balance, and exposure later with DaVinci Resolve. In addition, the files are small and fast, so editing is highly responsive.
The built-in microphone has a shock / windproof design, so you can get excellent sound even in harsh environments. In addition, it also has a 3.5mm audio input for connecting a camcorder microphone and a 3.5mm headphone jack. Professional 2-channel balanced XLR input supports + 24dBu Line level. It supports ultra-low noise mic preamps with P48 phantom power and -131dBV (A) equivalent input noise (EIN). In addition, it is equipped with two 117dB high dynamic range analog-to-digital converters.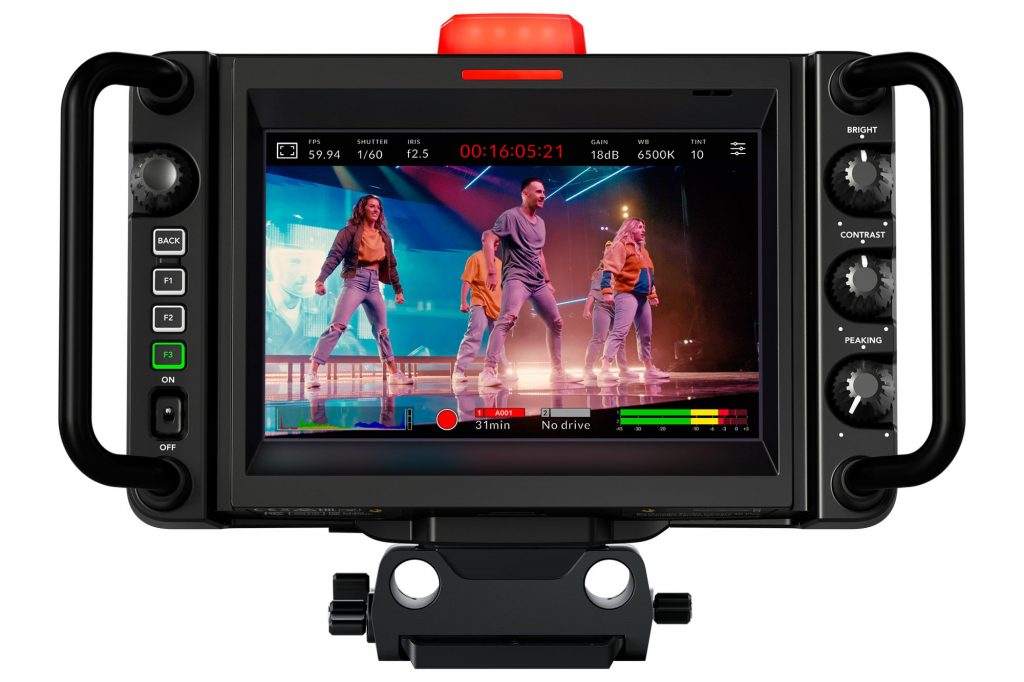 Main features
Designed specifically for live production
Carbon fiber reinforced polycarbonate housing
Supports ISO up to 25,600 and demonstrates excellent performance even under low lighting conditions
Native 4K sensor with 13-stop dynamic range
Compatible with a wide variety of popular MFT lenses
7 inch bright large viewfinder
12G-SDI, HDMI, 10G Ethernet connection
Supports SMPTE fiber style workflows with a single 10G Ethernet
Record directly to an external disc with a USB-C port
Supports ultra-high quality Blackmagic RAW recording
Wide separation built-in stereo microphone
Professional mini XLR input with 48V phantom power
A tripod mount that can be set up quickly at the shooting site
Powered by 12V or Ethernet connection
Optional focus and zoom demand for lens control
Blackmagic Studio Converter connects all connections via Ethernet
◉ Product information
https://www.blackmagicdesign.com/jp/products/blackmagicstudiocamera
Blackmagic design
https://www.blackmagicdesign.com/jp