(Export News Reporter Lee Jeong-beom) In an interview with BTS, V conveyed his longing for fans and aspirations for performances, giving global fans a sense of urgency.
On the 24th (local time), an interview conducted by BTS appeared on ABC News in the US aired on Good Morning America (GMA).
BTS participated in the UN's 'Sustainable Development Goals (SDG) Moment' event held at the United Nations Headquarters in New York on the 20th after being appointed as 'Presidential Special Envoy for Future Generations and Culture'. In addition to their speeches, they shared the feelings they are feeling right now, living in the COVID-19 pandemic.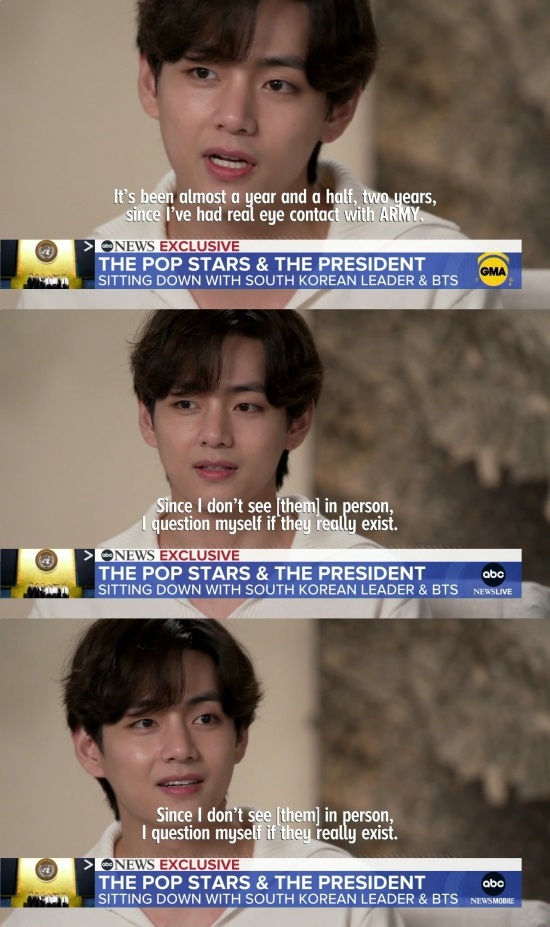 The broadcast started by introducing the video of 'Permission to Dance', from appointing BTS as a special envoy, to giving a speech at the United Nations.
Among them, V caught the eye with a natural styling that was in contrast to the hairstyle with the bangs naturally lowered and the gorgeous features.
To the host's question, "What do you miss the most?" V answered, "Our fans. It's been almost a year and a half or two years since I haven't seen the eyes of the ARMYs, but since I haven't actually seen them, I suddenly wondered, 'Does it exist?'" he said.
V honestly revealed his affection and longing for his fans, and the emptiness that comes from not being able to perform face-to-face. His remarks left a deep resonance with fans around the world.
Photo = Big Hit Music – ABC News
Reporter Lee Jeong-beom [email protected]
.