Rivian's electric pickup truck 'R1T' model. photo = AP
American electric vehicle company Rivian, which is evaluated as the 'second Tesla', is rising as a hot topic in the stock market by riding a 'roller coaster' every day. Since its establishment in 2009, Rivian, whose official sales are still '0 won', surpassed the market capitalization of traditional automakers such as Volkswagen, General Motors (GM), and Ford within six days of listing. It is an analysis that reflects the phenomenon of 'the storm'.
According to the financial investment industry on the 20th, Rivian's stock price rose 29% on the first day of listing (local time on the 10th), and then rose vertically, ending the market at $172.01 on the 16th, more than double the public offering price ($78). With a market capitalization of $151.95 billion (about 180 trillion won), it immediately ranks third in the world's automakers' market capitalization rankings after Tesla and Toyota. It surpassed the market caps of GM and Ford, which have more than 100 years of corporate history, in one day, and also surpassed the market cap of the Volkswagen Group, the world's second-largest automaker, which makes 10 million cars a year, within six days of listing.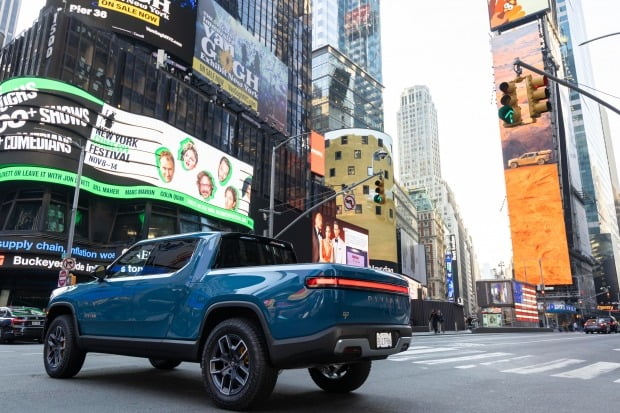 photo = AP
However, the stock price of Rivian fell by 15% from the previous trading day in the stock market for two consecutive days on the 17th and 18th to record $123.38. Locally, it was analyzed that it was because some investors were aware that they were taking profits, and at the same time, there was a growing concern that the current stock price was "excessively high" considering the performance. This brought Rivian's market cap down to $108.9 billion. However, it is still higher than Ford ($78.1 billion) and GM ($9.4 billion).
Rivian has not yet had an official sales since its establishment in 2009. According to the Securities and Exchange Commission (SEC), it delivered its first 150 electric trucks just two months ago, most of which were delivered to Rivian employees. "The electric car craze has made Rivian surpass Volkswagen's market cap," Bloomberg News reported.
What is Rivian's identity?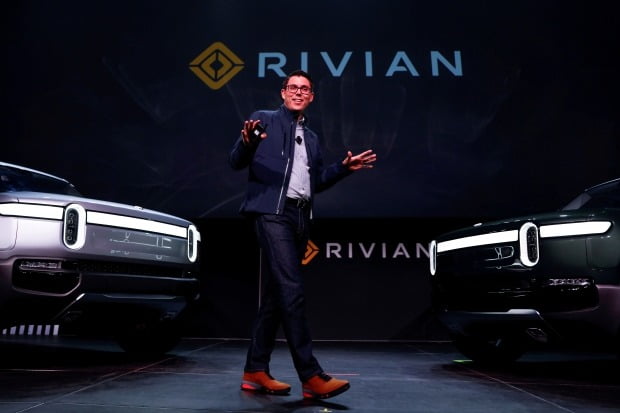 RJ Scaringe, Chief Executive Officer of Rivian. photo = REUTERS
Rivian is a new electric vehicle company founded in 2009 by 'automobile enthusiast' RJ Scaringe from the Massachusetts Institute of Technology (MIT). Of the 3,000 employees, 178 are said to be from Tesla. Rivian, which has the capacity to mass-produce automobiles by acquiring the Mitsubishi Automobile Plant in Illinois, USA, received a large amount of investment from Jeff Bezos' Amazon.
Rivian drew attention in the market because it launched the 'R1T' and penetrated the 'pickup truck' market, which was evaluated as barren in the electric vehicle field. Pickup trucks have a large body, so they weigh a lot and consume a lot of electricity. As a result, there was a problem in that the mileage was rapidly reduced. In addition, due to the nature of the US market, where there are many rough roads, it was also a challenge to safely protect the battery from the ground.
Rivian overcame this with its own developed platform. According to Rivian's filing with the SEC, Rivian's electric vehicle platform is designed to protect the vehicle from underside impact using aluminum alloy and high-strength steel and carbon fiber composites. In addition, the R1T was equipped with an independent electric motor on each of the four wheels, and showed the performance of the maximum output of 835 horsepower, which made American consumers enthusiastic.
The pickup truck R1T and SUV R1S, the flagship models, recorded 55,400 advance reservations as of the end of October. It has also received orders for 100,000 electric vans for delivery from Amazon. In addition, it has raised more than $10.5 billion (about 12.4 trillion won) of investment from Amazon, Ford, and BlackRock.
"Can't miss the second Tesla"
Rivian posted an operating loss of about $2 billion (about 2.3 trillion won) from last year to the first half of this year, but investors are focusing more on 'future growth potential'. Rivian recently announced that "the order of R1T and R1S vehicles has been pushed back by more than 50,000 units, but it will incur a loss of $ 1.28 billion this quarter." is not visible
CNN analyzed the recent soaring march of electric vehicle makers, saying, "Investors who missed Tesla stock 10 years ago don't want to miss another electric car pioneer." Another electric car maker Lucid, which is evaluated as a potential competitor of Tesla due to market expectations that electric vehicles will become mainstream, also surpassed Ford (79.1 billion dollars) with a market cap of $89.9 billion (106 trillion won) as of the 16th.
Foreign media also cited expectations that electric vehicle makers such as Rivian will receive government support as US President Joe Biden signed an infrastructure investment bill worth $1 trillion (about 1,180 trillion won) on the 15th.
"They don't have the DNA for this daring new world," Arc Investments CEO Cassie Wood said in an interview with a media outlet on the 17th. The company was born in the era of industrialization and fossil fuels."

Tesla CEO Elon Musk Twitter.
However, it is unknown whether the performance will be on track in a short time due to the lack of mass production capacity compared to other automakers. Tesla CEO Elon Musk said in a recent tweet, "I want them[Rivian]to get to production and have the cash flow to breakeven." "That's the real test."
"Prototypes are trivial compared to production scale or supply chains, and even if they do, the next nightmare is to achieve positive mass returns," Musk said on Twitter last month.
Reporter Noh Jeong-dong, Hankyung.com [email protected]