Nvidia, a US company specializing in graphic processing unit (GPU), overtook Taiwan's TSMC to become the world's No. 1 semiconductor company by market capitalization. It is analyzed that Nvidia, which is expanding its business area with artificial intelligence (AI) semiconductors, is being recognized for its future value. TSMC dropped its title of No. 1 in market cap as more competition than structural growth in the foundry (semiconductor contract manufacturing) market and a decrease in orders from smartphone makers due to a global shortage of parts were highlighted. In the industry, the prospect that Nvidia's stock price will remain strong for a considerable period of time and maintain the No.
Nvidia ranks first in semiconductor market cap… Samsung Electronics ranks third
According to the financial investment industry on the 28th, Nvidia's market cap as of the closing price on the 26th (local time) was $617.92 billion, up about 6.7% from the previous day ($579.15 billion). TSMC's market cap stood at $592.14 billion on that day. TSMC gave up its position as the world's number one in semiconductor market capitalization to Nvidia for the first time in about a year and three months since July last year. On the 27th, Nvidia maintained its ranking with a market cap of $611.1 billion and TSMC of $589.86 billion. It was followed by Samsung Electronics ($404.39 billion), ASML ($331.07 billion), Broadcom ($215.3 billion) and Intel ($194.76 billion).
Nvidia is showing a steady upward trend despite the overall slump in the semiconductor industry. In the past five days (as of the 27th), it rose by 10.6% and in one month by 18.1%.
Jensen Huang, Founder and CEO, NVIDIA
It is analyzed that the growth potential of the artificial intelligence (AI) semiconductor market, where Nvidia is actively expanding its business, has been highlighted. According to market researcher Gartner, the global market for AI semiconductors is expected to surge to $18.1 billion in 2021 and $34.3 billion in 2023.
Nvidia currently dominates the global AI semiconductor market with a product called 'GPGPU'. GPGPU is Nvidia's upgraded GPU that is good at simple calculations and is suitable for deep learning of AI (repetitive learning of data).
In this situation, Nvidia announced that Facebook, which declared 'transition to a metaverse company', announced that it would invest up to US$34 billion (about 39.8 trillion won) in AI next year at the 3Q earnings briefing held on the 25th. It served as a catalyst for the share price rise. Global investment banks (IBs) are citing Nvidia as a beneficiary of Facebook's AI investment expansion.
High growth potential of AI semiconductor… Highlighting new businesses such as cloud gaming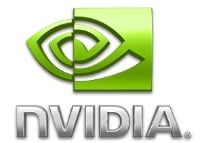 Nvidia logo. Hankyung DB
The growth potential of new businesses is also highly evaluated. Nvidia has launched a metaverse service called 'Omniverse'. It is an online space where designers create three-dimensional (3D) images or videos together. It can also be used for architectural design. Famous 3D production tool makers such as Adobe and Blender also joined. To use Omnibus, you need a subscription, which requires an Nvidia RTX graphics card.
'GeForce Now', a cloud gaming service, is also gaining popularity worldwide. Gamers pay about $10 a month to enjoy games with the highest specification graphics operated by Nvidia's top-end servers on smartphones, etc. With the introduction of 5G in earnest
Expectations for the third quarter earnings, scheduled to be announced on the 17th of next month, are also growing. The average third-quarter earnings-per-share (EPS) estimated by securities companies is $1.1. This is an increase of 50.7% and 5.8%, respectively, from $0.73 in the third quarter of last year and $1.04 in the previous quarter.
Nvidia's acquisition of ARM 'uncertain' due to national checks
Nvidia's risk factors are not without it. Non-semiconductor companies such as Apple and Tesla are moving to develop their own chips. Apple announced that the recently unveiled laptop 'Macbook Pro' will be equipped with 'M1 Pro' and 'M1 Max', which are self-developed integrated chipsets (SoC). Apple, which also developed its own GPU, Nvidia's flagship product, emphasized that "performance is superior to other products." Tesla plans to unveil the AI ​​semiconductor 'D1' and apply it to the supercomputer 'Dojo' scheduled to be operated next year.
The lack of pace in the UK semiconductor company ARM's M&A is also considered a risk factor. Last year, Nvidia decided to acquire ARM for $40 billion, but competition authorities in each country, which decide whether to approve the M&A, are negative. The European Union (EU) Competition Commission announced on the same day that it will investigate the Nvidia and ARM M&A for four months, saying, "The M&A will limit access to ARM's neutral design technology and further increase product prices and lead to reduced choice and innovation. could," he feared. If competition authorities such as the EU Competition Commission disapprove the M&A, Nvidia must pay a termination fee to ARM and abandon the acquisition contract. The reason Nvidia's share price fell 1.14% during the day is analyzed to be due to concerns about the failure of the ARM acquisition.
Silicon Valley = Correspondent Hwang Jung-soo [email protected]