Check the conditions of the channel to check the rights Payment to help farmers – 5 types of rice income insurance 2064/65
On October 26, 2021, reporters reported that At the meeting of the Rice Policy and Management Committee (NIK), chaired by Prime Minister Gen. Prayut Chan-ocha and the Minister of Defense (Aug. 23), approved measures to help management costs and improve production quality. Rice farmers, production year 2064/65
Recently, the Cabinet (October 25) has approved the principle of the project to support management costs and improve the quality of the rice farmers' production for the year 2064/65 according to the NSC resolution.
Conditions for paying subsidies
such projects Total amount of 54,972,72 million baht by paying subsidies to rice farmers as follows:
Paying compensation to farmers who grow rice 1,000 baht per rai
Limited to not more than 20 rai per household or not more than 20,000 baht.
Procedure – money check channel
Go to chongkho.inbaac.com website.
Enter your ID card number and press search.
For those who receive money, the system will show information that "Transfer money successfully" will show the project name, account number, transfer date, BAAC branch and status.
However, if non-farmers check the system, it will show information that "No registration information found. (Please contact the farmer registration agency according to the type of crops that are eligible under the project)."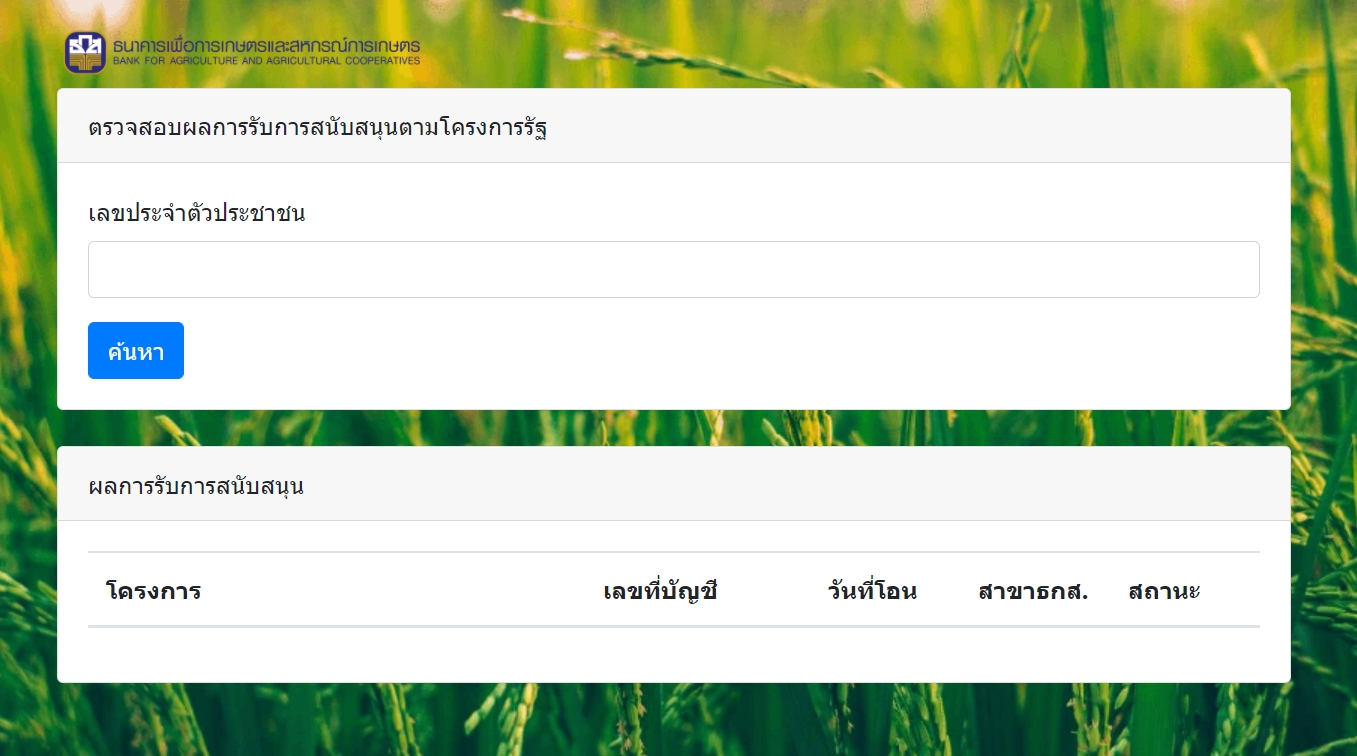 Conditions for paying insurance for rice income
In addition, there is also a rice farmer income insurance scheme for the year 2064/65, round 1, by specifying the price and the amount of income insurance, which are Price of moisture not more than 15%, not more than 40 rai per household, except for non-glutinous rice, not more than 50 rai, with compensation for the amount of tons of each type of rice as follows:
Hom Mali Paddy 15,000 baht per ton, not more than 14 tons per household.
Hom Mali paddy outside the area 14,000 baht per ton, no more than 16 tons per household.
Non-glutinous rice 10,000 baht per ton, no more than 30 tons per household
Pathum Thani Fragrant Paddy 11,000 baht per ton, no more than 25 tons per household.
Glutinous paddy rice 12,000 baht per ton, no more than 16 tons per household
In this regard, the right person must be a farmer who is registered as a rice grower in the year 2064/22 (Round 1) with the Ministry of Agriculture and Cooperatives. where rice is planted between April 1 – October 31, 2021, except the southern region, during June 16, 2021 – February 28, 2022.
However, reporters reported that The compensation for farmers is pending consideration to set a date to start paying again soon, but is confident it will catch up with the production season in November-December 2021.