US President Joe Biden and Chinese President Xi Jinping. © AFP=News1 © News Reporter1 Woo Dong-myeong
The need to implement a 'secondary boycott' (sanctions of third country groups and individuals who trade with North Korea) targeting China is current in the US Congress following North Korea's intercontinental ballistic missile (ICBM) provocation in be raised bipartisanly.
On the 25th, Voice of America (VOA) reported that there is a general perception within the US Congress that 'China has no will to put pressure on North Korea and is rather using the threat of North Korea for its own interests'.
During a recent Appropriations Committee hearing, Senator Chris Van Hollen (Democrat) called for additional Treasury Department sanctions against North Korea, citing the possibility of a North Korean nuclear test.
Representative Steve Chabot (Republican) also said at the hearing that a secondary boycott of sanctions against Chinese financial institutions that do business with North Korea "would undoubtedly attract China's attention."
In the US Congress, voices have been raised constantly since the beginning of this year that sanctions targeting China are needed in response to a series of North Korean provocations. However, the Biden administration appears to be leaving it as a de facto 'final card'.
However, as the 'lug' response continues, China's role as a 'supporter' of North Korea continues. China also blocked the adoption of new sanctions against North Korea at the UN Security Council in May.
In the midst of this, North Korea has launched a total of 63 ballistic missiles this year, including eight intercontinental ballistic missiles (ICBMs), and now the most obvious assessment is that only the seventh nuclear test remains.
Instead of initiating a secondary boycott against China, the Biden administration only invoked low-level independent sanctions. On the 8th of this month (local time), two Chinese nationals were added to the list of independent sanctions against North Korea for their alleged involvement in North Korea's missile and weapons of mass destruction (WMD) development.
However, the consensus inside and outside diplomacy is that China will not demonstrate a meaningful change in attitude simply by adding a small number of individuals to the "blacklist."
In fact, at the first face-to-face summit with Chinese President Xi Jinping on the 14th, US President Biden said, "China has an obligation to prevent North Korea's long-range ballistic missile launch and nuclear test," which he specifically noted and They even asked me to actually do it.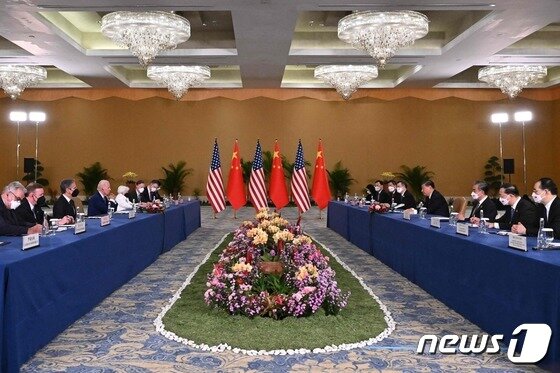 US President Joe Biden and Chinese President Xi Jinping have their first face-to-face summit during the G20 Summit held in Nusa Dua, Bali, Indonesia on the 14th (local time). © AFP=News1 © News Reporter1 Woo Dong-myeong
However, President Xi spoke of North Korea's "reasonable concerns" and actually confronted North Korea's recent provocations with "the responsibility of the United States." In response to President Xi's attitude, President Biden told reporters after the meeting, "It is difficult to say for sure that China can control North Korea," and made a statement that seemed to bend the 'expectations' for China.
Just four days after President Xi's comments of 'reasonable concern', North Korea fired the 'Hwasongpo-17', an ICBM capable of hitting the US mainland. In response, some experts interpreted Xi's comments as a "green light" that he would continue to tolerate North Korea's provocations for a while.
As a result, it is an observation that President Biden will turn the wheel with a policy of putting pressure on China, abandoning further expectations for 'China's role theory' in the event of an additional North Korean nuclear test.
An expert who asked to remain anonymous predicted, "President Biden may be able to listen to the voices of Congress, but there is a high possibility that he will still take a passive stance against calling for a secondary boycott, which means total war. in the US-China rivalry."