In Cibitoke, Rugombo commune, young people disinfect the water to allow the population to consume drinking water. To do this, they use locally produced chlorine. A salutary initiative for users and the administration in this province where access to drinking water remains a serious challenge. Reportage.
"We have a double objective: to ensure the quality of the water but also to disinfect the water consumed"says Olivier Nihimbazwe, initiator of this project called Water for development.
Before getting started, they did some research. And from there, he says, they realized that the main cause of diarrheal diseases in Burundi, especially in the Imbo plain, is the consumption of contaminated water.
According to him, a GIZ study, carried out in 2019, shows that 25% of water sources are contaminated with bacteria. "And at the household level, contamination was up to 75% of cases. This means that the water can be contaminated during transport and storage. throughout the supply chain".
Mr. Nihimbazwe indicates that in rural areas the water consumed is not treated. Indeed, he explains, 76% of rural households have access to water that does not come from water supply systems, where there is no reservoir. And under these conditions, he points out that the disinfection of this water becomes very complicated. However, he underlines, in cities like Bujumbura, it is treated, disinfected.
An innovation
It is with water and chemicals present on site that these young people produce chlorine on site. The team includes chemists, biologists, nutritionists, public health graduates, and more. They have a mini-laboratory, in the capital of Cibitoke province. There are chemicals, boxes of gloves, reagents, equipment for measuring PH, etc.
"First, we measure the raw material (sodium chloride) which is necessary for production, then we measure with the analytical balance. Afterwards, the product is poured into a well-measured volume of water and this causes the electrolysis, the passage of electricity in the solution", says Mr. Nihimbazwe.
In white blues and wearing gloves, he indicates that we must wait a certain time for the electrolysis to end. "When the maximum concentration is reached, we stop. » After that, he describes, the concentration of the solution that is produced is measured to be sure that the concentration is the one desired.
They then measure the concentration. "And there we use a reagent and take a sample and so on. We agitate. After some time, the coloring changes. The number of drops we put in the solution is proportional to the concentration of chlorine in terms of grams per litre"he explains.
The work does not stop there. The result is put in a container for stabilization. This keeps the PH (Potential of Hydrogen) of the solution stable so that the concentration does not change. According to him, it must remain the same for a period of between 6 to 9 months.
Mr. Nihimbazwe specifies that one must also make sure that the pH of the solution after stabilization is between 9.5 and 10.5. It is in cans of 5 liters or 25 liters that the chlorine is kept according to the desired use. "These cans must be labeled while specifying the date of production, that of expiry, etc", he underlines. He mentions that to import five liters of chlorine, you have to pay more than 10 thousand BIF. "However, the cost of local production of this same quantity is around 5,000 BIF. A gain of almost 50%.
To disinfect water, two approaches are used. According to Olivier Nihimbazwe, the first is to install a chlorine dispenser. This is a device that is placed next to a water point, especially in Rusengo, or a borehole. The other approach, he says, is cleaning and disinfecting the tanks. "It is used where there are water supplies, where there are reservoirs, collection chambers… After cleaning, the chlorine is added according to the volume of water in this reservoir and in the piping. »
He reports that they also monitor water quality: "We must ensure that the disinfected water has a good concentration of residual chlorine which is within the standards recommended by the WHO, but also measure the microbiological quality of the water that the population is using. »
On the ground, the actions are palpable
On the hill, Rukana II, on a former stone extraction site operated by Sogea Satom, a water source was born, a "mini-lake". It is this water that the surrounding population consumes. Other boreholes installed there being dry, for years according to the inhabitants. Green in color, this water is not clean. There are small fish and other aquatic animals. For want of anything better, locals use it for washing, cooking and eating.
Today, a chlorine distributor is installed. And a young person is there to show people how to disinfect the water.
Willy Ndayishimiye, a member of the team, ensures that each person who comes to draw water from this source must ensure that their canister, its container is well washed. "After that, she will just turn the valve to run a few milliliters of chlorine with a well-defined dose to be able to treat her volume of water. » For small containers often used by children, it is with a syringe that a determined dose is injected into the water already drawn.
This initiative affects more than 120,000 people. In addition to disinfecting water sources and reservoirs, these young people also help schools with a school canteen program. "Improving hygiene conditions in schools is also our concern. We found that there are children who eat without washing their hands because there is no hand washing device or water", deplores Mr. Ndayishimiye. They distributed handwashing kits and raised awareness to improve hygiene practices. They are present in the seven schools that have this school canteen program in the Rugombo commune.
To carry out all this work, Olivier Nihimbazwe indicates that they use funds from various prizes won in national and international competitions. It is among others D-Prize Global Competition (2020); Swiss Water Partnership Youth Water Challenge (2021); Global Youth Mobilization (2022) and Global Greengrants Fund (2022).
A sigh of relief
Thanks to these young people, users of this source no longer have to fear for their health. "We were really very unhappy. No drinking water in our constituency. We were forced to consume this dirty water, without any treatment," says Carine Kanyange, a woman from Rukana II hill.
Met around the only source of water in the locality of Binyange, this mother of five children said that their lives were in danger: "It was this water that we used for washing, cooking and drinking. Our children and adults often suffer from intestinal worms and other diseases from dirty hands. And this, following the poor quality of the water we consume. »
With water disinfection, Ms. Kanyange hopes their health will improve. She says that today everyone is obliged to disinfect the water.
Oscar Bukuru, another local resident, also appreciates this initiative. He does not hide that this water was very dirty: "Look, there are even small fish in the water. Which shows that it is not drinkable. But we have no other choice." For him, it is following this water that cases of cholera are often identified. He has no doubt that with the disinfection of water, such cases, including those of intestinal worms, will go downhill.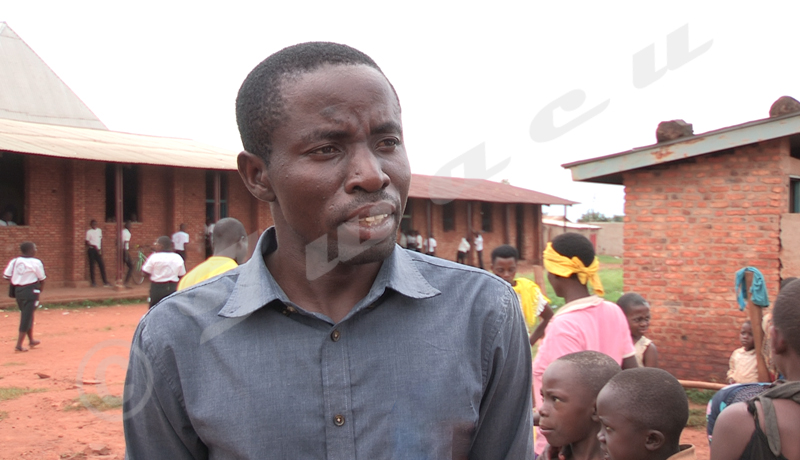 On the administration side, Léonce Nzikwinkunda, president of the municipal water board in Rugombo, considers the project beneficial: "These young people help us a lot. Because our region, our municipality, is sorely lacking in drinking water. However, the distribution of good quality water is the source of good health. »
Returning to the overall situation in Rugombo commune, Mr. Nzikwinkunda said that drinking water is insufficient: "We currently have three water networks. » He cites the Ruzibira-Rukana, Nyakabingo-Kiramira and Kagobajana-Rusororo networks with a total flow of 13 liters per second. Which is insignificant, he explains, a single network having to distribute to many people. He gives the example of the Ruzibira-Rukana network which encompasses almost 15 hills, with a population of at least 29 thousand inhabitants. He asks for an increase in the number of water networks in his municipality. "We must complete the construction of the Nyaruseke-Rukana network halfway completed"he concludes.
Par Rénovat I set them up et Jackson Boasts (our home)