"I have a lot of interest in acting, and I also want to be an actor."
"Goal to advance into Hollywood with English strength"
Choi Seo-eun, the winner of the '2021 Miss Korea pageant' / Photo = Provided by Global E&B
Jin's glory in the '2021 Miss Korea contest' went to Choi Seo-eun (26), who majored in fine art.
The final of the '65th Miss Korea 2021 contest' hosted by Global E&B was held on the 16th at Hwayudang Studio located in Paju-si, Gyeonggi-do.
The 'Miss Korea 2021 contest', which was conducted by broadcaster Seung-guk Lee and Da-hye Jeong, who was selected as Miss Korea 2017, was pre-recorded without spectators to reflect the pandemic situation. BILI) was broadcast all over the world.
The contest, which opened with a splendid fashion show, attracted attention with the introduction of 40 finalists followed by the release of a video showing the process of advancing to the finals. At the same time, singer Ailee showed off her powerful singing ability, raising the mood. Lastly, the dignified dress walking and interviews of the participants who answered the MC's sudden questions without interruption continued, exuding the dignity of the awards ceremony boasting history and tradition.
The main character of the day, '2021 Miss Korea' Jin, went to Choi Seo-eun, a 26-year-old fine art major who overwhelmed the stage with her star and charm.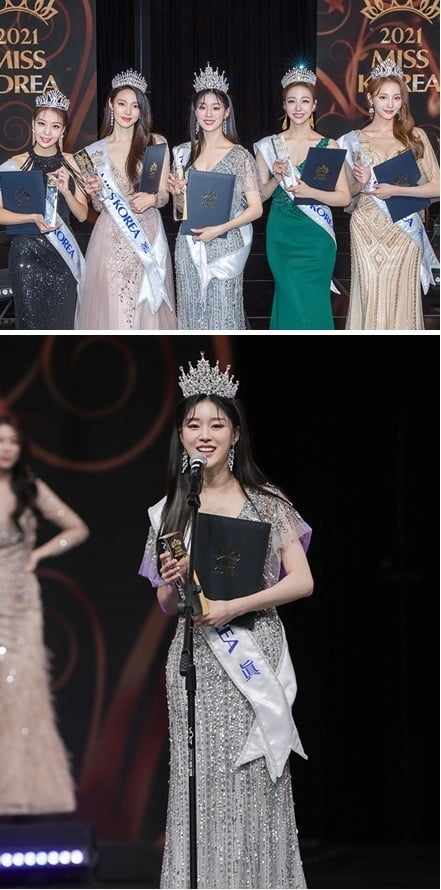 Photo = provided by Global E&B
After the awards ceremony, Choi Seo-eun joked, "I think she might be the oldest Miss Korea ever," and said, "This year, I think I've chosen a trendy and versatile person with many things to show. I want to show the charm of Miss Korea that fits the times." .
Choi Seo-eun, who once dreamed of becoming a curator, said, "I have a lot of interest in acting, so I want to become an actor.
In addition, the 2021 Miss Korea Sun went to Kim Soo-jin (24), who majored in fashion design, and Choi Min-soo (22), aspiring K-entertainer from the University of Illinois in the United States. Jeong Do-hee (22), who has a career as a model, and Jo Min-ji (23), a graduate of Ewha Womans University's economics department, were honored with Miss Korea Beauty.
The participants of the '65th Miss Korea 2021 pageant' showed off their stars to their heart's content rather than showing off their typical beauty standards throughout the contest period, and a 17-member professional jury also evaluated their potential based on talent and charm. It looked drastically different.
Global E&B, the organizer and organizer of this event, said, "We bow our heads in gratitude for the public's interest and praise for the Miss Korea pageant, which has changed in line with the changing times." We will spare no effort and support to become a global entertainment awards ceremony for the whole world."
Kim Soo-young, reporter at Hankyung.com [email protected]
ⓒ Hankyung.com, unauthorized reprinting and redistribution prohibited