Chonburi province found 75 new cases of COVID-19, most of them were in Sriracha district, 31 people have recovered, 36 more people are ready to open 12 more risky places, including markets, flea markets, restaurants.
Today (17 June 2021) at 6:30 a.m., Chonburi Provincial Public Health Office (Chonburi Province) reports the situation of the COVID-19 epidemic. There are 75 new infected people who have been in contact with confirmed patients. (Linking to Ban Thung Market Community Cluster) 14 people, touched with confirmed cases (Linking new market cluster) 4 people, touched with confirmed occupational at-risk patients who had to meet people 1 person, went to high-risk places in Bangkok 1 person, had contacted with confirmed cases in the family 16 people, and 21 people from the workplace. , Contacted 5 confirmed cases under investigation and 13 under investigation.
While the total number of infections, the April wave epidemic is at 5,644 people, 36 more recovered, 4,694 cumulative recovered, 916 people are cured, and 34 people have died.
Establishment cluster loop
Currently, there is a cluster (cluster) outbreak in 8 establishments and 3 markets, 3 construction worker camps and 1 community. Asking for cooperation from those working in the establishment to take measures as follows: no socializing, no drinking circles. , do not eat close to each other, when sick and have to take time off work, frequently clean common touch points such as knobs, railings, finger scanners And after signing, you must wash your hands immediately, wear a mask at all times, wash your hands often and keep distance.
for accommodation for employees of the establishment It may be at the hostel that the establishment provides. or the dormitory that you rent yourself This is where the addresses of employees of many companies are mixed. may be a source of spread across companies When the outbreak started in the company Ask for the cooperation of the company staff strictly in personal measures, distance, do not cross to talk to other rooms. don't eat together Those who are in close contact with those infected with COVID-19 must quarantine. Although the first examination did not find the infection. But several cases were detected a second time during the 14-day quarantine.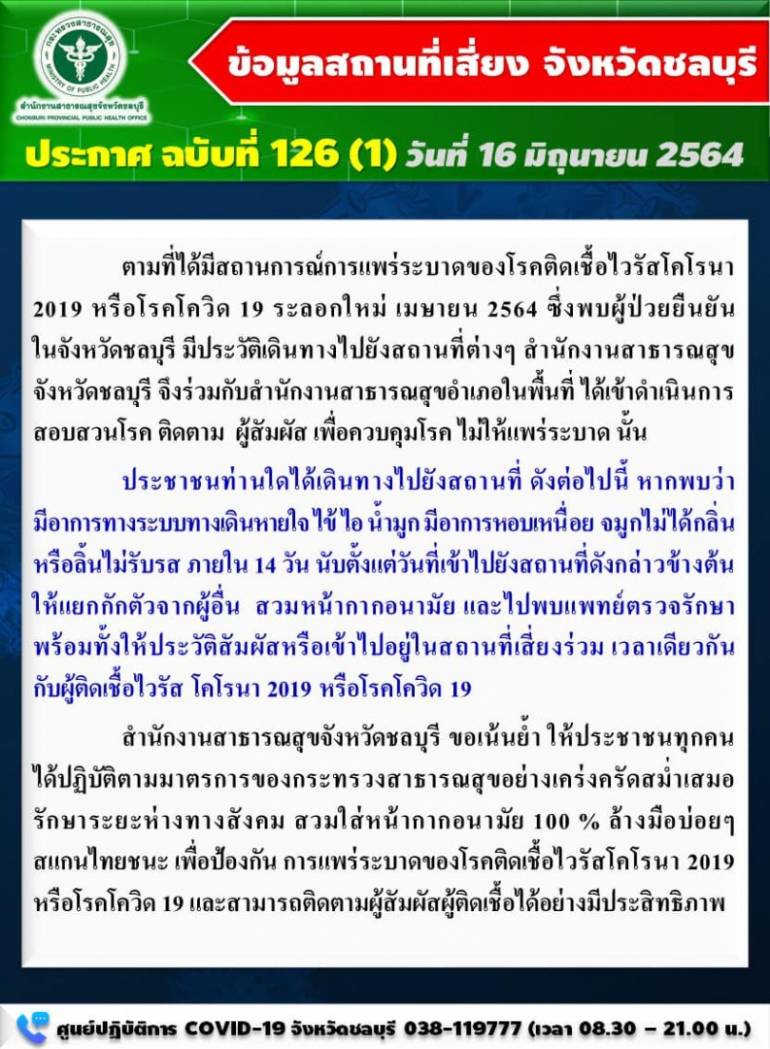 Czech 12 risky places
In addition, the Office of the Provincial Police Headquarters of Chonburi disclosed additional information on risky locations. After being found infected with COVID-19, used to use services such as Yen Bo Thong Market, Hua Airport Market Saha Group, Saladan Hot Pan Restaurant, Sit 2 Sit Restaurant, Baan Chan Smoothie Robinson Lifestyle Bowin Shopping Center Branch, Chonburi New Market, Chonburi Provincial Land Office Sriracha Branch, Phra Aphidham Ceremony at Wat Nok, Taweeporn Fresh Market and To Kaolao Nong Mon Shop, A Pa Talay Pao & Pork Pan Shop and nut neck grilled pork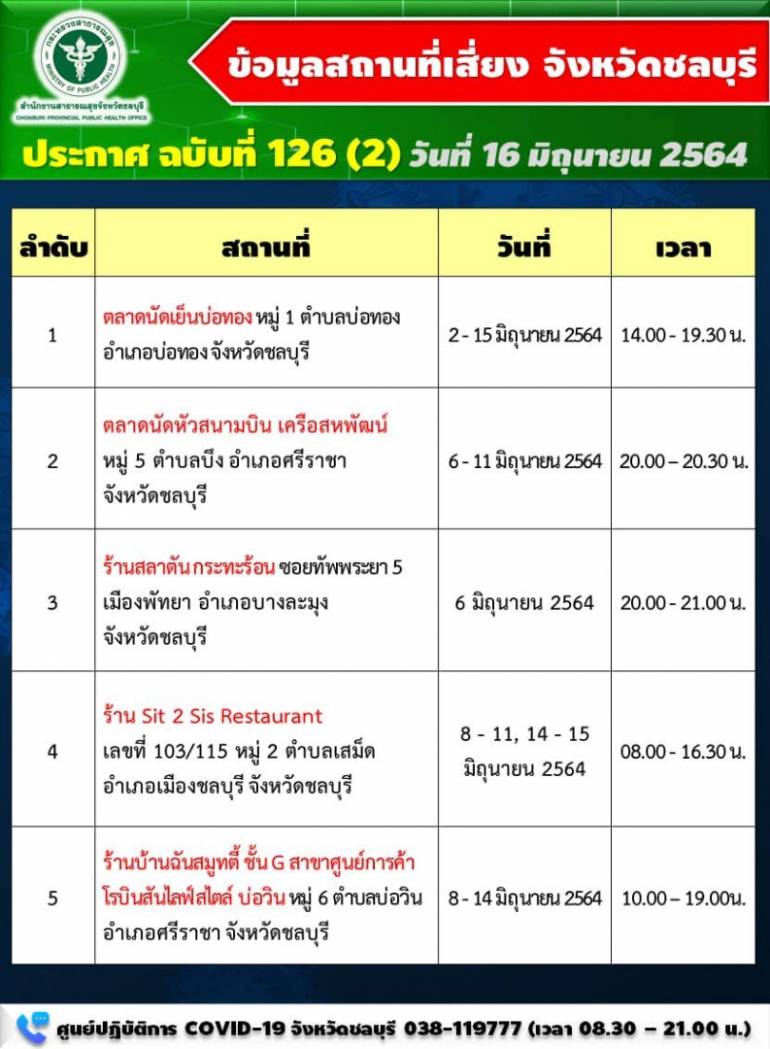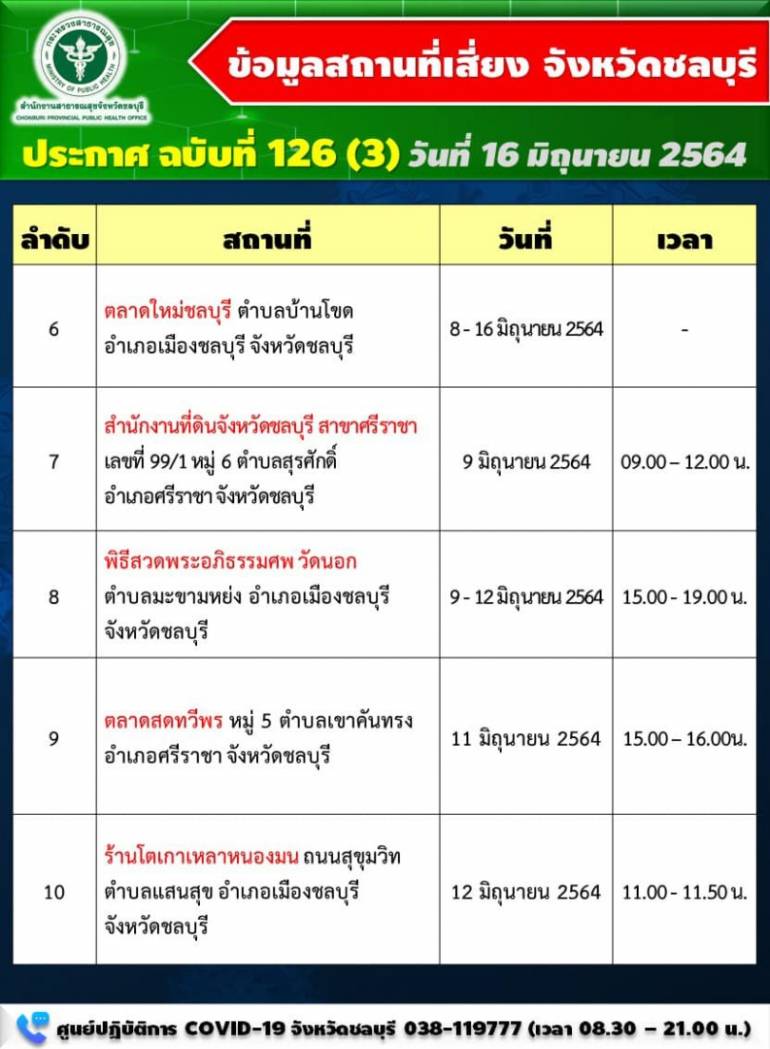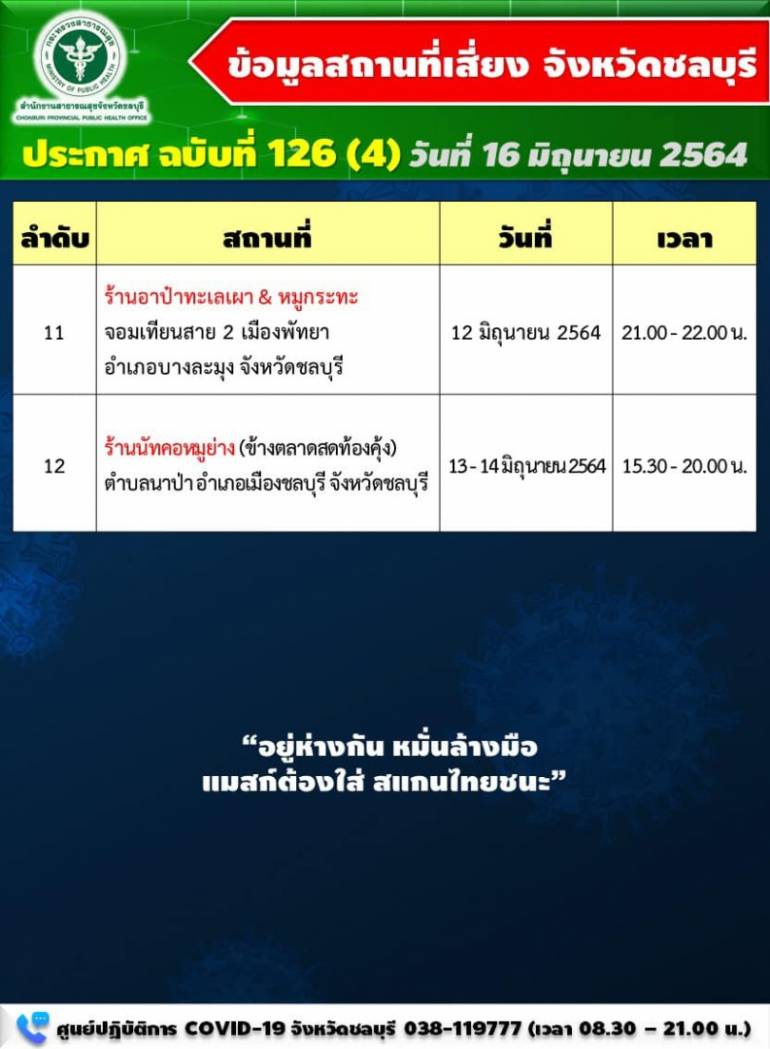 .