Christopher Ahn, 41, interviews with Fox News in the United States. Fox News online press screen captured on May 27, 2021 (local time).
There is a lot of interest in the US and domestically over the trial to decide whether or not Christopher Ahn, 41, an anti-North Korean group activist'Free Joseon', known to operate through networks all over the world, will be transferred to Spain.
Ahn, a South Korean-American from the US Marine Corps, was released on bail after being arrested in Los Angeles (LA) on February 22, 2019 for assaulting the North Korean embassy in Madrid, Spain.
The Spanish media have introduced Ahn as the'right arm' of Adrian Hong Chang, who was accused of attacking the embassy at the time. According to Spanish media, it was reported that five Koreans, including Ahn and Adrian, Sam Ryu, and one North Korean defector, participated in the raid. The whereabouts of those other than Mr. Ahn are obvious.
It is said that the Donald Trump administration was also quite embarrassed by the incident a few days before the North American summit in Hanoi. The Spanish government requested Ahn's extradition, and the extradition proceedings started during the Trump administration continue to this day. On the 25th, a court trial in Los Angeles held a first trial presided over by Judge Jean Rosenblues to determine whether Ahn was repatriated. Amid the attention of the US and Korean media, Fox News reported on the 27th (local time) an interview with Ahn. Ahn argues that the attack on the embassy at the time was based on a plan agreed upon with North Korean diplomats. North Korean diplomats say they lie and deny that they have never wanted to escape because it is a matter of life or death.
Ahn said, "Based on evidence and common sense, it is very clear which one is more reliable."
Mr. Ahn said that for legal reasons, he did not understand the details of what was inside the embassy, ​​but he said the reason he went there was because they asked for help.
Ahn said, "They are both North Koreans and parents. They had been deceived all their lives and only came to Western countries to realize that everything they heard was a lie. They had to decide what to do for their children. "I was asked to save their lives."
According to Mr. Ahn, Free Joseon has been helping high-ranking North Korean people who oppose the Kim Jong-un regime to escape from North Korea. He joined the plan to help the North Korean ambassador in Madrid, Spain, escape from North Korea, but the ambassador changed his mind at the last minute, Fox News reported.
Ahn is particularly well-known for helping the escape of Kim Jong-nam's son, Kim Jong-nam's son, Kim Jong-un, who was murdered at Malaysia International Airport in 2017. This is why Ahn and his supporters are concerned that if Ahn leaves the US and is repatriated to Spain, the North Korean regime will target him.
Mr. Ahn said, "The court admitted that if I left the United States, my life and the people around me would be at risk. To be honest, the court told me that it is dangerous in the United States as well, but if I leave the United States, the risk will increase exponentially." Said.
He said, "The Justice Department said that if I leave the United States, I could be killed." I am so disappointed."
The trial was attended by the parents of American college student Otto Warmbier, who died at the age of 22 after being detained after traveling to North Korea in 2016.
Cindy Warmbier and Fred Warmbier flew from Ohio to Los Angeles to request Ahn's petition.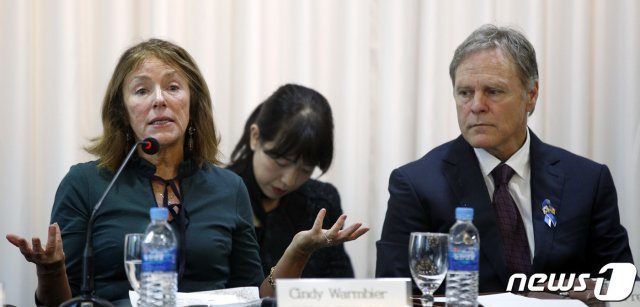 Otto Warmbier's mother, Cindy Warmbier, who died six days after being detained by North Korea, responds to reporters' inquiries at the "Joint Press Conference for Abducted and Detained Victims by North Korea" held at the Koreana Hotel in Jung-gu, Seoul on the 22nd. 2019.11.22/News1 © News1

Cindy Warmbier, crying in court, asked the judge to withdraw the US government's extradition order. Cindy said, "No one is confronting the North, but I am confronting Mr. Ahn. Mr. Ahn is a good person," he said. "If he is transported, the North will kill him. Please stop this denial."
Ahn told Fox News, "The most painful part of yesterday's trial was when Cindy was talking about Otto." "It's incredibly sad what she, her family, and Otto went through, and I'm so grateful that the person who struggled with it helped me," he said.
Professor Seongyoon Lee, who lectures on Korean Studies at Tufts University's Fletcher School (Graduate School of International Law and Diplomacy) and Kim Gu Foundation, also attended as a witness and appealed that Ahn would be in danger if he was transferred.
Professor Lee said in court, "North Korea has no hesitation in pursuing its goals anywhere in the world, including Europe. North Korea has shown that there is no expiration date when targeting an assassination," he said. "(If Ahn is repatriated to Spain), they will go to find Ahn in Spain."
It is expected that it will take weeks before Judge Rosenblues decides whether to extradite Ahn's criminal, Fox News said.
"Spain is an ally of the United States, but (my case) is the first case in which the US government has executed an arrest warrant issued by another country," said Ahn. "But it is almost entirely based on testimony from the North. The reason this is wrong is because they are lying to make a living."
At the time, officials at the North Korean embassy reportedly testified that Ahn and his party raided the embassy, ​​assaulted them, and even ate human flesh.
Mr. Ahn said, "I believe in the US government system and legal system. Although I am in this unfortunate situation, I still have faith in the United States and its people. All I can do is have logic and common sense, and believe that those who care about this will eventually win." said.
(Seoul = News 1)
Close window
You recommended the article
Christopher Ahn, who helped Kim Han-sol escape, "I'm afraid of becoming a target for Kim Jong-un"
Best Recommended News