Chulabhorn Royal College Open the booking process for 'Moderna', a pin to stimulate the immune system.
on October 28 Chulabhorn Hospital Chulabhorn Royal College Notified via Facebook, stating that Prepare the corporate entity Apply for the allocation of alternative vaccines, immunostimulating needles with the Royal College of Chulabhorn
Friday, October 29, 2021 at 9:00 a.m. onwards: Open the system for allocation of alternative vaccines, Booster Dose, immunization needle. "Moderna" and "Sino Farm" For new juristic organizations who wish to apply for vaccination allocation to all types of people, including employees, employees' families. Foreign workers, service recipients from 12 people or more per organization
Procedure for applying for the allocation of alternative vaccines for new corporate entities
Submit an application for allocation via website https://vaccine.cra.ac.th
Enter organization information Juristic person registration number Copy of ID card and email of the CEO and coordinator
Choose an alternative vaccine type. and specify the number of people who wish to request the allocation
Check it completely before pressing confirm and wait for an email accepting the allocation from the Royal College of Chulabhorn.
The organization receives an email with a username and password to log in.
Log in to register the organization to be allocated vaccines via the website https://vaccine.cra.ac.th.
Confirm the amount of vaccine allocated and acknowledge the amount of money transfers for vaccinations
Bring Bill Payment from the system to pay for vaccines according to the specified period. If it is past the due date, the system will automatically cancel your organization's vaccine reservation.
For juristic organizations that have been allocated vaccines from the Chulabhorn Royal College You can log in with the same Username and Password to proceed with the booking notification and record the number of vaccines required. Ready to know the amount of money transfers for vaccines from November 1, 2021 onwards.
In this regard, Chulabhorn Royal College reserves the right to refund or reduce the number of reservations / purchases of vaccines in any case. Please check all details before confirming the vaccination booking.
Related news : Chulabhorn Royal College open the original organization Buy-Reserve Sino Farm-Moderna Stimulator Needles Nov 1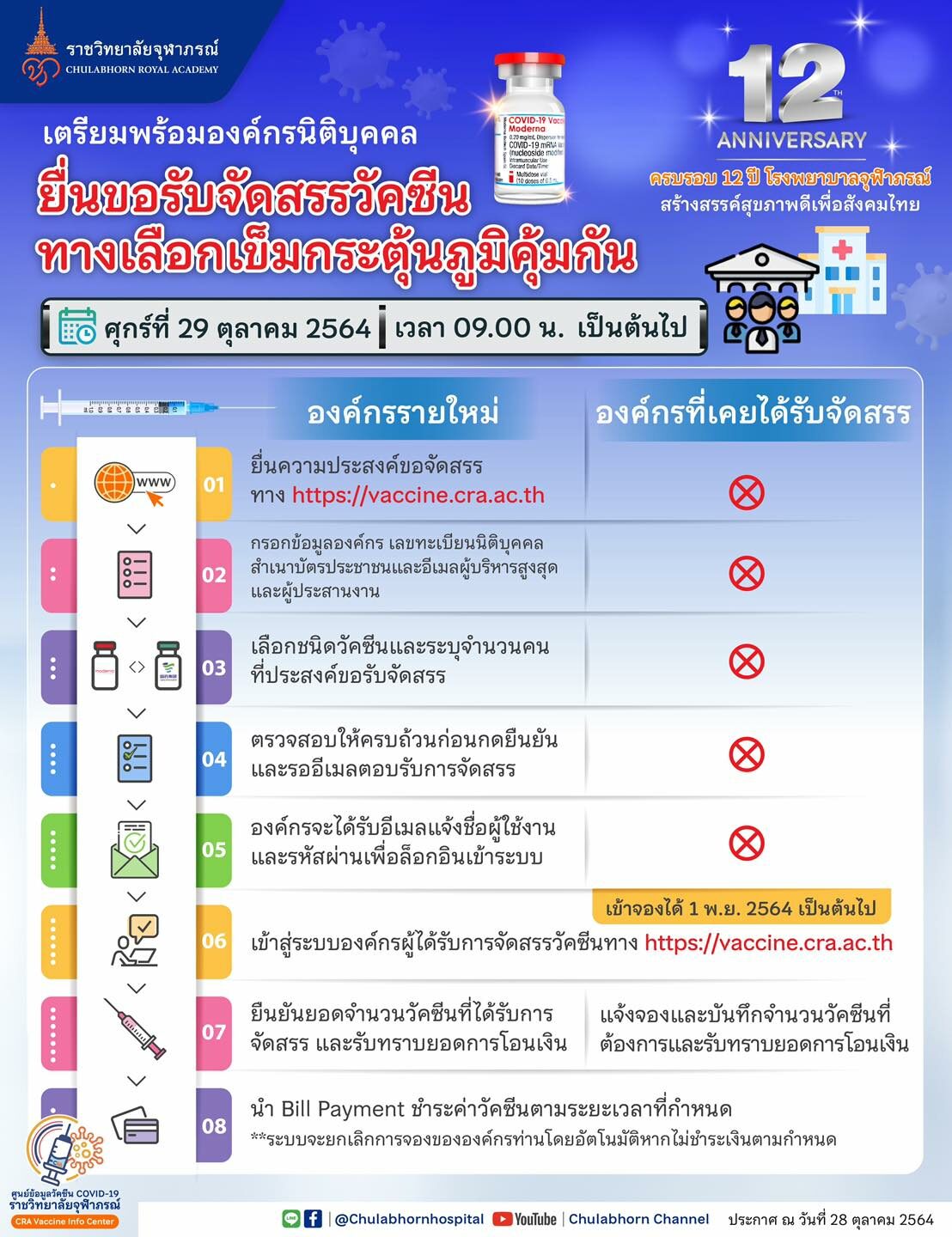 sticks to every situation from

Line @Matichon here
Previous article
"T Engineering Corporation" renamed "PSG Corporation" and reveals a new vision for future growth