Closing donations to help 'Nong View', a poor and poor student After not studying online – having 1 mobile phone, a philanthropist prepares to build a new house for him. Donate a cell phone.
Follow the news, press follow, live news
From the case of Ms. Rungthiwa, Dan Klang or Nong View, 16 years old, a student in Grade 5, Srisuk Witthaya School In the Ban Wai Non Pho area, Than La Lod Subdistrict, Phimai District, Nakhon Ratchasima Province, a student of Mrs. Nattanan Chuchewa, a teacher at Srisuk Wittaya School, Non Sung District, Nakhon Ratchasima Province, after Nong View hasn't attended online classes for several days. Even as a child who intends to study and have good grades GPA was as high as 3.93 because Nong View's house was poor. The whole house has only 1 mobile phone, but Nong View has 2 siblings in total.
In addition, the house does not have electricity to use. The house is thatched with an old zinc roof. The bathroom does not have a closed door. Plus there is a leak of zinc. The bedroom is in bad condition. Nong View's family has to eat rice with vegetable chili almost every day. Requires electricity from a small solar panel. Charge your mobile phone for classes only. therefore asked for help to philanthropists who wished to help the Nong View family. According to the news already
Most recently, on August 23, 64, Thai people across the country donated money to help the Nong View family. It is a donation amount of 3,727,385 baht and there are philanthropists preparing to build a new house for the younger siblings and donate their mobile phones as well.
this afternoon The director of the Secondary Education Service Area Office, District 31 Nakhon Ratchasima, went to the area to donate money to help the Nong View family. Among the streams of kindness from various agencies that gradually come to help each other continuously Nong View was moved and came out to raise his hands to pay homage to the kindness of Thai brothers and sisters across the country who donated money to help themselves and their families.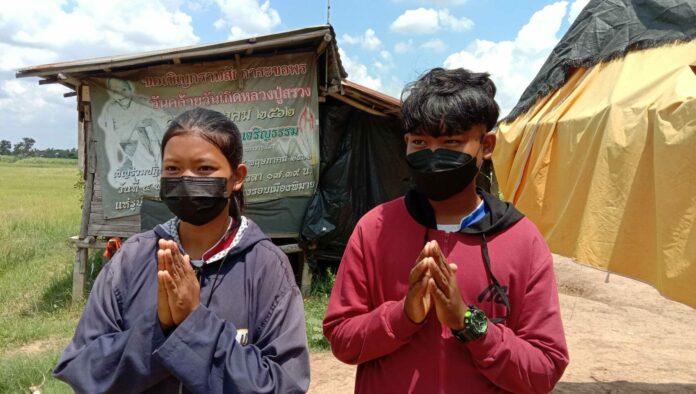 by requesting to close the donation account and promised to study hard, to be a good person, to be able to study to become a military nurse It will use the money donated by Thai people to the maximum benefit.