Hwasa to release 'Guilty Pleasure' today (24th)
Title song 'I'm a light'
Hwasa "Wandering for 1 year and 5 months, I suffered bitterness to grow"
"The goal is to find a balance and work happily"
Group Mamamoo's Hwasa / Photo = Reporter Choi Hyuk
Group Mamamoo's Hwasa made a comeback after 1 year and 5 months after repeated deep musical considerations. He had an unrivaled solo presence, and he had grown stronger and stronger due to intense growing pains.
Hwasa held an online and offline media showcase to commemorate the release of her second single album 'Guilty Pleasure' on the afternoon of the 24th.
Hwasa's solo comeback is the first in a year and five months since her first mini-album 'Maria', which was released in June of last year.
'Guilty Pleasure' includes the title song 'I'm a Light', 'FOMO', a song about hope that you can find peace of mind when you overcome your fears by yourself, A total of 3 tracks were recorded, including 'Bless U', which depicts the desire to bless.
The dictionary meaning of 'Guilty Pleasure' is 'It's embarrassing to talk to others or feel for yourself, but nevertheless, it's fun when you do it'. 'Guilty Pleasure' meant Hwasa. While preparing for this comeback, he deeply felt the growing pains of music, and said that 'Guilty Pleasure' is his image.
"I couldn't enjoy it for a year and five months. I wandered a lot because the Hwasa of the past and the Hwasa of now are growing up. I went through a lot of bitterness in order to grow a little more musically. It was a long and heavy worry."
"I feel guilty, but what I am happy with is 'Guilty Pleasure'. When I saw my style of doing music, I overused myself and got more pleasure from it.
For a long time of 1 year and 5 months, my worries as an artist were deep and intense. Hwasa smiled, saying, "Every time we release an album, it's like a fight with myself. I think I came to this place by winning that fight again."
What made Hwasa in trouble? Hwasa confessed, "In 'Stupid' and 'Maria', I thought it would be okay if the song was good, and if it was fun to perform on stage, I had fun with it, but this album wasn't easy. .
But in the end, it was also 'music' that brought him out of his agony. Hwasa said, "I lost a lot of identity through Corona 19. I was confused and very depressed about what my job was and what I was doing. But while preparing the album, I felt like I found a balance and found myself."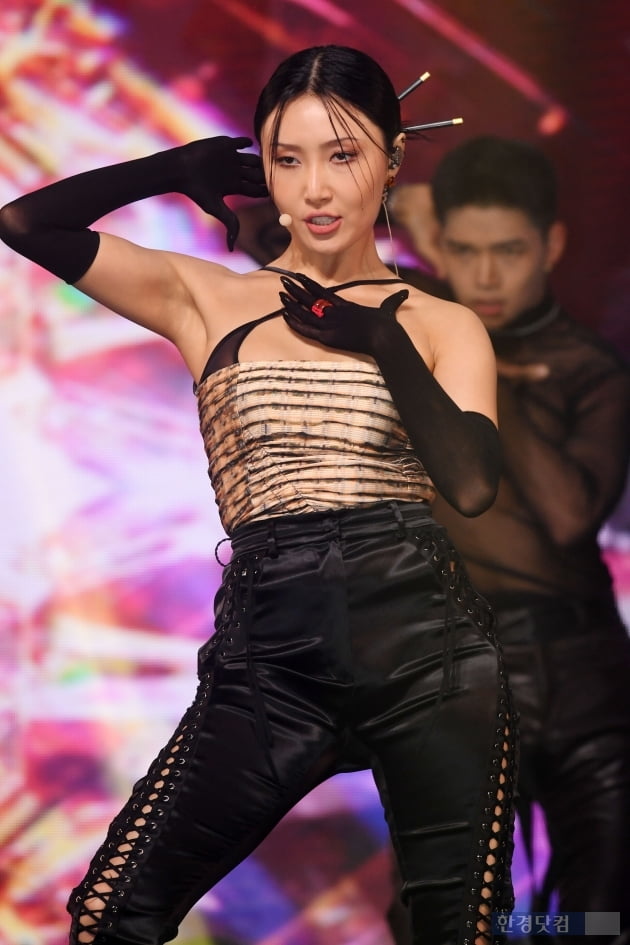 Through this title song 'I'm a Light', the more Hwasa is immersed in her desire to be perfect, the darker and faster the shadows around her, but when she is freed by letting go of herself in that bondage, she can swallow the shadow and become a complete light. say that there is
This is the first song that Hwasa collaborated with a foreign producer, and Hwasa also participated in writing the lyrics to melt her own personality and color. The trendy sound that spreads freely on the heavy bass line, the addictive hook, and Hwasa's signature groovy voice form a perfect combination like a well-woven pattern.
Regarding 'I'm a Light', Hwasa introduced, "Aren't you becoming hysterical or sensitive in personality while overusing me? It's like a consolation for me who loses the happiness around me. It's a cute song to ask for understanding." He added, "I wanted to put a pleasant poison in the music video."
Hwasa has not only written the lyrics for the title song 'I'm a Light', but also participated in composing and writing the b-side song 'Bless You', thereby showing her musical capabilities that have grown even further.
However, it was Hwasa who wanted to lower her participation in writing the lyrics for 'I'm a Light'. As for the reason, he said, "It seemed that I wouldn't be satisfied if I tried to put all my heart into it." But in the end, it's his story, so even if the expression isn't 100% perfect, he tried to capture it as much as possible.
Hwasa said, "I wrote the lyrics with a little bit of apologetic feeling. In the meantime, there are many people who have only looked ahead and haven't been able to take care of them, and it seems that they have missed out on a lot of trivial things. I always had a guilty heart. said.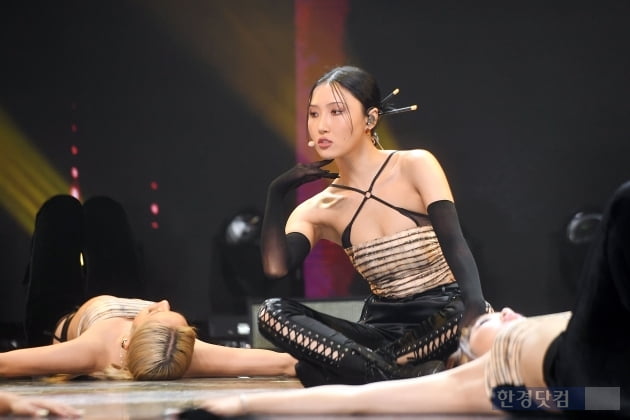 In the meantime, Hwasa has won the title of 'solo queen' by showing trendy music, unconventional concepts, and unrivaled performances. He swept domestic and international music charts with his previous work 'Maria'.
The pressure reached its peak while preparing this album. Hwasa confessed, "I didn't think it would be burdensome, but after taking a long break, it got too big. I wanted to put things that were meaningful to me, so I didn't work quickly. It was too burdensome."
He said, "I think I'll be a little happier if I let go of the question of where people don't like when the visible indicators are good. The happiness and satisfaction that you can just say, 'This stage was so good' while interacting with people who are on stage with you, and My goal is to find my own balance."
The support of Mamamoo members also played a big part in building strength. Hwasa said, "Now that we're just a family, we don't send 'Congratulations' through text messages, but we support you from a place you can't see. Rather than saying a word, it's like staying silent and watching and cheering. It's really like a family. thank you.
Finally, Hwasa said, "I plan to run as hard as I have wandered. I want to fulfill my future plans while taking good care of my health. I also want to share a lot of communication with my fans."
Hwasa's second single album 'Guilty Pleasure' will be released at 6 pm on the same day.
Kim Soo-young, reporter at Hankyung.com [email protected]