Dead bodies lined up in Indian crematoriums waiting for their turn © AFP=News1
In India, with more than 380,000 confirmed cases of Corona 19 per day and 3,500 deaths per day, bodies are accumulating faster than cremation rates. Those who have lost their loved ones mourn and anger politicians who could not prepare for the second pandemic.
According to CNN on the 29th, the Shimapuri crematorium side in eastern New Delhi said, "Before the epidemic pandemic, we used to cremate 8 to 10 (every day), but now we are cremating 100 to 120 bodies a day."
The Shimapuri crematorium is so crowded that dozens of workers have quickly built a new crematorium out of bricks. However, the space was too small and there were too many bodies, so the family had to hang up tickets and wait for their turn with the bodies shortened.
Cremation is a very important funeral method in Hinduism. It is because they believe that in order for the soul to be reincarnated, the body must be destroyed. However, as many bodies are crowded, the timber stocks are running out and there is no space to put them down, causing a struggle among the families.
"The fight broke out and I had to call the police to get makeup," said Bacardot, a Washington Post columnist who lost her father this week due to a lack of oxygen in the hospital. Families who can't use the crematorium because they don't have money simply put their bodies on the floor and are helpless.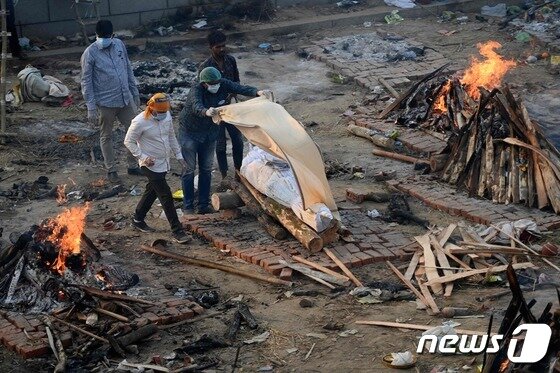 Indian crematorium © AFP=News1
New Delhi crematoriums cremated more than 600 bodies every day last week. This is twice the city's official daily death toll, meaning that there are so many unreported deaths. Those who work day and night in the crematorium said it was especially distressing to see young lives die of coronavirus.
The rate of young people infected with Corona 19 was similar to that of the first pandemic. However, according to experts, the number of confirmed cases and deaths among young people is increasing rapidly.
After the first pandemic, CNN reported that complaints against the government for being vigilant and not properly taking measures have reached its peak. Helplessness, frustration, and anger at the government's procrastination are spreading among those witnessing the daily flooding of deaths, especially in hospitals and crematoriums.
"The situation is going to get worse because Delhi has oxygen, beds, ventilators, plasma injections, etc.," said Gtender Singh Shunti, director of the Shimapuri crematorium. "I am very angry, but I feel guilty for nothing I can do." "People who have to solve this problem have disappeared. They made an appointment and disappeared," he said.
"I am very angry as an Indian," said Doot columnist. We have been ruined by policy makers and politicians. "We have failed because of the government that did not plan to plan for the second pandemic."