Additional state of emergency has been issued for Kanagawa, Saitama, Chiba and Osaka
In Tokyo and Okinawa, the deadline has been extended from the 22nd to the 31st of the following month.
As the novel coronavirus infection (COVID-19) rapidly spreads in Japan, which is in the midst of the Tokyo Olympic Games, the area where the state of emergency is issued is greatly expanded.
According to Kyodo News and NHK on the 30th, the Japanese government held a meeting of the Corona 19 Countermeasures Headquarters on the evening of the same day, and the three prefectures in the metropolitan area, including Kanagawa, Saitama, and Chiba, and the center of the Kansai region A state of emergency is decided in Osaka Prefecture.
The issuing period is from the 2nd to the 31st of the following month.
In Tokyo and Okinawa prefectures, where a state of emergency has already been declared, the deadline has been extended from the 22nd of the following month to the 31st of the same month.
As a result, the Tokyo Paralympic Games, which will start on the 24th of next month, will also be held during the state of emergency.
According to NHK statistics, there were 10,699 new confirmed cases of COVID-19 across Japan the day before, exceeding 10,000 for the first time in a day.
Since the opening of the Olympic Games on the 23rd, Corona 19 has been spreading rapidly in Japan.
The number of confirmed COVID-19 cases in one day increased by 153% from 4,225 on the opening day to 10,699 the day before.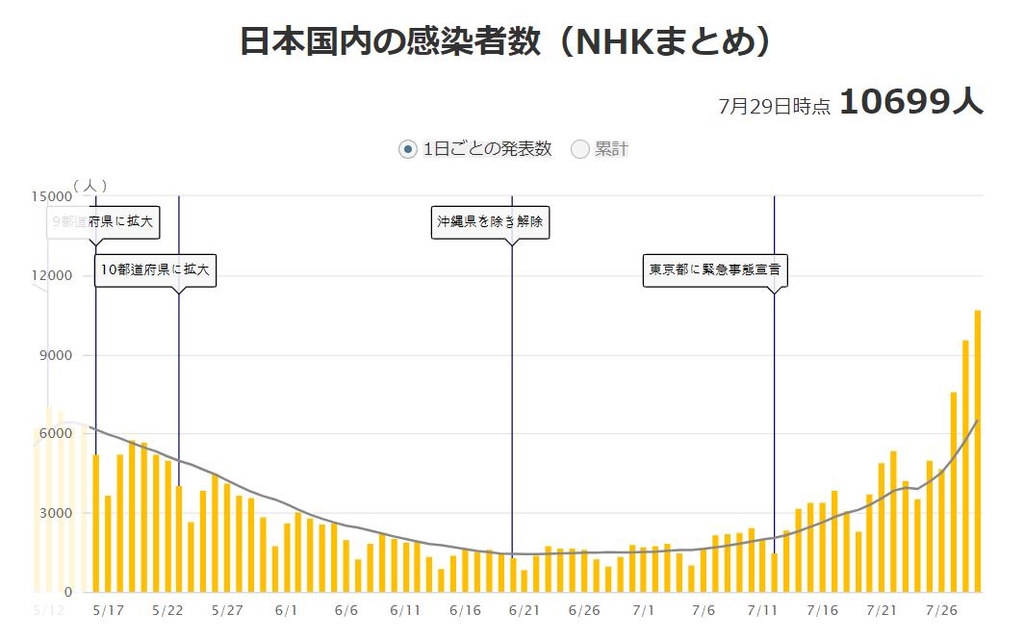 The number of confirmed cases by region the day before was highest in Tokyo, the host city of the Olympics, with 3,865, followed by Kanagawa Prefecture with 1,164 and Osaka with 932.
In an emergency statement the day before, nine local medical groups, including the Japanese Medical Association, requested the government to consider issuing a state of emergency nationwide, saying that the re-spread of Corona 19 is putting pressure on the medical care system.
The state of emergency in Japan is aimed at restricting going out, restricting restaurant business hours, and expanding telecommuting.
/yunhap news
ⓒ Hankyung.com, unauthorized reprinting and redistribution prohibited