Sunday, August 22, 2021, 8:27 p.m.

<!–
–>

Prisons reported 196 new cases. The total number of inmates still being treated in prisons in the Bangkok area of ​​380, 648 in the metropolitan area and 3,334 in the provinces, while 55,198 recovered, with 96 deaths.
On August 22, 2021, Mr. Ayut Sinthopphan, Director-General of the Department of Corrections Reveal the situation of the epidemic of the COVID-19 virus. in prisons and correctional institutions (As of August 21 at 4 p.m.) There are 196 new cases, including 114 inmates in Red Prison and 82 new inmates in quarantine rooms. The Department of Corrections has 4,362 cases, 87.7 percent green, 11.9 percent yellow and 0.4 percent red, 380 prisoners in Bangkok, 648 in the metropolitan area and 3,334 in other provinces.

<!–
–>

Ayudm said the state of prisons remained stable today with no further outbreaks: 38 red prisons where outbreaks occurred, while 104 non-infectious white prisons, with 247 more recovered cases. The total number of cured cases is 49,998, or 90.6% of the total number of infections, 55,198, and the cumulative death is 96, accounting for 0.17% of the total cumulative infections.
Of the three deaths, two were inmates from the Khon Kaen Correctional Institution and one at the Chon Buri Central Prison. have a congenital disease Even though the full standard of care has been taken by the medical team and referred for treatment to external hospitals But the symptoms are still not getting better. Until his death, the Department of Corrections would like to express his condolences on his passing. On this occasion, he has coordinated with his relatives to bring the body of the deceased to religious ceremonies according to the method of handling the bodies of those who died from COVID-19. It's all right
Mr. Ayut added that The number of prisoners diagnosed during this period still comes from 2 parts: 1. from prisoners in the quarantine period who are newly recruited from outside; to be quarantined for at least 21 days, and to test for infection both before entering the quarantine room and before leaving the room including re-examination in patients with symptoms or is suspected of being infected; Most of which are found to increase during the first week of the outbreak. from accelerating screening for infected people for quick access to treatment and when the epidemic has been passed for a while A decrease in the number of infected people will begin to be found in periodic re-screening. until you can enter the plan The end of the epidemic, or EXIT quickly in the end.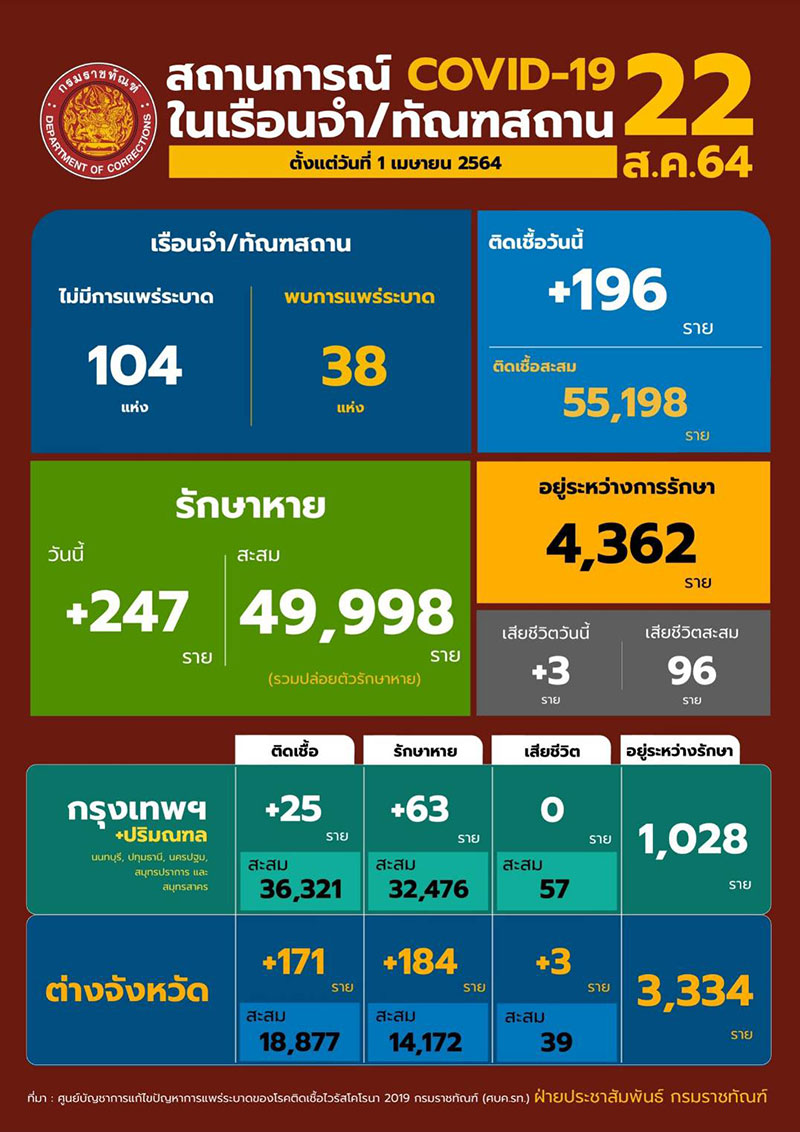 .