At 12:30 p.m. on October 22, 2021, the Center for the Epidemic of Coronavirus Disease 2019 (COVID-19) Situation Administration (CCSA) reported the situation of COVID-19 cases. In Thailand, details are as follows.
9,680 infections in the country
120 infected in prisons/detention centers
10 foreign infections
10,513 more healed
1,710,447 total recoveries (since 2020)
102,317 are being treated, including 43,681 in hospitals, 58,636 in field hospitals and others, of which 2,585 are in severe condition (pneumonia), 583 are on ventilators.
66 additional deaths, cumulative death toll 18,625 (since 2020)
The cumulative total of confirmed cases since 2020 is 1,831,389, counting as the number 1,821,580 – 1,831,389.
Thailand is ranked 24th in the world.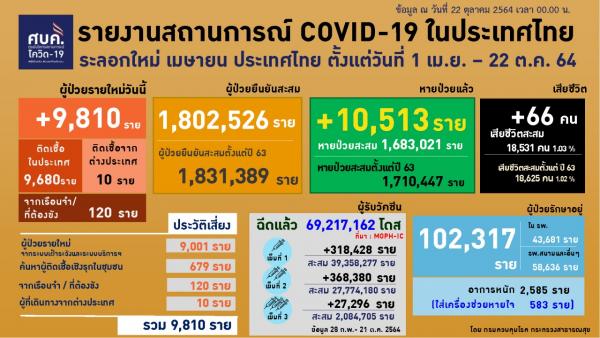 For the 9,810 new cases, they are divided as follows:
9,001 new patients from surveillance and service systems
Proactively search for 679 infected people in the community.
Prisons/prisoners 120
10 foreign visitors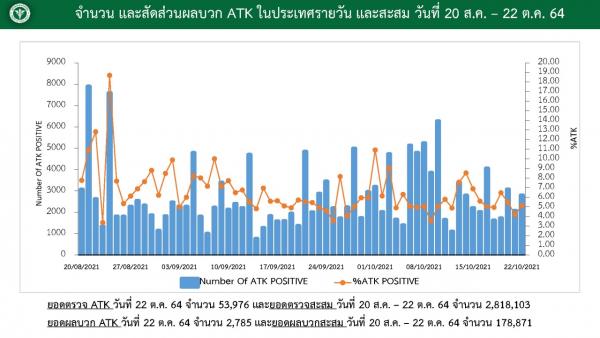 For ATK testing today, 53,976 found 2,785 positive results, with the cumulative test count from 20 Aug. – 21 Oct. 2021, a total of 2,818,103. ATK testing is excluded from reporting new cases confirmed with RT-PCR.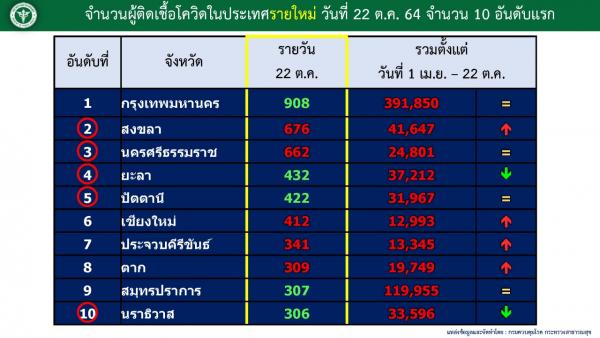 The five provinces with the most cases were Bangkok with 908 cases, followed by Songkhla with 676, Nakhon Si Thammarat with 662, Yala with 432 and Pattani with 422.