<!– –><!– –>
html .jqueryslidemenu{height: 1%;} /*Holly Hack for IE7 and below*/

<!–
This is new server
–>

Monday, June 28, 2021 19:13
<!–
–>
activity
CPF joins hands with 42 Bangkok to create a new generation of programmers
Monday, June 28, 2021, 7:03 p.m.
Follow breaking news, current news on Facebook, click here.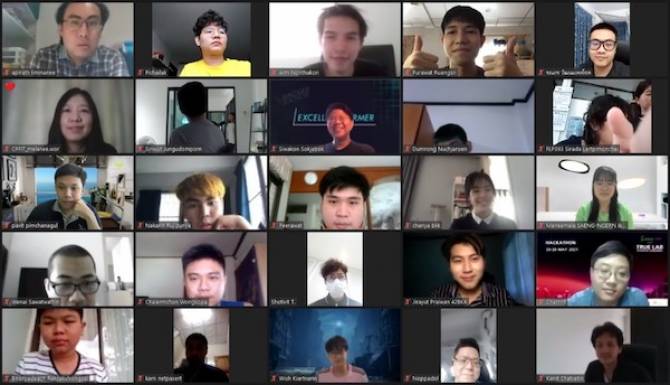 CPF joins hands with 42 Bangkok to create a new generation of programmers
Upgrading the Thai agricultural sector to the digital age
Charoen Pokphand Foods Public Company Limited or CPF joins hands with 42 Bangkok, a world-class programming institute. Build programmers to meet the needs of the labor market. and join in driving the development of Thailand towards the digital age Pilot the activity "Virtual Hackathon by 42 Bangkok X CPF", recruiting new generations to create and apply technology to upgrade the agricultural and food industry. through learning from real business problems
Mr. Sansern Samaisut, Managing Director of CPF IT Center Co., Ltd. (CPFIT), said that the cooperation between CPF and 42 Bangkok, which is the first computer programming institute in Thailand. Under the operation of King Mongkut's Institute of Technology Ladkrabang (KMITL) this time The goal is to produce programmers who are in demand in the labor market. through business problems and practicality by piloting the activity "Virtual Hackathon by 42 Bangkok X CPF" with CPF as the leader in integrated agro-industrial and food business and is the world's leading food manufacturing company. Presented a total of 6 contest questions to select people with computer skills to apply technology. to upgrade the agro-industrial and food business modern agriculture development Join to drive Thailand towards the digital age.
"CPF sees that cooperation with 42 Bangkok will help develop new skills for the company's personnel. Meet the needs of working in the changing technology and digital era. and also to create a new generation with computer knowledge jointly develop Thailand from helping to innovate This makes technology and software costs less. Farmers at all levels have the opportunity to use good technology, develop themselves and contribute to the basic economic development of Thailand," said Sansern.
The six business problems determined by CPF consisted of 1. Excellent Farmer, an intelligent farmer's assistant. (Precision Agriculture) uses Machine Learning (ML) and Artificial Intelligence (AI) technologies in cultivation. Study good cultivation patterns to provide learning outcomes. Be a smart agricultural assistant to help transfer knowledge to farmers As a result, the overall productivity of the country is of higher quality and higher yields such as corn. 2.Agriculture GIS Visualization. Overlay the satellite image and tell the coordinates. Agriculture using Geographic Information System Use satellite imagery to take high-angle shots of large areas. Able to analyze the density of planting plots in different areas. 3.Smart Shrimp Farming Smart Shrimp Farming. Develop a shrimp farm system White shrimp species in a closed house by bringing technology to increase the efficiency of feeding, estimating the number Size and weight, water quality measurement and control system
4. On-Shelf product availability with image processing Product counting on the retail shelf using camera images. use of surveillance cameras ceiling mounted so that the product shelf is photographed from a high angle to know the type of product and the number of products remaining on the shelf. 5. Document type classification and data extraction for automated data entry. Documentation in digital format. and able to use the information conveniently, quickly, accurately, and precisely 6.Food Supply Chain (Conceptual)Model food chain management model Use real-time technology and blockchain to exchange data between companies, traceable and can be analyzed accurately.
The competition, which was held on June 26-27 in a Virtual Hackathon format, had 24 teams of 4 participants each, for which CPF supported a total prize money of 150,000 baht to the winning team. Competition The Popcorn team won The Best Award under the theme of Excellence Farmer by developing an application called Corn-Lab with the concept of "Making corn is fun, easy and quality. " to be the center of knowledge about growing corn Covering from the beginning of planting, solving problems in cultivation including building a community network of corn growers leading to the creation of an expert classroom and share useful experiences to corn growers across the country. ML/AI technology is used in cultivation. Promote Thailand's corn farmers to be "Precise farmers" and increase productivity.
The Popcorn team was also one of six teams to win the First Prize, which was awarded to the team with the highest score in each of the six challenges. Vaccine team got the highest score in Agricultural GIS Visualization, Forrest Shrimp team got the highest score in Smart Shrimp Farming, Let's Go team got the highest score, On-shelf. Product Availability with Image Processing and the D-Data team received the highest score in Document Type Classification and Data Extraction for Automated Data Entry and the TMD (TMD) team received the highest score in the Food Supply Chain Model category.
Mr. Sansern added that this cooperation It's a great opportunity for CPF, who has a vision of doing business as the kitchen of the world. will bring agricultural technology Upgrade agriculture to 4.0 with software, creating benefits and sustainability for farmers. help develop Thailand In line with the philosophy of 3 benefits that CPF has always adhered to, which are benefits to the country, the people and the company.
42 Bangkok Institute is a world-class Programming School under the name 42. Currently, there are 33 locations in 22 countries for operations in Thailand. It is the first programmer institute in Thailand. It is the responsibility of KMITL. It operates under the concept of no teachers, emphasizing peer to peer learning based on real business problems, no degree, no tuition fees. In the future, CPF and KMITL plan to expand academic cooperation to develop skilled manpower. Computer and Information Technology as well as collaborating on research and development of innovations in computers and information technology. Join to create quality personnel and have potential to contribute to society.
Follow breaking news, current news on Facebook, click here.