Department of Medical Sciences Delta species of covids found in 71 provinces. Last week, almost 63% were found, overtaking Alpha, especially Bangkok, almost 77 per cent, while beta is still mostly spread in the southern region.
On July 19, 2021, Dr. Supakit Sirilak, Director-General of the Department of Medical Sciences Press release of the covid-19 mutation surveillance that the Delta or Indian strain has now completely surpassed the Alpha or British strain. Beta species or South Africa It is still mostly in the area of ​​the southern border.
If looking at the overall picture in the past week (10 Jul.-16 Jul. 20), the whole country examined a total of 3,340 samples. It was found that 62.6% of the Delta species, and about 34% of the British strains, the rest were. Beta 3.3% will see the trend increase rapidly as expected.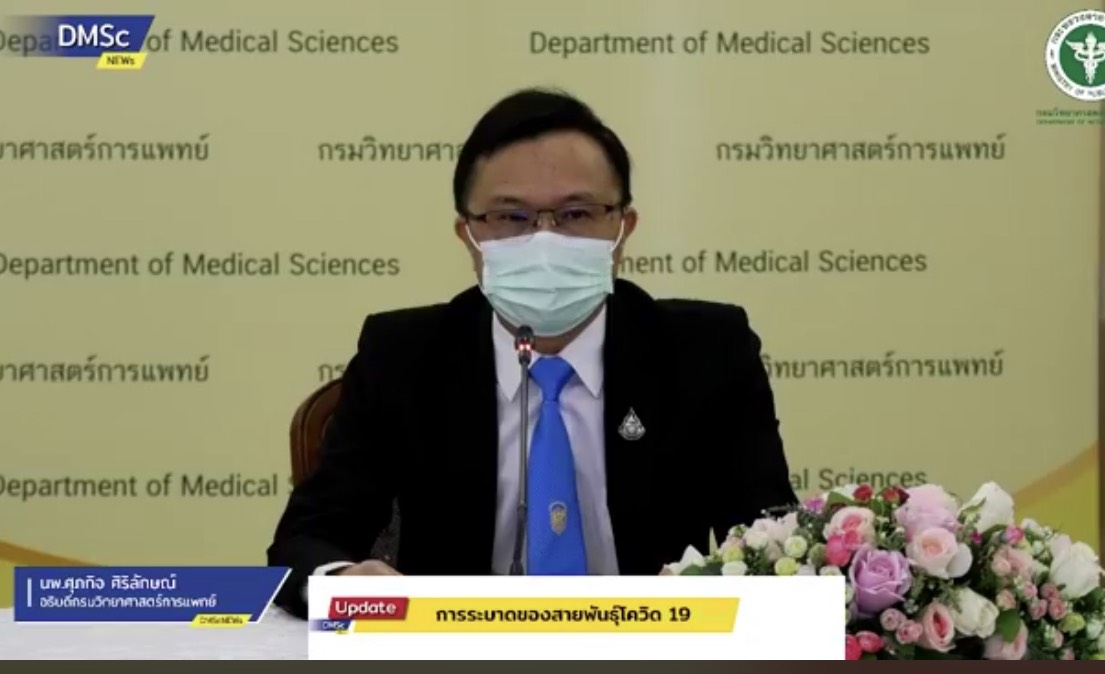 Delta spreads 71 ​​provinces
In addition, Bangkok, out of 1,745 tests, nearly 77% of the delta strain was infected, while the region of 1,595 tested 47 percent of the delta. Today, there have been 71 delta cases found in 71 provinces, 11 provinces from the previous week, such as 3 Mae Hong Son, Kanchanaburi 1, Samut Songkhram 4, Chachoengsao 20, Trat 2, Surin 28, Chumphon 1, Nakhon Si Thammarat 2, Krabi 2, Phang Nga 1, Pattani 2
"You can see that now Delta has found almost every province. Only a few provinces remain. This shows that Delta is the answer to why the number of daily infections is increasing rather quickly. because it is easy to stick together but the violence The morbidity and mortality rate has not had much effect. Unless there are too many cases that can't be taken care of in time, it may have an impact."
Beta is still spreading only in the south.
As for the South African species, or beta, most of them are found in the south such as Pattani, Yala, Songkhla, Phatthalung. Last week, there were 90 more in Narathiwat and one in Chumphon.
In case of finding a patient in Bueng Kan, 1 person is a Thai person who has returned from Taiwan. While in detention He couldn't detect it, but when he returned home, he started to feel sick, found the infection and was tested as beta. From the investigation of the disease, it found that there are 3 close people who are at risk, so we have to see if the beta in the swamp will stop at these 4 or not. Must coordinate additional examination areas, expect to know the results next week As for the cause of the infection, it is necessary to seek further investigation.
while Bangkok There is no more outbreak. After finding a case of a family having relatives visiting from the south and was found to be infected with beta strains Infected 2 family members from the investigation of the disease. not found yet If this week is still zero in Bangkok Beta may not have a widespread outbreak. I hope that will be the case.