This is the period of the so-called 'interest rate nomads' who move money in search of high interest rates. The interest rate on time deposits in the banking sector has exceeded 5% per annum, the highest level in more than 10 years. However, the atmosphere has changed quite a bit this month, and as products with lower interest rates than before appear one after the other, observations are emerging that 'the period of high interest deposits has now reached its peak'. How did it happen?
Chapter 1. Banknote deposit interest rates fell instead?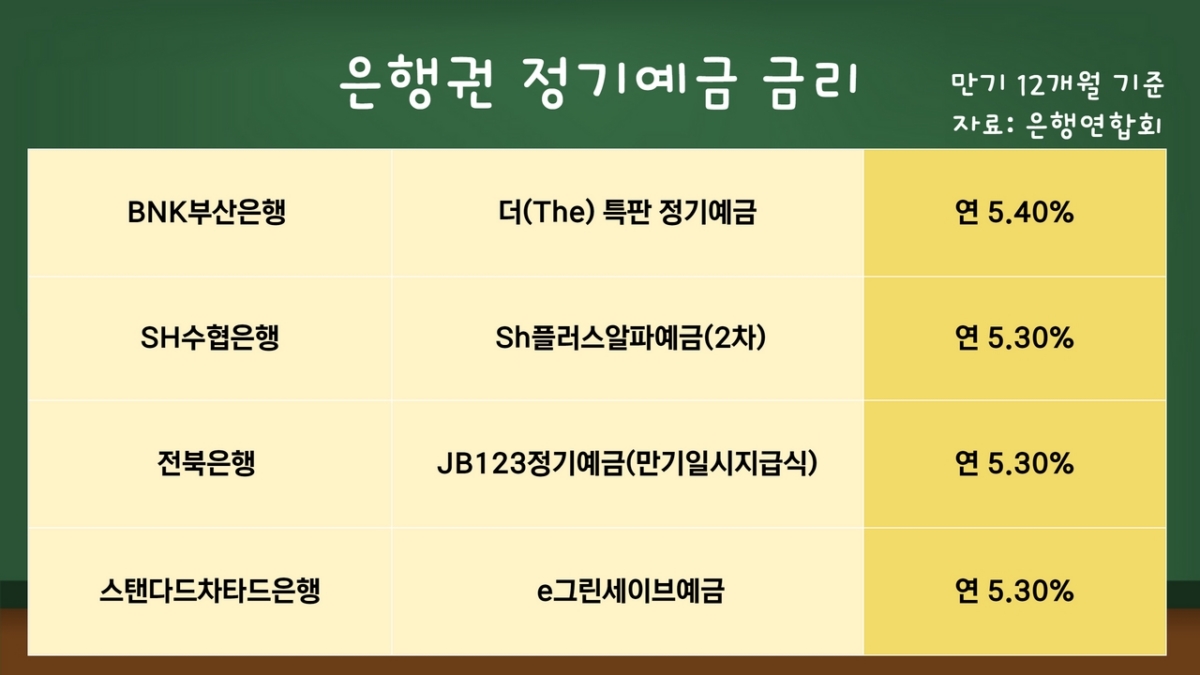 Among the time deposits handled by 19 banks, the product offering the highest interest rate is The Special Time Deposit by BNK Busan Bank, which is 5.4% per annum from the 2nd. Subsequently, SH Suhyup Bank's Sh Plus Alpha Deposit (secondary), Jeonbuk Bank's JB123 Term Deposit (lump-to-maturity), and Standard Chartered Bank's eGreen Savings Deposit offer the highest annual interest rate of 5.3%. 7 out of 40 time deposits (based on 1 year maturity) offer an interest rate of 5% or higher per annum.
However, if you remember when the Bank of Korea took a big step last October, the bank immediately raised the deposit rate from a minimum of 50bp to a maximum of 100bp, the atmosphere turned quite 'lugging'. Although the Bank of Korea raised the base rate by an additional 25 basis points last month, the banking sector kept the interest rate on deposits the same as before or only raised them by 0.1-0.2 percentage points. Even time deposit products appeared with lower interest rates. Woori Bank's 'Woori WON Plus Deposit' and Kookmin Bank's 'KB Star Term Deposit' are typical examples. Our WON Plus deposits decreased by 0.20%po 5.18% (based on one year maturity) on the 13th of last month to the current 4.98% per year, and the interest rate of 'KB Star Term Deposit' decreased by 0.31%c. from 5.01% per annum to 4.70%.
Chapter 2. why the hell what is the reason
It is noted that the main reason is that the financial authorities put the brakes on the competition to raise the interest rate on deposits in the banking sector. The authorities believe that an increase in deposit interest rates from banks can suck money from secondary financial institutions such as savings banks, triggering a 'liquidity crisis' and causing an increase in lending rates, and recently asked the financial sector to refrain from excessive charges. in deposit rates, I have conveyed my meaning
In addition, the downward adjustment of market interest rates and growing expectations that bank bond issuance, which had been held up due to concerns about a capital crunch in the bond market, could also put the brakes on the steep rise in deposit interest rates.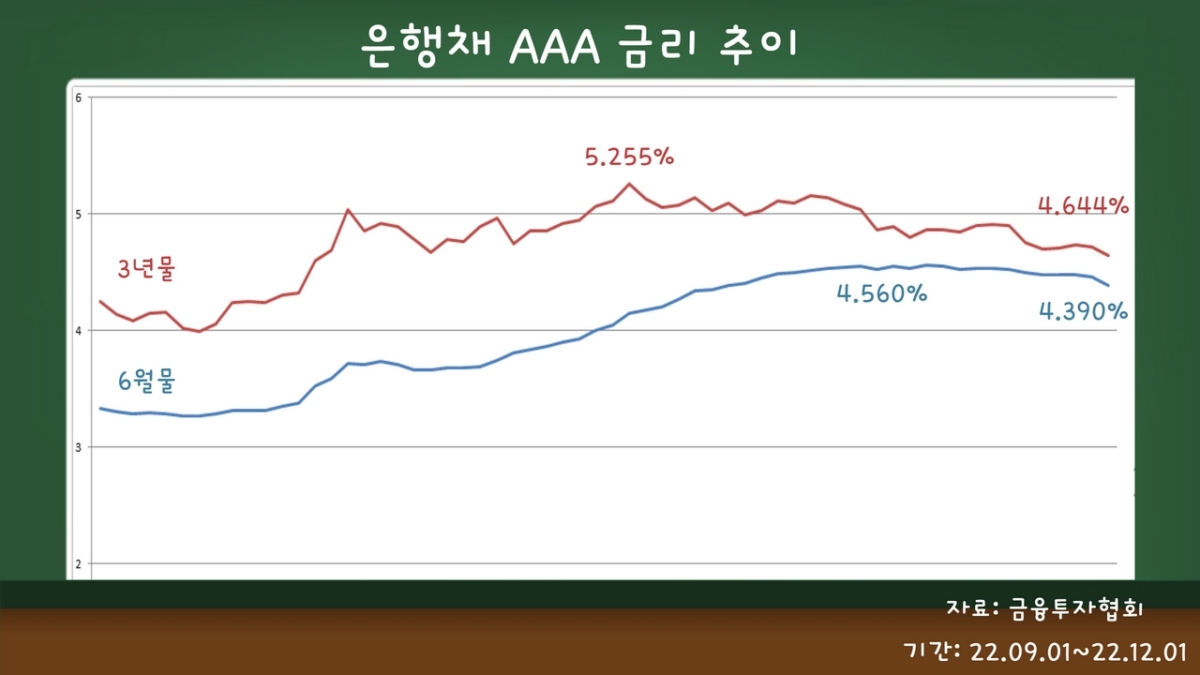 Over the past 3 months, the 3-year AAA bank bond yield (unsecured) peaked at 5.255% on October 21st, and then fell to 4.644% on December 1. It fell slightly to 4.390% on the 1st. If bank bond issuance is smooth and even market interest rates fall, banks do not need to raise deposit rates too much while adding prime rates. It is clear that deposits are also one of the important ways to raise money, but this is because there is a window where you can raise money at a lower cost.
Chapter 3. Skyrocketing deposit rates, are they really peaking?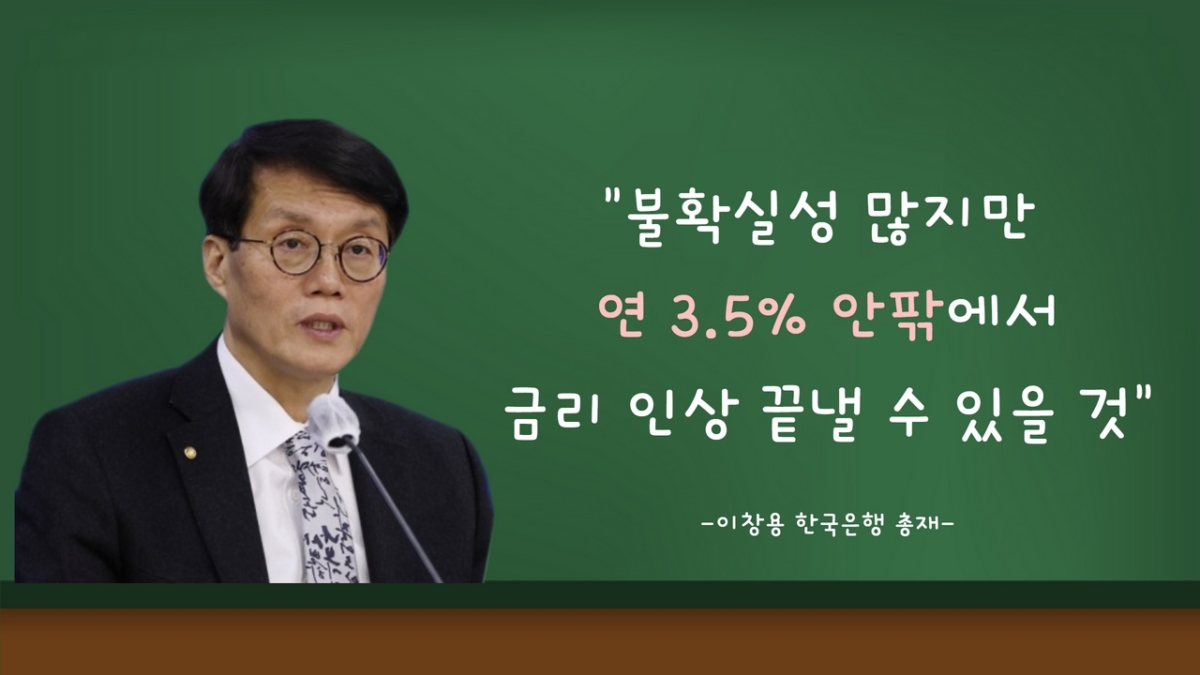 Bank of Korea Governor Lee Chang-yong recently said, "I hope to finish raising the base rate by about 3.5% per year for a soft landing in the real estate market." "There is a lot of uncertainty, but if the situation goes as expected, we will be able to end the rate rise at around 3.5% per year," he said. This means that the base rate, which is currently 3.25% per annum, can be raised again by 0.25 percentage points before ending the hike. Of course, deposit rates in the banking sector do not mechanically follow the Bank of Korea's base rate hike stance. However, if the trend of raising the base rate ends or even moves to lower it, the interest rate on deposits in the banking sector may move in the same direction. Although various factors such as the stabilization of the bond market, the direction of the US Federal Reserve's monetary policy, and inflation are identified as variables, the observation that interest rates on deposits are peaking is not entirely incorrect.
Chapter 4. "Not when you swing the bat unconditionally short."
Among experts, there is advice that it is time to take a different deposit investment strategy. Until the middle of last month, the strategy of depositing and paying deposits with short maturities and switching whenever high interest rate products came out was effective, but now the situation has changed. As the deposit interest rate is said to be peaking, it is worth considering diversifying the deposit period to 3 months, 6 months, 1 year, etc., and increasing the proportion of products with a relatively long maturity. Kim Hyeon-seop, head of Hannam PB Center at KB Kookmin Bank, said, "If you look at asset-level customers who prefer deposits, there are those who sign up for deposits with maturities of 2 or 3 years to prepare for for the trend of interest rate rises to decline in the future." One possible way would be to split some of it into yield and some of it into long-maturity yield," he said. It's just that the deposit interest rate will not rise significantly in the future, but so that the upward trend can continue, a certain proportion of the assets will be transferred to a higher interest rate product at the end of each maturity through deposits with a relatively short maturity such as 3 months or 6. It is advised to diversify into 2 year and 3 year long term products to prepare for interest rate cuts.
At this time, in the case of 2-year and 3-year deposits with relatively long maturities, the types of products are less than those with 1-year maturities, and even the interest rates are often lower than those of maturities 1 year. . In general, the longer the deposit period, the higher the interest rate on bank time deposits, which is to reduce the interest rate on deposits with a maturity of ~3 years more than on deposits with a maturity of 1 year. In fact, a commercial bank official said, "Since we cannot predict what interest rates will be in the future, we are focusing on short-term rather than long-term loans."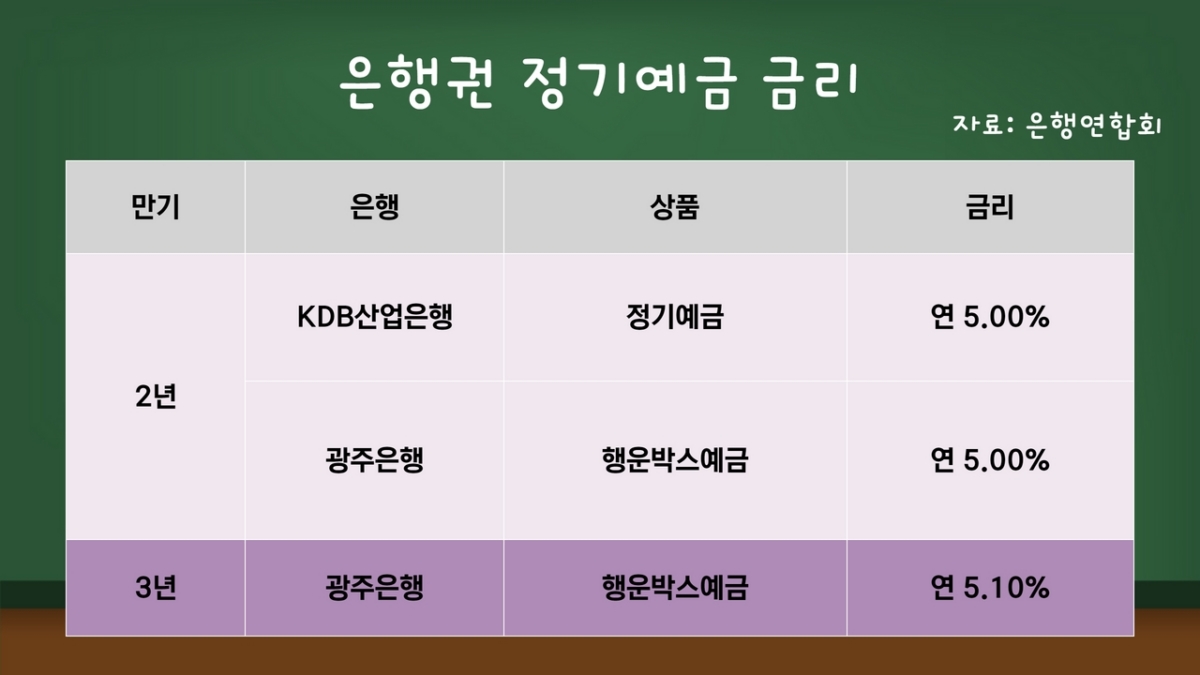 Therefore, if there is a fixed deposit product with a maturity of 2 or 3 years at an annual rate of 5%, it is worth paying attention even now. From the 2nd, for time deposits with a maturity of 2 years, KDB Industrial Bank time deposits and Kwangju Bank Lucky Box Deposits offer the highest annual interest rate of 5.0% It offers an interest rate of 5.10%.