[도쿄올림픽] I use a hotel, but when I open my eyes, I run
"It is a special experience to participate in the Olympics, and I like to feel the energy of the Athletes Village."
Ask for a certificate shot for each player you meet… Photos are constantly uploaded to social media
Defeat Nishikori on the stadium line and advance to the semifinals
Belgian gymnast Nina Derbael (right) posted a photo, saying, 'If Novak Djokovic (left) asks us to take a picture together, we can't refuse it'. Djokovic also tagged Derbael on his Instagram, saying, "Rip your legs with Belgian gymnasts." Photo source: Nina Derbael's Instagram
After the retirement of Michael Phelps, who holds the most Olympic medals (28), and Usain Bolt, the fastest man on the planet, the 'Mr. Popular' position in the Tokyo 2020 Olympic Athletes' Village is Novak Djokovic (34, Serbia) of tennis. ) was occupied.
Athletes from all over the world are posting pictures taken with Djokovic, the world's No. 1, on social networking services (SNS) every day. Regardless of nationality or sport, athletes take pictures with Djokovic anywhere, including in the canteen of the athletes' village or in the hallways. A photo of Belgian gymnast Nina Derbael stretching her legs with Djokovic posted on Instagram went viral around the world.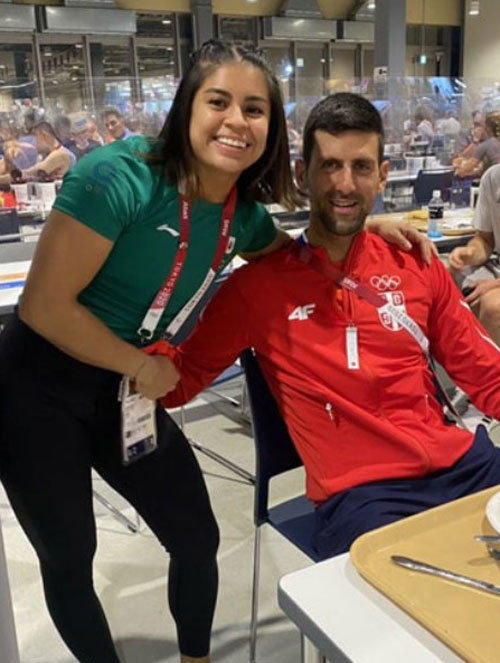 Mexican weightlifter Ana López Ferrer (left) also posted a picture of her shoulder-to-shoulder with Djokovic, whom she met at the Athletes Village restaurant, and wrote 'with the great Djokovic'. Ana López Ferrer's Instagram
It is very different from the daily life of Djokovic, who usually stays alone in a hotel and tours. Even during the Olympics, Djokovic is staying in a hotel, not an athlete's village. Djokovic said, "I spend most of my time in the athletes' village every day and I almost always sleep in the hotel. (Hotel stay) is to keep the routine in the morning. The Olympics are held only once every four years. "I'm trying to keep the routine and balance the energy of the athletes' village." "In the village, over 10,000 athletes share what they have experienced and learned from each other in life and sports," Djokovic said. "As a player who plays an individual sport like tennis, I am grateful for that experience," he said. When asked what kind of conversations he had with the players at the athletes' village, Djokovic said, "I ask a lot of mental parts, such as how to respond to pressure and how to regain concentration. The contents will be kept secret," he said, raising curiosity. However, when asked about the burden he feels as a superstar, he said, "Pressure is a privilege. "If you want to reach the top, you have to learn how to deal with the pressure first." Djokovic, who came to Tokyo after winning three consecutive major championships this season, defeated Kei Nishikori (Japan) 2-0 (6-2, 6-0) in 71 minutes in the men's singles quarterfinals on the 29th. With only two wins left until the gold medal, Djokovic will achieve the first 'Golden Grand Slam' in men's tennis history just by winning the US Open.
Reporter Bo-mi Lim, [email protected] Go to reporter page>
close the window
Recommend an article
Djokovic tearing her legs apart with female gymnasts… 'Athletes' Village Nucleus'
Best Featured News