Don't blink! Minute to defeat snakes in Chanthaburi Clash with Jong-Ang, almost 4 meters long, in the middle of the canal
On 24 Nov. 19 at 13.10 hrs. Rescue Radio Center Sawangkatanyudhammasathan Association, Chanthaburi Was informed by Ms. Kessuda Ploysit, owner of Song Phi Nong Shop, No. 18/3 Moo 8, Song Phi Nong Subdistrict, Tha Mai District, Chanthaburi Province that a worker found a large king cobra slithering into the pole casting factory. mortar afraid someone will be harmed
after being informed Coordinated with Sergeant Nattaphon Sue-Ngam, Instructor of Snake Toxicology Volunteer Team, Muang Chan with nearby rescue personnel Bring the device to check Upon arrival, she met Ms. Kessuda, who informed the workers. Take the snake protection volunteer team. Go inside the orchard Behind the casting factory after the cobra was a worker and a dog Chase slithering away into the ditch.
from the inspection Found a large king cobra Slithering and hiding in the soil under the grass in the canal. Later, Sergeant Nattaphon brought an iron hook to pull the snake out of the hole. and use his bare hands to hold the tail As soon as the king cobra was invaded Has thrown himself and snatched Sergeant Nattaphon several times among the workers and villagers. with a stand to observe They looked at each other with excitement.
The clash between Sergeant Nattaphon and King Cobra was fierce and terrifying. because it was noticed that The king cobra is in a fierce state. does not tolerate being easily caught
The snake tried to raise its neck, spread the hood to more than 1 meter and charged at Sergeant Nattaphon every time he was caught.
Subsequently, Sergeant Nattaphon used a method to deceive. Chasing the king cobra up from the ditch to come out in the open for easy control with a plastic box to lure snakes to slither into hiding instinctively
But the king cobra snatched it into a plastic box with a loud sound. Finally, Sergeant Nattaphon used a metal hook to touch the snake's head to the ground. Before using his bare hands to successfully catch a king cobra while Sergeant Nattaphon Sue-ngam, a teacher of toxicology The snake protection volunteer team in Muang Chan revealed that The king cobra found It is an adult wild snake. Prom Charoenphan It is approximately 4 meters long and is complete and strong. as well as being in a violent state Ready to snatch at the invaders every second. By observing the behavior that the king cobra Raise your head up to a quarter of its length. and the snake will always look upward Unlike other king cobras who raised his head to intimidate the enemy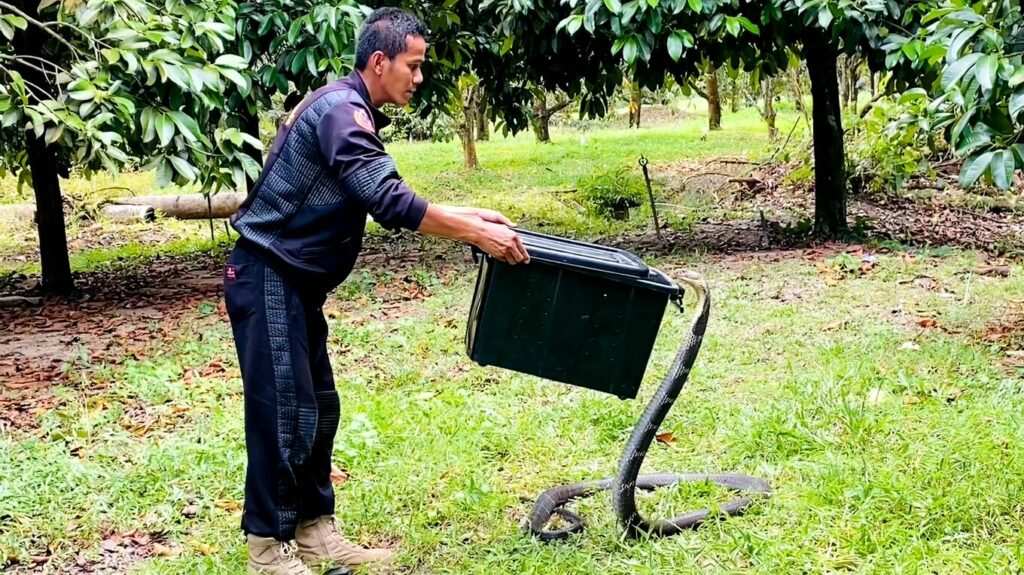 However, the cause where the king cobra is fierce and resists capture because the snake is in the mating season They are also in a state of stress and panic. from being attacked by a dog This is the reason why the snake was caught this time. It is more difficult than catching other snakes that have ever been caught, so I would like to warn people who see poisonous snakes during this period. Please notify the authorities immediately. with immediate expertise Do not try to catch the snake yourself. because the picture seen Officers are trained to be proficient. Imitation is not recommended. which can be life threatening