KT Wiz Quevas. 2021.10.12/News 1 © News1 Reporter Lee Seung-bae
(Seoul, Incheon, Suwon = News 1) Reporter Na Yeon-joon, Reporter Jo Jae-hyun, Reporter Seo Jang-won = KT Wiz recorded 1 win and 1 draw in the double header and took the joint lead. The NC Dinos did not win even a single win in two games and were eventually eliminated from the fall baseball.
SSG Landers held the Doosan Bears and raised the possibility of fall baseball, and further hoped for fourth place. The LG Twins drew a draw with the Hanwha Eagles, turning on the red light for the championship. The KIA Tigers defeated the Lotte Giants thanks to Hwang Dae-in's three stores.
KT recorded 1 win and 1 draw in the double header against NC Dinos in the 2021 Shinhan Bank SOL KBO League held at Suwon KT Wiz Park on the 28th.
KT shared the lead with Samsung (75 wins, 9 draws and 58 losses) with 75 wins, 9 draws and 58 losses. NC, on the other hand, were eliminated from the postseason competition with a record of 66 wins, 9 draws and 67 losses.
In the first game, KT Go Young-pyo (7⅓ innings, 1 run and 11 strikeouts) and NC Myeong-ki Song (6 innings and 1 run) played a prestigious pitcher battle, and the match was 1-1.
The tight balance was broken by KT. In the bottom of the 4th inning, KT, who created a one-and-a-half opportunity with a walk of the lead batter Bae Jeong-dae and a sacrifice bunt of Park Kyung-soo, took the lead by Hoeing's just-time hit in front of right fielder.
NC, who struggled without a score until the 7th inning due to Go Young-pyo's counter-throwing, only tied the score in the beginning of the 8th inning. In the 1 company 1st and 3rd base chances, Na Seong-beom countered Ko Young-pyo's 2nd pitch changeup and hit a hit, turning the game back to the beginning.
After that, neither team could score an extra point and the match ended in a draw.
In the second game, KT defeated NC 5-2. KT starter Cuevas worked hard with 9 hits, 2 walks, 12 strikeouts and 2 runs in 7 innings. The batting line also exploded belatedly, leading to a valuable victory.
Cuevas, who played in a 1-0 lead, was reversed in the fifth inning. In the crisis of 2nd and 1st and 2nd base, Na Seong-beom hit a double in left middle. Both runners hit the home, and KT was led 1-2.
The silent KT line exploded at the end of the 7th inning. Seong-Woo Jang's 1 RBI double at first base made the tie 2-2. Then, in the at bat, Park Kyung-soo's just-time hit made a comeback, and Shim Woo-jun's hit came out and he ran 4-2. KT put a wedge in the game with Yuhan-jun's solo shot at the bottom of the 8th inning.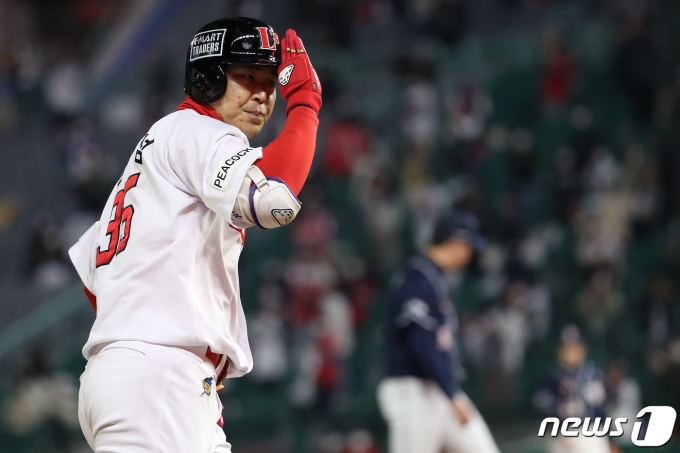 Doosan Bears and SSG Landers in the 'Professional Baseball 2021 Shinhan Bank SOL KBO League' held at SSG Landers Field in Michuhol-gu, Incheon on the 28th. 2021.10.28/News 1 © News1 Reporter Lim Se-young
In Incheon, SSG defeated Doosan 4-3, raising expectations for fall baseball. With 66 wins, 14 draws and 63 losses, SSG reduced their ride with fourth-placed Doosan (69 wins, 8 draws and 65 losses) to 0.5 games, taking one step closer to advancing into autumn baseball.
SSG's starting Gabilio conceded 5 and 6 innings first. It was not easy to see a comeback since the opponent's starter Kwak Bin was in good condition.
However, SSG, who was led 0-2, did not miss a chance in the bottom of the sixth inning. After creating a chance with Choi Ji-hoon's walk, Shin-soo Choo made up for one point with a triple. Then, against Doosan Lee Young-ha, Park Seong-han hit second baseman with a ground ball and called Choo Shin-soo home.
SSG's momentum, which succeeded in tying, was fierce. After Choi Jeong walked on base, Han Yoo-seom, who entered the next at-bat, pulled Lee Young-ha's second pitch at 150 km/h and hit a two-run homer that went over the right fence.
SSG, who had Kim Taek-hyung on the mound from the 8th inning, gave up one point to Doosan due to a number of hits, errors, and fierce fighting. In the ninth, Taek-hyung Kim was also in danger of running out of one-company bases, but the match went down by striking out Choi Yong-jae and Park Geon-woo side by side.
In Daejeon, LG and Hanwha were tied 1-1. LG (71 wins, 14 draws and 57 losses) had 1.5 matches with the joint leading group. After winning all of the remaining two matches, we have to watch the results of the match between KT and Samsung. Hanwha has 49 wins, 12 draws and 82 losses (10th).
LG took the lead in the first inning with Kim Hyun-soo's just-time hit. However, in the bottom of the 6th inning, Kim Tae-yeon took a tie at first and second base in two outs.
At the end of the ninth inning, LG was in danger of 2 outs, 1st and 3rd, but caught the runner who was trying to steal and prevented additional runs.
In the resignation, KIA defeated Lotte 5-3 thanks to Hwang Dae-in's three-run home run. KIA got 58 wins, 10 draws and 74 losses (9th place), and Lotte was 64 wins, 8 draws and 70 losses (8th place).
While tight 2-2, Hwang Dae-in exploded a three-run homer in the beginning of the 5th, knocking down Lotte starting Franco. Hwang Dae-in's 13th home run of the season.
Copyright owner ⓒ 'Economic News of People Dreaming of Success' Money S, unauthorized reproduction and redistribution prohibited
.