Dr. Anan reveals the results of the serum of medical personnel after receiving Sinovac 2 needles Indian strain of coronavirus found able to dodge vaccine immunizations
On June 17, 1964, Dr. Anan Chongkaewwatana, Director of Animal Health and Management Innovation Research Group The National Center for Genetic Engineering and Biotechnology (Biotech) posted a post on the Sinovac vaccination research, stating:
The results of the 2 needle serum Sinovac test on the delta spike…
These data are the results of a trial I studied using serum samples of healthcare professionals who received two doses of Sinovac's CoronaVac vaccine for 1 month using 23 samples in a study comparing the serum potency. The number of these antiviral agents produces the expression of the spike protein of the COVID-19 virus. Original strain (Wuhan) and strain B.1.617.2 (Delta) by a standard method called Pseudovirus Neutralization assay is a quantitative determination of NAb antibodies that can inhibit the invasion of these viral agents. The reading (vertical axis) PVNT50 is the value at which the serum can be diluted to 50% inhibition of the intracellular virus. For example, 100 means that the serum diluted to 1 in 100 is still capable of inhibiting more than that. Inhibits the virus into cells less than 50%, while 10 means that the serum diluted more than 1 in 10 is unable to inhibit the virus by 50%. The higher the value, the more Nab antibodies are able to suppress the virus.
When the serum was tested against the virus with the original spiked strain, it was found that most of the serum was still sufficiently inhibiting the virus. Although not very high, but still at a level similar to that published. But when tested against delta virus strains It can be seen that the level of NAb is significantly reduced. Several specimens were unable to measure NAb, suggesting that the delta species' spike was able to escape a sufficiently large number of Sinovac 2 spikes.
I listed Convalescent, a serum of critically ill patients that was found to have Nab high enough to protect against all types of mutations for comparison. It can be seen that the Nab level is clearly different.
This is the data from my lab where samples may not be very large. which may be inaccurate So I want other labs that have a lot of serum samples to try it too. Because this information will be useful in preventing outbreaks of delta species… I sincerely hope that this information is not correct because it is not good news if the results are really like this.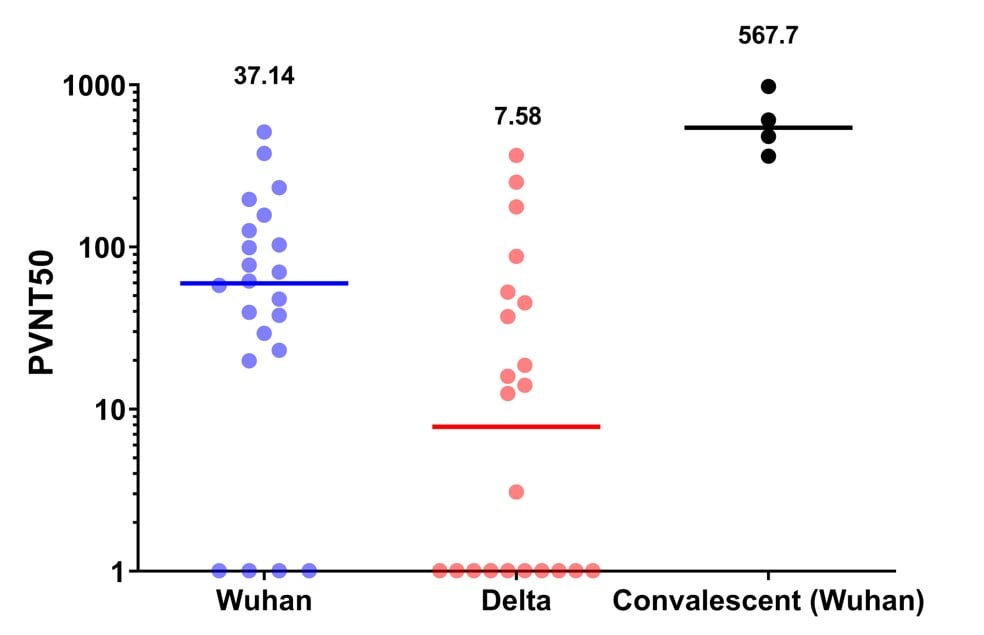 interesting news
compare! 2 Chinese national vaccine "Sinovac – Sino Farm", what is the difference between good and bad???
Teacher Jesada solves the mystery of a strange object in the sky, Krabi, may not be a UFO.
Singaporeans flock in anticipation for the Sinovac vaccine after the paid injections were opened at clinics.