On the afternoon of the 10th, a round interview with actor Jang Young-nam was held at the Andmark office building in Gangnam-gu, Seoul. Provided by Endmark'I thought I was good at studying' 'I joined the mothers' group in the neighborhood to get information, but secretly I draw the line that I'm different' 'I'm more arrogant and smarter than anyone else in the world, but I'm more relaxed than anyone else'
As can be seen just by looking at the character introduction section, Jang Seo-jin from 'One Big Scandal' seems to never lose her spirit no matter what happens, but in reality, she is lonely and home to an inferiority complex. A working mother who wants her children to go to a good university and get a job they envy, follows herself as a lawyer couple. In particular, after the first Hee-jae (Kim Tae-jung) failed the entrance exam, the excessive obsession with the second Seon-jae (Lee Chae-min) was evident in the drama.
On the 10th, an interview was held with actor Jang Young-nam from 'One Hit Scandal' at the Andmark office building in Gangnam-gu, Seoul. Jang Young-nam, who was almost the only character in this drama who had to play a character without 'comedy', introduced herself as a 'newbie mother' with a 10-year-old child, unlike Jang Seo-jin in the play. Even taking on the character, there were times when I felt uncomfortable because it was so different from myself, but I thought I had to express it well because I is an 'actor'.
Jang Seo-jin, as seen by Jang Young-nam, was a person who had seen a lot of 'dirty things' in the midst of difficult family circumstances, and a person who worked hard to get out of there that. I thought that even if I looked upright as if I didn't bow to anyone anywhere, I actually had a strong inferiority complex. To borrow Jang Young-nam's expression, he was "a character with more of an inferiority complex than Su-a's mother (Kim Seon-young)." On the one hand, he was a very lonely character. I thought the setting of alcohol addiction also represented his loneliness.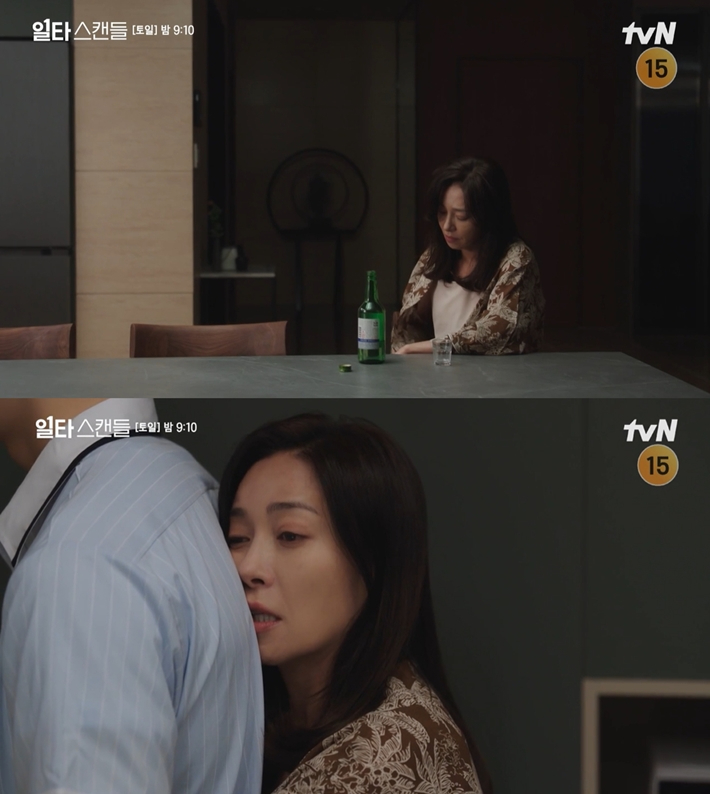 Jang Young-nam said that Seo-jin Jang is a lonely person, and the scene that showed that well was the scene of him drinking. Captured from 'Ita Scandal'Jang Young-nam said, "I think when he drinks, Seo-jin Jang shows that he is really such a lonely person. Hugging his son and saying 'it's only you', he called her husband drunk, sitting alone drinking… Personally, Seo-jin Jang is like that. I like him more, and I think that helped me create the character. And he is' this woman is an alcoholic. It seemed right that she didn't overdo it or overflow the line as if she was drunk or not drunk."
As he played the role of a lawyer who is a professional and legal worker, the 'Devil Judge', who played the role of the Minister of Justice, was naturally mentioned. Although they looked similar in terms of occupation and personality, it was clear that they were different characters, so I paid special attention to the way they were expressed. Jang Young-nam said, "If 'Demon Judge' took the keywords of being upright and like a pole, (Jang Seo-jin) seems to have taken the keywords of calmness, softness, and self-possession. "
He continued, "Isn't this mother also very strong? I don't know if he has, but even if you get angry and angry, (Jang Seo-jin) generally stops it a little bit. 'Don't express too much. , let's stay calm, let's not get caught, if you get angry here, you lose, don't show your emotions, you have to be calm He was a character and he said, "I can be quiet."
Set in an entrance exam frenzy, thriller-like elements appeared from the first episode, but 'One Big Scandal' was a relatively 'bright' drama. Jang Seo-jin was almost the only character in the drama that didn't have 'comedy'. Jang Young-nam said, "To be honest, I had a lot of worries and doubts. Isn't our work a romantic comedy? Senior Jeon Do-yeon is so pretty, how pretty she is. Sua's mother is also lively . But (I) felt like dropping a drop of oil in very clear water," he said, causing anger.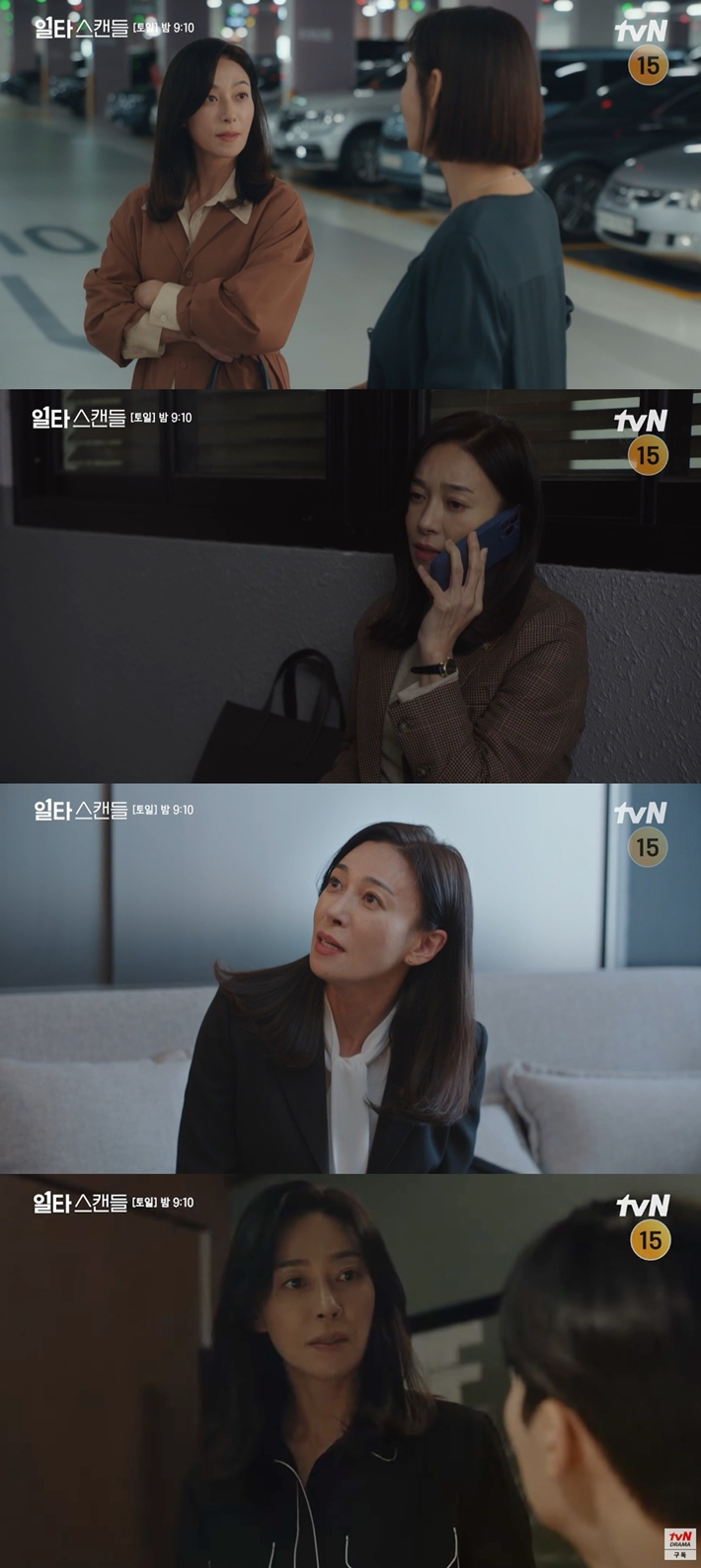 Jang Young-nam said that he created 'quiet', 'quiet' and 'soft' as keywords for the character Jang Seo-jin. Captured from 'Ita Scandal'"'Can I do this? What if I mess up?' I heard many thoughts, but the comforting part is that there are various lives in our drama. There is not just one romantic comedy, but many genre parts are mixed, so I could breathe. I thought it was just e. that," he added.
Regarding 'One Big Scandal', Jang Young-nam said, "I think what our drama wanted to do was warmth. There are different groups and events, but it's also a growing drama for children and adults ," he said, "I don't have to study well to live happily. Doesn't it, it makes me think that finding a job where I can live freely is also important."
How did you see the ending? When asked this question, Jang Young-nam replied, "There is no sense of urgency, but I was fine." He said, "The most critical thing here is that Jang Seo-jin, Seon-jae's mother, has shown a bit that she has changed her mind and gotten better. Now, she showed that she was trying to compromise. I think I will live hard," he predicted.
Jang Young-nam said, "I don't think it would be like saying 'Honey, the meal is done. Come out' with my husband. Now, as comrades and colleagues, we will encourage and support each other .I think it will be harder after that, but I wouldn't have stopped drinking." "You say it's sad that it ended so fragmented and suddenly, but our lives are all moments. I believe that Jang Seo-jin is working hard to see this family happy in the branch."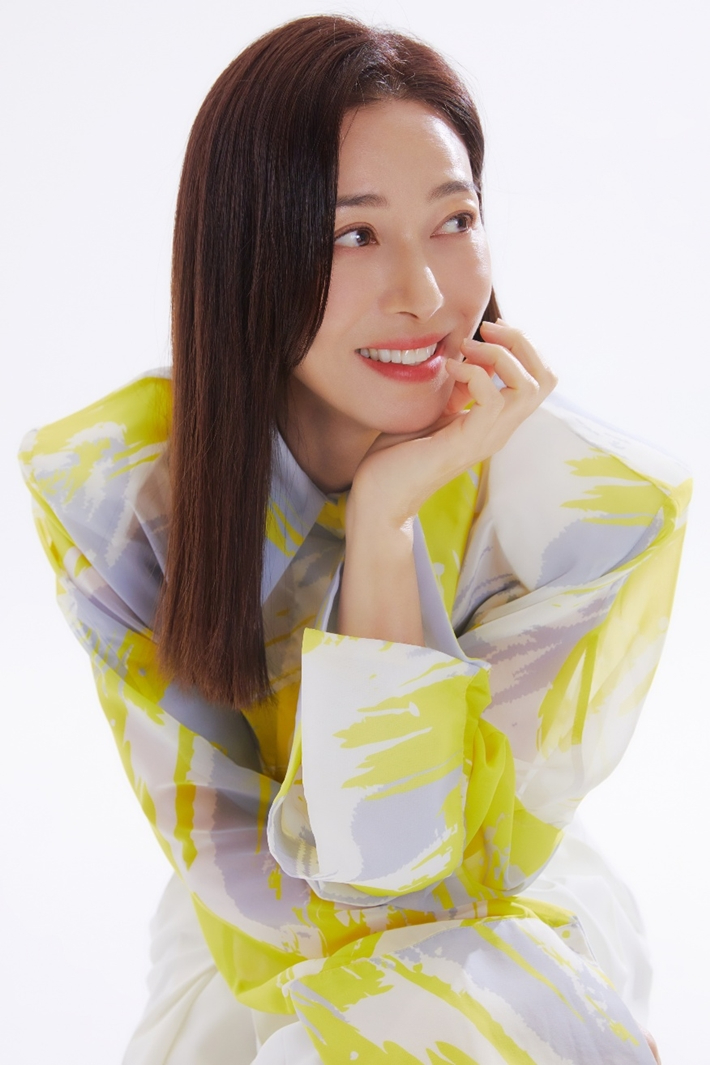 Jang Seo-jin, who is frantic about her child's entrance exam and ends up doing things she shouldn't be doing, realizes her mistakes and tries to become a better person. Provided by EndmarkNow, the elementary school son, who is somewhat aware that his mother plays different people on TV, is watching 'One Hit Scandal' with Jang Young-nam. When asked about his son's impression, Jang Young-nam replied, "When he saw the scene where Seonjae poked, he said, 'I'll be like that soon too'" and everyone started laughing. He also said that he was asked, "Mother, why are you so angry with that older brother?"
Although their views on education and their attitude towards children are different, they are the same as 'working mothers' in drama and real life. Jang Young-nam said, "Nowadays, the children say that their mothers prefer to work. But my children call me at 10:30. If I go in late, they' n say, 'Mum, where are you?' But until I was 8 years old, I cried (when he didn't come), so I couldn't go to the party afterwards. I haven't cried since I was 9, but 'Where are you? ?How many minutes will it take?' And I keep asking."
Jang Young-nam is also worried that he cannot fully devote his time and energy to his child. He said, "I also have tutoring. I do maths and English, but I thought I could leave it to the teacher. But my mother had to check and check. " ) It is not regular , so the child is confused."
Actor Jang Young-nam. Provided by EndmarkJang Young-nam said, "If you are a working person, there is a time when your parents say what time they will come in and (to your child) remember. I think I'm a little worried. missing some parts because my learning is not consistent What should I do? I'm going to die It's getting harder and harder … I don't want to be number one Like my self-esteem isn't drop and I'm not teased in front of my friends. Middle They tell me to do, but I think the middle is the hardest."
Have you ever felt the popularity of 'One More Scandal', which started with 4% and ended with 17%? Jang Young-nam said, "I went to the elementary school to pick up my son, and a friend who was the same age as my child saw me and touched me and said, 'My mother did a good job with the scandal.' think this is it To be honest, I've done a lot of dramas, but this is the first time I've seen such a high score. For me, it's very encouraging and I feel very, very good. I starting 2023 with 'One Hit'."
"(Viewers) are so happy that they have given so much love, and thank you so much for allowing me to stick to such a good country, good soil, and the fruit of a big tree. Thank you, I was so happy. I love our team so much too. 'First Scandal' is a very meaningful work for me. There are many stories, but should I say it's a warm little story. I hope you can get a little better through warm. end, so that you may rest in this narrow world."