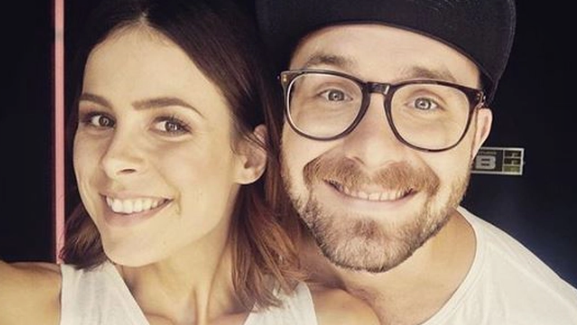 Lena Meyer-Landrut and Mark Forster are a couple. Image: imago images / Lumma Photo / Sven Simon / watson-montage
Lena Meyer-Landrut and Mark Forster: celebrities report a strange encounter
Lena Meyer-Landrut and Mark Forster are said to be a couple. This love sensation spread across Germany within minutes on a January day. They were spotted during a love holiday together around New Year's Eve at Lake Tegernsee. Shortly thereafter, Lena's duet partner Nico Santos ("Better") confirmed that she had told him about the relationship with Mark Forster "three months ago or so".
Now other celebrities publicly confirm the Meyer-Landrut-Forster-Connection. Comedian Anke Engelke and radio host Kristian Thees spoke about the two in their SWR3 podcast.
Anke Engelke reveals:
"We saw Lena Meyer-Landrut and Mark Forster together."
In the theater, several weeks ago, when hardly anyone knew that there was more. So far they have "kept tight", Engelke and Thees. But now you could tell the anecdote. And it is quite strange: Accordingly, Mark Forster is said to have introduced Lena Meyer-Landrut as his cousin during the theater visit.
what happened there? From the front: Anke Engelke and Kristian Thees were recently together in the "Schaubühne" in Berlin. Both had to go to the toilet. Engelke says that she saw Lena standing in the hallway.
And thees? "I go to the toilet and wait for me to go to the toilet house. Then someone comes up to me and says: Hello Kristian!" After a second, he only realized that it was Mark Forster – because he had no cap.
After going to the toilet, Thees met Mark Forster again in the foyer. "He's standing there with you, we talk for a few seconds, very nice. And at some point he says: 'Yes, my cousin …'" Kristian says that he had thought that the person next to Mark Forster looked a little like Lena, but he thought it was a mistake.
Engelke explains: "That was Lena Meyer-Landrut!"
After a short chat, Thees said goodbye to Mark Forster and his companion with a hug. When he went back to Anke Engelke, she explained that it was actually Lena who was standing next to Mark Forster.
Lena and Mark Forster have known each other for years and always understood each other well in public.
Engelke is horrified by Thees in the podcast: "He lied in your face! He said that this is his cousin. But it was the ESC winner from 2010."
"Maybe I interrogated myself too, but I heard 'my cousin'," Thees says. Engelke doesn't believe in it: "Yeah, cousin and girlfriend sound similar."
Why Forster talked about his cousin will probably remain his secret. He and Lena have not yet commented on the reports about their relationship.