[이데일리 장영은 기자] "Up to now, companies that make good money on their balance sheets or income statements have been evaluated as excellent companies. However, it is only a matter of time before a good company becomes an insolvent company if it cannot cope well with various regulations such as the carbon border tax."
Seong-Hyun Park (pictured), vice president of Shinhan Financial Group, spoke as a debate for an investment session at the '12th E-Daily Strategy Forum' on the subject of'Capitalism: ESG Economics' on the 23rd-24th. The reason for interest in the environment, society, and governance is simple and clear.
Seong-Hyun Park, vice president of Shinhan Financial Group, decided that the main business of finance has come to a phase where ESG should be considered in both lending and investment.
Even when lending, I look at the ability to respond to climate change… "Discussion of reduction plan with companies"
Vice President Park Seong-hyun said, "I think how well the companies we deal with cope with environmental issues such as climate change is the most important part of the facts that must be seen when lending or investing in companies. It means that it can be done."
In November of last year, Shinhan Financial Group announced the promotion of a'zero carbon drive' for the first time in an East Asian financial company. The goal is to make the carbon emissions of companies lending from Shinhan Financial Group to zero by 2050 (net zero: carbon neutral). This is an eco-friendly financial strategy in line with the international carbon neutral policy. It is intended to contribute to the transition to a low-carbon economy by not only managing loans and investments to high-carbon companies and industries, but also expanding financial support for eco-friendly technologies.
Vice President Park said, "In the future, companies that emit a lot of carbon will inevitably lower the quality of their assets, so we will manage and reduce the carbon emissions of companies that provide loans. "The sustainability of the financial group is also secured when we help reduce it through (promise) and ensure the sustainability of our customers."
In particular, he emphasized that ESG is more important to domestic companies in terms of a kind of paradigm shift. "Because our country is highly dependent on foreign countries such as exports, we cannot but accept it in a situation where so-called'opinion leaders' countries are taking the lead with urgency."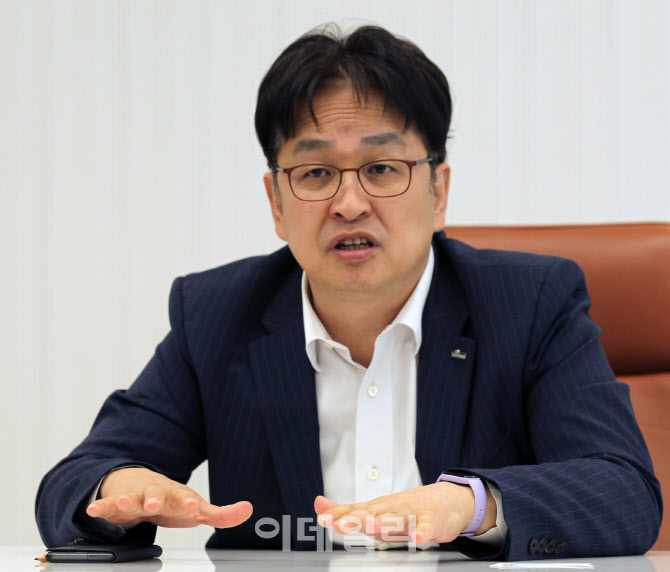 Vice President Park Seong-hyun plans to actively seek out and support startups with the goal of fostering 10 K-unicorns by 2025. (Photo = Reporter Kim Tae-hyung)
'Leading' in discovering startups… Active investment in new and renewable energy technologies
Along with reducing carbon emissions, Shinhan's focus is on fostering startups under the name'Triple-K Project'. The goal is to take the lead in creating social value by supporting local specialized technology companies, while discovering renewable energy technology companies and contributing to strengthening the environment and national competitiveness.
Vice President Park said, "In order to expand the start-up infrastructure concentrated in Seoul to lay the foundation for innovation across the country, we are working on a project to discover start-ups tailored to the characteristics of each region in Seoul, Incheon, and Jeju. "We will actively support the scale-up of startups and expand business overseas."
He also said that he plans to strengthen investment in eco-friendly startups. "There is a point that the domestic eco-friendly technology is somewhat inferior to overseas, but there are many startups in the eco-friendly and renewable energy field, and it is necessary to secure the technology." If you have the skills, you can sell them overseas, and eventually your national competitiveness will increase."
Vice President Park said, "The goal is to foster 10 K-unicorns (unlisted venture companies with an enterprise value of more than $1 billion) by 2025," he said. "Big companies such as Apple and Amazon were also start-ups at one time. In that background, there was finance that invested in their possibilities."
Vice President Park…
△ Born in 1965 △ Graduate School of Economics and Business Administration at Seoul National University △ Northwestern Law School (Master of Law) △ Manager at Shinhan Research Institute △ Vice Team Leader at Shinhan Financial Group △ Team Leader at Shinhan Financial Group Strategic Planning Team △ Branch Manager at Shinhan Bank Yeouido Financial Center △ Strategy at Shinhan Financial Group Head of Planning Team △ Vice President of Shinhan Financial Group and Chief Executive Officer of Strategy and Sustainability (CSSO) △ Representative of the Asia-Pacific Division of the Global Steering Committee of the UN Environment Program
.