On the occasion that October 20, 2021 is the 18th birthday of Patrick-Nattawat Finger band members INTO1 from the competition Produce Camp or CHUANG 2021 This year, the fan club has made a song. "You're Perfect" given as a gift to him. Wawa-Tanyaporn Chevin Kittibun camp artist High Cloud Entertainment Come to broadcast, which the latest rapper Hatch Rolling Hero (F.HERO) or Golf-Nattawut Srimok, the executive of High Cloud Entertainment camp Has come out to wish Patrick a happy birthday with a message expressing his feelings for taking part in the birthday project.
By Fak Kling Hero wrote the message: "I don't know sister @into1__patrick Will you read it? But I'd like to write a little about it. About a month ago @highcloudofficial camp Was contacted from the house of PATRICK OFFICIAL TH or a fan group of PATRICK named Starfish that 20 Oct. This is the birthday of the younger brother. And the house would like our High Cloud camp to be honored to make a birthday song for the younger brother. Personally, of course I have to know PATRICK from being one of the representatives of Thailand that won the show. @chuang_official and debuted as a group INTO1 already, and with the fact that I follow the work of @insight.entertainment constantly makes this project especially exciting for me."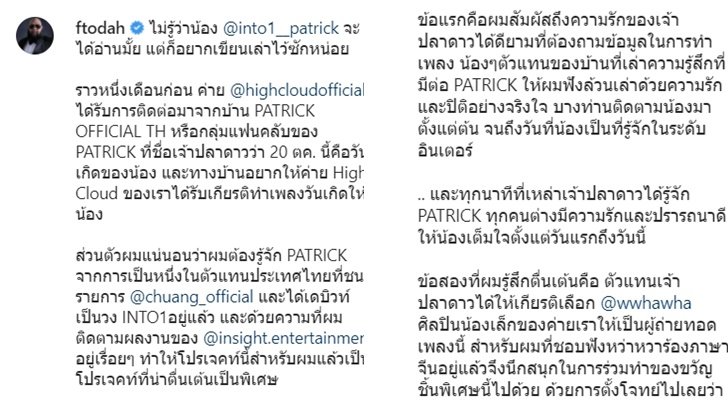 He later shared his impression of the project. "First of all, I can feel the love of the starfish well when I ask for information about the song making. The brothers and sisters of the house who told me how they feel about PATRICK all told me with love and sincere joy. Some people have followed him since the beginning. Until the day that the younger is known at the international level And every minute that the starfish get to know PATRICK, everyone has love and wishes for the youngest to be willing from the first day until today. The second thing I'm excited about is The starfish representative has honored to choose @wwhawha, the youngest artist of our label, to broadcast this song. For me, who is already listening to Wawa singing in Chinese, it's fun to join in making this special gift as well. With the question that this song has to be in three languages: Thai, English and Chinese, the starfish representative told me that PATRICK has a saying that I always like to say. "You are perfect" It means You're Perfect, and it was this word that Starfish agreed that it should be used as the title of the song. Because for them, PATRICK is this word."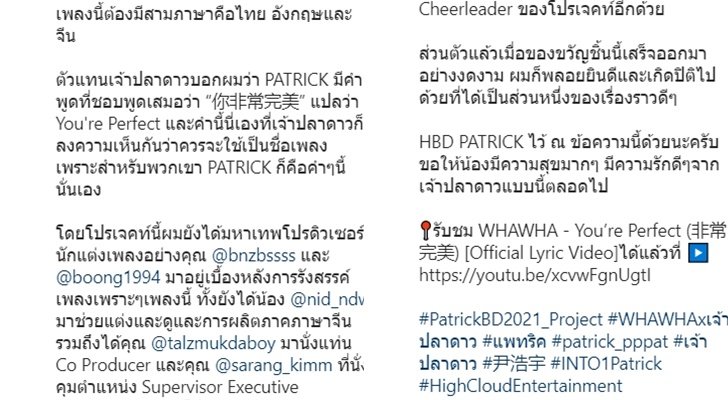 For at the end, when talking about working Hatch Rolling Hero has concluded that "By this project, I also got a great producer. Composers @bnzbssss and @boong1994 came behind the scenes to create this beautiful song. They also have @nid_ndw to help compose and watch and produce the Chinese language, including @talzmukdaboy as Co Producer and @sarang_kimm as the Project's Supervisor Executive Cheerleader. Personally, when this gift is finished, it comes out beautifully. I am also happy and joyful to be a part of the good story HBD PATRICK in this message too. I wish you to be very happy and have good love from this starfish forever."
The song "You're Perfect" has been released on all channels including YouTube. High Cloud Entertainment including JOOX Music Application and Sanook Music
.