Lianyirong Technology (hereinafter referred to as "Lianyirong"), which has just been listed on the Hong Kong stock market, decided to fight back in the face of a sudden "air attack" by short-selling institutions.
In the morning of July 22, Lianyirong issued a clarificationannouncementAnd decideResumption of trading. Lianyirong stated that the allegations published by Valiant Varriors were groundless. The report also contained a number of misrepresentations, false allegations, and "logical flaws", and stated that it had taken formal legal action against Valiant Varriors.
This technology company is noticed by the market not only because Tencent is its number oneshareholder, Also because Tencent is a close partner in its supply chain finance business.
On July 20th, Valiant Varriors, a short-selling agency, released a bearish report "Lianyirong-A Supply Chain Constructed by Lies", which caused the stock price of Lianyirong to plummet rapidly and urgentlySuspension。
Under the counterattack, Lianyi Rong had a fierce long-short game today, and the stock price fell rapidly after opening higher. It slowly rose after 10:30 and staged a "V"-shaped trend. The game between the company and the short-sellers has not ended yet.
  Faced with bearishness, respond one by one
Regarding the "sniper" of Valiant Varriors by Lianyirong, the Shanghai Stock Exchange reported yesterday that "The stock price fell by 50% in 3 months after listing! This technology company encounters a short-selling agency sniper", it is explained in detail.
In the above clarification announcement, Lianyirong responded to several allegations published by Valiant Varriors.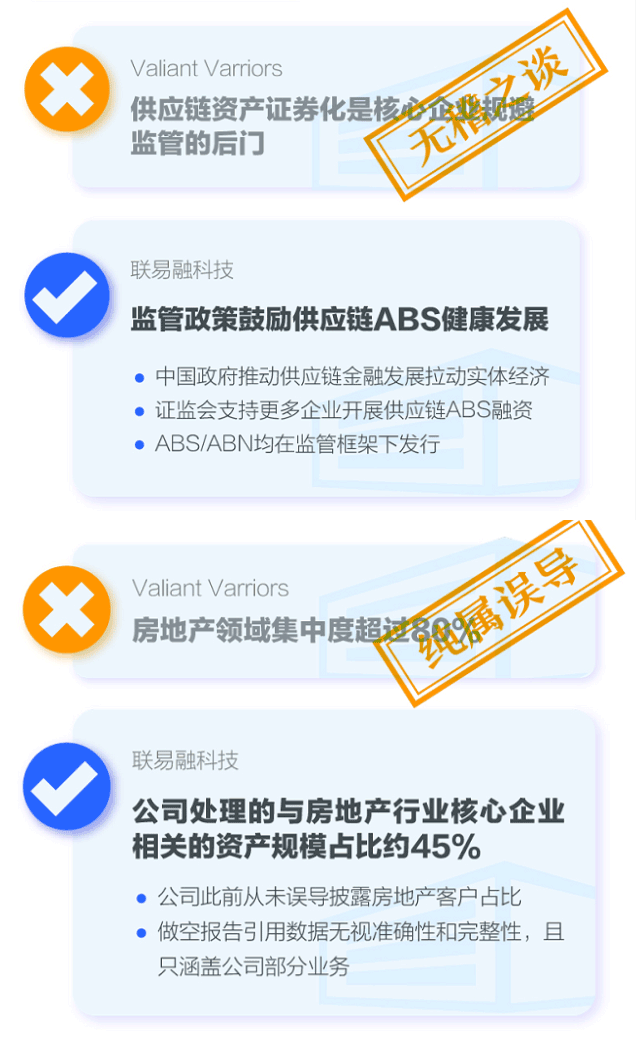 Valiant Varriors alleges that Lianyirong's supply chain asset securitization is a backdoor financing tool for core companies to evade supervision, saying that the company deliberately concealed its rights.real estateThe industry's exposure is too large, and 80% of the transactions facilitated by the company's solutions arereal estateIndustry related.
Lianyirong responded that the report misleadingly presented the company's value proposition and its exposure to client industries. Like other supply chain financial technology solutions, the supply chain asset securitization issuance facilitated by the company's technology solutions aims to improve the working capital efficiency of suppliers by leveraging the reputation of large enterprises and benefit the entire supply chain. This is an effective way to provide liquidity support for SMEs.
Lianyirong stated that the company would like to clarify that for the six months ended June 30, 2021, approximately 45% of the total supply chain assets processed by Lianyirong's technology solutionsreal estateRelated core companies in the industry sector.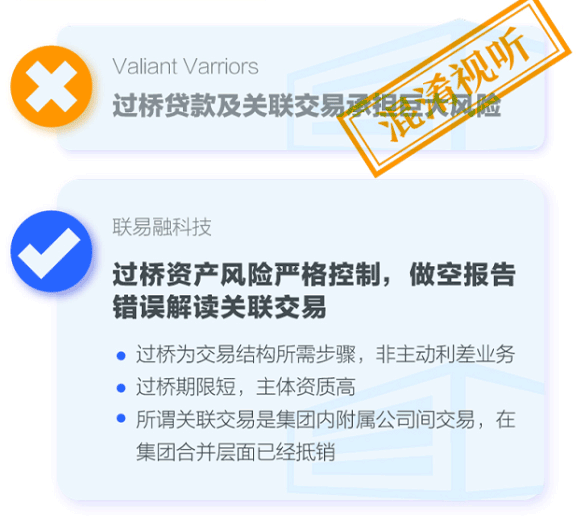 In addition, Valiant Varriors alleges that Lianyirong has been exposed to excessive financial risks during the bridge crossing process, and the relevant risks have not been fully disclosed in the prospectus.
Lianyirong stated that the company's ABS cloud provides a wide range of digital securitization issuance digital management services and post-issuance services. Crossing the bridge is just one of the steps involved in the securitization issuance facilitated by the company's technological solutions when the company is the initiator of the related transaction. Crossing the bridge is not a financing business. These risks are strictly controlled by risk management measures. The time from the acquisition of relevant assets to the collection of proceeds from the securitization issue used to repay the short-term financing involved in the bridge is very short.
Lianyirong also clarified and responded to the risk asset-to-net asset multiples and income issues in the Valiant Varriors report.
  Stock price staged a "V" shape reversal
After the resumption of trading, the share price of Lianyirong first opened higher and lowered, and then staged a major reversal.
Compared with the 11.28 Hong Kong dollar/share at the time of the suspension, after a clarification announcement was issued in the morning and trading was resumed, Lianyirong opened at a price of 12.8 Hong Kong dollars/share, which was once more than 16% higher than 13.30 Hong Kong dollars/share. However, shortly after rushing higher, after 9:30, the stock price fell rapidly, as low as 9.20 Hong Kong dollars per share, a drop of 12.8%, which shows the fierce competition between the long and the short.
Eventually, under the influence of various parties, the stock price began to rise slowly. As of the close of the market on July 22, Lianyirong reported 12.12 Hong Kong dollars per share, an increase of 7.45%.
  Short-selling institutions were "faced"
Compared with well-known short-selling institutions such as Muddy Waters Research, Valiant Varriors that launched Lianyirong was more marginalized. On, was soon caught by Citigroup,Goldman SachsFought back.
On the evening of July 20, Citigroup released a targeted report. Citi believes that Valiant Varriors' short report contains many errors, misrepresentations and misleading conclusions and interpretations. Citi maintains a target price of HK$24.75 for Lianyirong's share price, which represents a 119% upside from its July 20 share price.
July 22,Goldman SachsreleaseResearch report, Maintain the Buy rating on Lianyirong and give a target price of 25 Hong Kong dollars.Goldman SachsIt is believed that Lianyirong's exposure to the real estate industry has been substantially reduced in the first half of 2021. The fast-growing multi-level circulation cloud and e-chain cloud sectors have zero exposure to real estate, while real estate-related businesses are limited to the company's AMS cloud and ABS cloud sectors. In addition, Goldman Sachs predicts that Lianyirong will be able to successfully diversify its development and significantly increase the proportion of its business in the medical and consumer industries.
Goldman Sachs is optimistic about Lianyirong's future profitability and raised itsprofit prediction. Goldman Sachs believes that multi-level circulation cloud, e-chain cloud and cross-border cloud will become the main growth drivers of Lianyirong in the next few years. It is expected that its annual revenue will at least double, and its contribution to revenue will increase significantly from 8% in 2020. 46% by 2023, and the profit margin is expected to be higher than ABS cloud and AMS cloud.
(Source: Shanghai Securities News)
.