On the 24th, Rep. Hong Jun-pyo of People's Strength announced that he would not attend the funeral of former President Chun Doo-hwan. Until the day before, he had expressed his intention to go to pay condolences to Chun Doo-hwan as "a grown-up in the neighborhood", but he changed his position within one day.
On the 24th, Rep. Hong said, "I tried to go to mourning, but there are a lot of absolutely opposing opinions" through the 'Hong Moon Cheong answer (young man answers Hong Jun-pyo's question)' of 'Youth's Dream', an online platform that communicates with young people. I will accept your opinion, but I must pray for the well-being of the deceased."
"Young people's dream users will be criticized for being trapped in the motherland red frame"
Rep. Hong posted an article titled 'Condolences' the day before and looked at the young people's opinion on whether to pay condolences or not. He asked, "The former president is from a neighborhood near Hapcheon, my second hometown.
Netizens generally objected, saying, "I'd rather not go." If you look at the best comment that received the most sympathy, there was an opinion that you could be trapped in the frame of the controversial 'Song of the Fatherland (Defense of the Fatherland + Jun-pyo Hong)', which was controversial because he said that the investigation of former Justice Minister Cho Kuk during the time of Prosecutor General Yoon Seok-yeol was harsh. One netizen wrote, "I think the choice as a politician is a handshake.
Some young people wrote that mourning should not be done for young people who are strongly criticized for Chun. One netizen said, "If you go to the funeral of an authoritarian dictator with the support of a young man, there will be controversy."
"How do you rate Chun Doo-hwan?" "I arrested Chun's brother"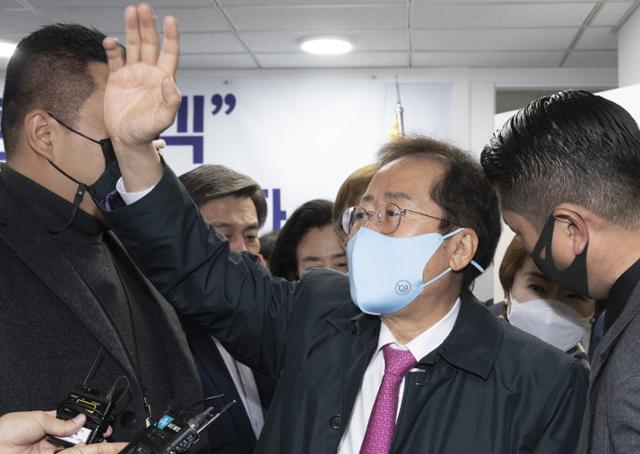 In response to the question 'What kind of person do you rate the former president while he was alive', which was posted in the 'Hongmun Hongdap (Answers Hong Jun-pyo to the troubles of young people)' section earlier, Assemblyman Hong said, "In 1986, when the first prosecutor of the Cheongju District Prosecutor There was a time when the secretary general of Saemaeul asked to come to the Blue House because he would send a prosecutor to the Blue House, and he refused.
Rep. Hong was able to make his name known through this case. He arrested Jeon Jeon-hwan in 1988 while serving as a prosecutor in the special division of the Seoul Southern District Office. Four years later, in 1992, the Seoul District Prosecutors' Office of the Prosecutor's Office investigated a slot machine case and arrested former lawmaker Park Cheol-eon, who was in power in the Chun Doo-hwan regime. Rep. Hong was nicknamed the 'hourglass prosecutor' through this incident and entered the political arena.
Ryuho reporter [email protected]
Issues you may be interested in
.