"Up to 55 minutes of use on a 5-minute charge"
What can we expect from Samsung Electronics' new wireless earphone 'Galaxy Buds 2' to be unveiled at Unpacked next week? Previously, the approximate appearance of the product, such as color and price, was leaked, and this time, detailed specifications were also revealed.
This year's new releases support new features while maintaining low prices. You can activate the Active Noise Canceling (ANC) function, which blocks out ambient noise even if you wear only one earphone. In previous games, such as the Galaxy Buds Pro, both sides had to be worn. The fast charging function is also notable. It can be used for up to 55 minutes with just 5 minutes of charging.
On the 3rd (local time), major foreign media such as Sam Mobile released additional information about the Galaxy Buds 2, citing Snoopy Tech, an IT tipster (information leaker).
According to reports, the Galaxy Buds 2 can be used for up to 28 hours with the charging case and up to 18 hours with the ANC function enabled. It can be used for 8 hours on a single charge and 5 hours when the ANC is on. The battery capacity is 61 mAh (milliamp hour) for each earbud and 472 mAh for the case.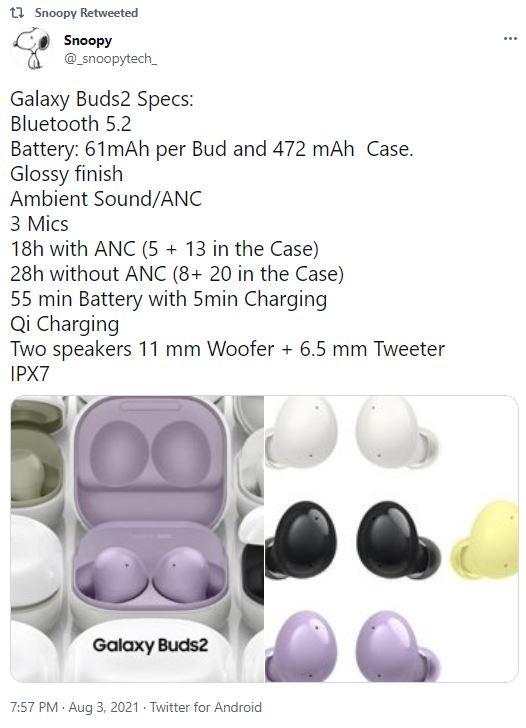 The Galaxy Buds 2 is expected to be Samsung's third wireless earphone with ANC function. However, the features are not exactly the same as the high-end model Galaxy Buds Pro. It is known that the function to adjust the ANC strength strongly or weakly according to the surrounding situation and the '360 Audio' function will be excluded.
The waterproof rating is also noteworthy. It is rated IPX7 and can withstand up to 30 minutes at a depth of 1m. In addition, it is an improvement compared to its predecessor, such as the Galaxy Buds Pro, which supports Bluetooth 5.2 version and Bluetooth 5.0 version.
The Galaxy Buds 2 are expected to emphasize 'cost performance' above all else. The estimated price, mainly from foreign media, is about 150 dollars (about 170,000 won). It is cheaper than the Galaxy Buds Pro (239,800 won) and Galaxy Buds Live (198,000 won) that support ANC.
Sam Mobile predicted that if the Galaxy Buds 2 were released, they would compete with products under $150 such as Apple's Beats Studio Buds.
New products such as the Galaxy Buds 2 will be unveiled at the 'Galaxy Unpacked 2021' event on August 11th. In addition, Samsung Electronics is expected to introduce various products such as the next-generation foldable smartphone 'Galaxy Z Fold 3 · Flip 3' and the smart watch Galaxy Watch 4 series.
Reporter Min-ha Yang ([email protected]), Electronic Newspaper Internet
.