A powerful gaming mobile phone with great specs like Lenovo Legion Phone Duel 2 It was launched last April. causing the mobile gamers to tremble, their wallets trembling, wanting to change to a new mobile phone … and the latest mobile phone, this model has already arrived in Thailand which the price is called much cheaper than when it was launched in the European zone by knocking the starting price at 24,990 baht for the 12GB / 256GB model
Who has forgotten that the Lenovo Legion Phone Duel 2 has great specs and features? We will review it again as an appetizer. That this mobile phone is worth using for gamers how much?
AMOLED screen, high refresh rate 144HZ
Legion Phone Duel 2 uses a 6.92-inch AMOLED screen, FHD + resolution, supports HDR10 + display and can accelerate the light up to 1300 nits. There is a fingerprint sensor under the screen. And covered with Gorilla Glass 5, it's also super special with a refresh rate of up to 144Hz, plus a high Touch Sampling of 720Hz, allowing for the most accurate touchscreen game control.
The most brutal specification, but the machine is not hot with a built-in dual fan.
Do not lose the name of mobile gaming with a powerful specification, including Snapdragon 888 chip, RAM LPDDR5 up to 18GB with UFS 3.1 capacity up to 512GB and do not be afraid to play a long game and the device will become hot until it jerks. because this mobile phoneTwin Turbo-Fan ventilation fans Come inside and in addition to using ventilation fans, there are alsoVapor Chamber Liquid Cooling System come to help again Makes you worry about the hot engine until the frame rate can fall
Horizontal pop-up selfie camera, focused on casting games
Unique with a horizontal pop-up front camera designed especially for game casting. Because the camera is placed in a position that is not covered by the hand. And in the corner that is aimed right in front of you, not tilted, not distorted, and has a high resolution 44MP with separate AF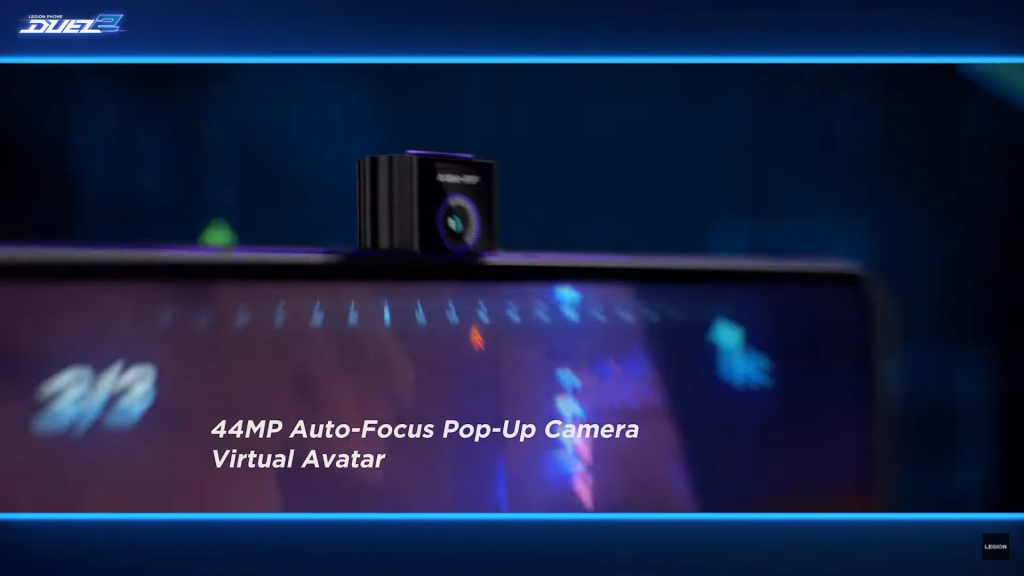 The rear camera has a total of 2, consisting of the main camera. 64MP (f/1.9) and Ultra Wide Resolution Camera 16MP (f/2.2) supports digital zoom up to 10x.
4 special gaming keys and 2 touch buttons on the back of the device
If there is no LR button, it will be called a loss of life for mobile gaming. Legion Phone Duel 2 therefore put 2 LR buttons on each side, but it will not be a real game controller button, but will be a button. Touch the Ultrasonic Sensor instead. The back of the device is a capacitive touch system that can be used to set up instead of the buttons in the game … not yet. Because on the screen there are points that are like two more buttons, when using your finger to touch the area, there will be a haptic feedback that vibrates for us to know as well.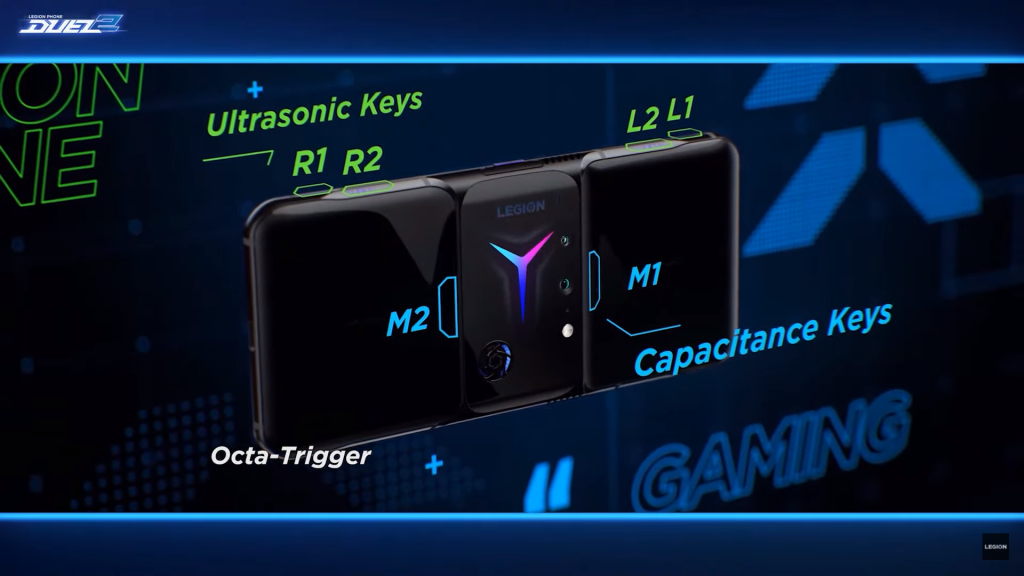 Big battery with 90W fast charging
The battery is slightly more than the previous model, at 5500 mAh, which Lenovo claims from 100% of the battery, can play games continuously for up to 8 hours and also supports fast charging systems up to 90W. It also comes with a dual charging system, plug in the cable. Charge USB-C at the same time at both ports on the side of the device – the back of the device. To charge the battery from 0 – 100% in just 30 minutes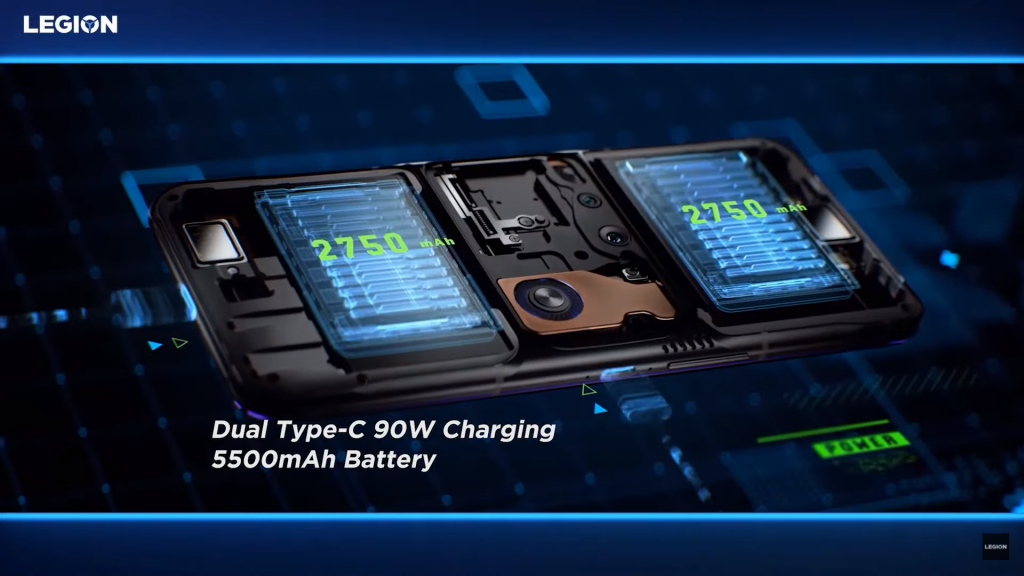 LENOVO LEGION PHONE DUEL 2 SPECIFICATIONS
6.92-inch AMOLED screen, resolution FHD +, refresh rate 144Hz
CPU : Snapdragon 888
GPU : Adreno 660
RAM (LPDDR5) : 12GB / 16GB
Capacity (UFS 3.1) : 256GB / 512GB
Rear camera: 64MP main camera (f/1.9) and 16MP Ultra Wide camera (f/2.2)
Pop-up front camera: 44MP (f/2.0)
Sound system: 7 magnetic front stereo speakers, Dolby Atmos, 4 microphones with noise reduction, no 3.5 mm headphone jack.
เซ็นเซอร์ : Fingerprint sensor (ใต้จอ), 3D Motion Sensor, E-Compass, Gyroscope, Proximity, Ambient Light, Quad Ultrasonic Shoulder keys, Dual Capacitance keys, Dual Force Touch Sensor
Battery: 5500 mAh (2750 mAh 2 batteries), supports 90W fast charging
Android 11 system covered with ZUI 12.5
Size / weight: 176 x 78.5 x 9.9 mm. (12.56 mm. in the center of the device) / 256 grams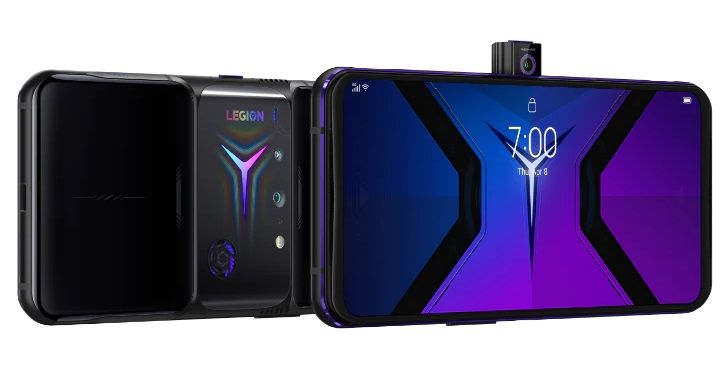 Legion Phone Deul 2 price
Lenovo Legion Phone Duel 2 will be available in Thailand, all 2 models as follows…
Lenovo Legion Phone Duel 2 (12GB / 256GB) : Price 24,990 baht
Lenovo Legion Phone Duel 2 (16GB / 512GB) : Price 29,990 baht
with a promotion for the first 50 customers will receive a special gift worth 3,590 baht as well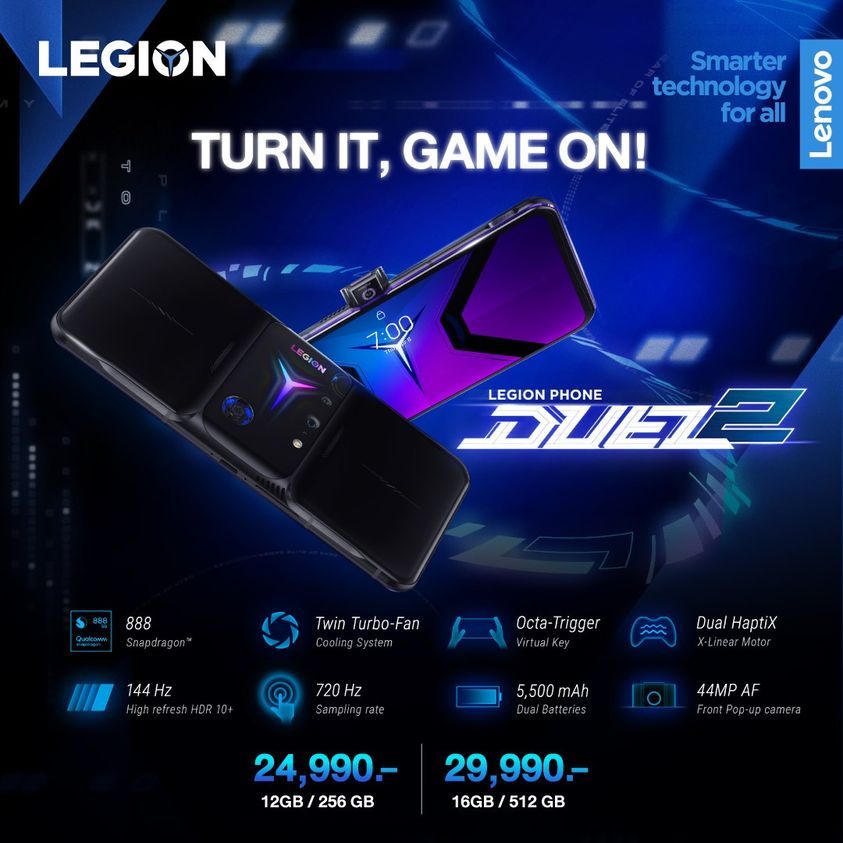 As for the distribution channels, there are both storefronts. and online shop from dealers all over Thailand There is also a promotion when Buy via AIS within 12 July 2021 will be entitled to buy Lenovo Legion Phone Duel 2 at a starting price of 18,990 baht only