On October 24th, GeekPwn 2021 was held in Shanghai with the theme of "Make intelligence safer and make safety smarter". This competition brings together 20 top security geek teams across the country. They dig out easily overlooked security vulnerabilities from the details of AI, industry, and smart life, sound the security alarm for the smart life of the general public, and raise the vigilance of the industry and manufacturers.
Ding Ke, vice president of Tencent, said in his speech: "GeekPwn has turned high-level expertise into content that everyone loves to hear. It is not easy. I hope that GeekPwn will do better and better and continue to escort economic development in the digital age. , And look forward to more young people joining the cyber security industry."
As the co-sponsor of the GeekPwn International Security Geek Competition, Tencent Security has been committed to mining security technical talents, accumulating cutting-edge security technologies, exploring the potential security issues of industrial intelligence and consumer intelligence, and helping the industry to grow healthily.
At the same time, Tencent Security is also an in-depth participant in GeekPwn's cutting-edge technology research and practical applications. From Tencent Security and GeekPwn's first new infrastructure security contest, to Tencent Security's Xuanwu Lab's first public demonstration of "remnant reuse" vulnerability attacks, to Tencent Security Cloud Ding Lab and Jibang jointly organized the world's first cloud security challenge. Tencent Security has been working with global geeks to continuously conduct forward-looking security research and explore cutting-edge security technologies.
In this year's competition, Li Ye, Lin Xiule, and Dai Ge from Tencent Security Xuanwu Lab presented their latest research findings. Some Bluetooth headsets have security vulnerabilities and can be quickly implanted with positioning functions and remote tracking. In the competition, they invaded the Bluetooth headset and implanted the positioning function from a hundred meters away, successfully realized the remote positioning and tracking, and finally won the fourth place.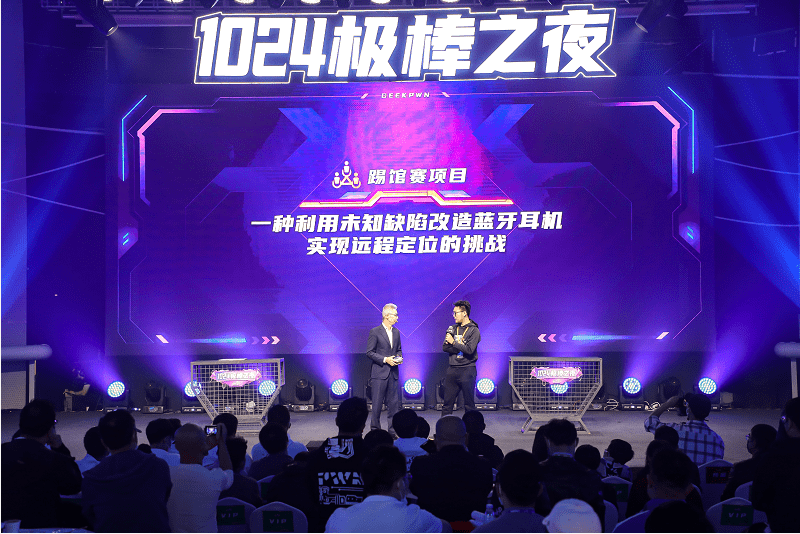 The awesome stage shows the geek style, the offensive and defensive battle guards intelligent security
GeekPwn 2021, with the theme of "make intelligence safer, make security smarter", has shown the audience the neglected security vulnerabilities in the intelligent era with great impact. The home smart gateway "transforms" into monitoring, defective Bluetooth headsets are implanted with tracking codes, food delivery robots are held remotely, insulin pumps are remotely controlled to inject 10 times the dose… The audience has a new understanding of the network security industry.
In this year's event, the online reality show "I Am a Geek" and the offline festival "Awesome Night" will be presented to provide players with a broader stage to showcase the geek style. Among the players, there are many young geeks and female players. Two 10-year-old teenage geeks used their extracurricular time to overcome the problem of recovering lost smart watches for children, remotely acquiring facial photos of "pickers" and replacement SIM cards. Wu Xingru, a single-handed girl, cracked the flaws of the smart set-top box and remotely attacked the TV screen to alert manufacturers to security vulnerabilities. In addition, Liu Xinyu, a senior female student, has jointly developed a portable anti-candid camera device to protect public privacy. They all injected fresh vitality into this geek contest.
Since its establishment in 2014, GeekPwn has been successfully held in Beijing, Shanghai, Macau, Hong Kong, Silicon Valley, Las Vegas and other places, tapping thousands of top security talents, and responsibly disclosing hundreds of high-risk vulnerabilities to help The manufacturer fixes the security problem to avoid information leakage and property loss for the majority of users.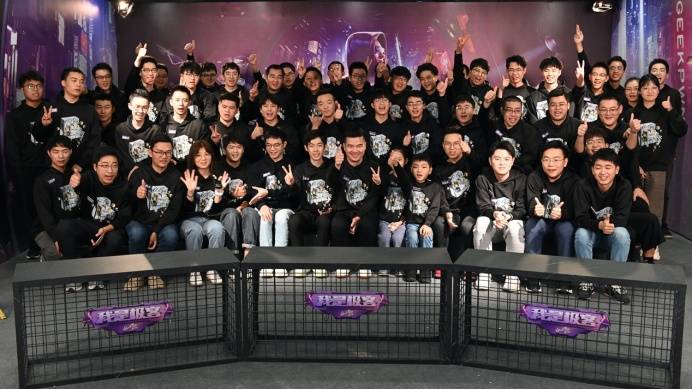 In the past seven years, GeekPwn has built a platform to deliver high-level security talents to the society. In the "High-level Talent Classification Standard of Hainan Free Trade Port" promulgated in September 2020, GeekPwn has also become one of the "Internet and Telecommunications Industry Professional and Social Recognition Standards". This means that if GeekPwn winners are successfully identified as talents in the category of this clause, they can receive corresponding preferential policy support and service guarantee treatment, which further recognizes the value of GeekPwn.
Network security talent training has a long way to go, and Tencent Security continues to explore talent training models
The essence of network security lies in the confrontation between people at both ends of offense and defense. Therefore, cultivating high-quality talents in network security is essential to enhance the "immunity" of cyberspace. According to statistics, the current demand for network security talents in China is expected to exceed 1.4 million, but the annual number of network security personnel training less than 15,000. The domestic network security industry is faced with the serious imbalance between the supply and demand of talents, the extreme lack of authoritative talent training, and the insufficient talent training system.
Tencent Security has been exploring the network security talent mining and training model, and through GeekPwn geek contest, TCTF Tencent Information Security Competition, Western Cloud Security Talents Program and other events and projects, to create the future leading talents in the field of Internet security. Among them, TCTF has accumulated more than 10,000 contestants in the past five years. It has continued to use competitions for training, in-depth exploration of the integration of production, education and research, and strive to create a "double first-class" network security talent training platform for competitions and talent training. At the "Western Cloud Security" summit, Tencent released the "Western Cloud Security Talents Program" with a training model of "Frontier Technology Exploration + Actual Combat Simulation" to promote school-enterprise cooperation and integration of production and education.
Under the wave of industrial Internet upgrades, Tencent Security hopes to continue to accelerate the training and training of cybersecurity talents through the "match-based training" model, promote cybersecurity talents to become a key guarantee for network security, and help protect industrial security.Return to Sohu to see more
Editor:
Disclaimer: The opinions of this article only represent the author himself. Sohu is an information publishing platform. Sohu only provides information storage space services.
.