"Online business stock news" conducted a survey and gathered information related toHeng Leasing and Capital Public Company Limited or HENG which is a new listed company that will make initial public offering (IPO) in the financial business group Finance and Securities Business Sector and is scheduled to be traded on the Stock Exchange of Thailand (SET) on October 19, 2021.
by HENG Businesses that are not financial institutions that provide services (1) Hire purchase loans (2) Personal loans under supervision with vehicle registration as collateral (3) Loans with houses and land as collateral (4) Personal loans under supervision and (6) non-life and life insurance brokers. to general retail customers under the service mark "Heng Leasing"
The number of newly issued ordinary shares will be offered to the public in the amount of not more than 800,837,300 shares, representing 21.0% of the total shares after the issuance and offering of shares. and set the IPO price at 1.95 baht per share, with a par value (Par) of 1 baht per share, representing a share price-earnings per share (P/E ratio) of 29 times.
with Kasikorn Securities Become a distributor and guarantee distribution. and 4 distributors and distributors, including Bualuang Securities, Land and Houses Securities, Yuanta Securities, and Phillip Securities (Thailand).
As of June 30, 2021, the Company has short-term and long-term borrowing facilities with Kasikorn Bank Public Company Limited or KBANK totaling 9,840 million baht, with a total of 1,323.8 million baht of outstanding long-term loans. Public Company Limited holding 99.9% of Kasikorn Securities Public Company Limited, which is the financial advisor and underwriter of the Company in this time.
For the purpose of this fundraising The company will use the proceeds 1. To expand the business of providing credit services, expanding branches, including related businesses. and use it as working capital for business operations in the amount of 1,134.8-1,014.8 million baht within 2021-2023
Including 2. partial repayment of loans from financial institutions in the amount of 300 – 400 million baht within 2021-2023 and 3. Developing information technology systems such as software and mobile applications for providing credit services of the Company in the amount of 70-90 million baht. Within 2021-2023
while the share of "Participants in the management" who do not adhere to the Silent Period, amounting to 1,714,500,000 shares, representing 45.0% of the total issued and paid-up shares of the Company. After the offering of shares for capital increase this time, the details of the shares attached to the Silent Period are as follows:
while 2018-2020 net profit grew (CAGR) 44.6% per year, in 2018, the profit was 151.8 million baht, in 2019, the net profit was 188.7 million baht and in 2020, the net profit was 318.1 million baht. 2018 was at 1,406.9 million baht, in 2019, at 1,743.4 million baht, and in 2020, the revenue was 1,590 million baht.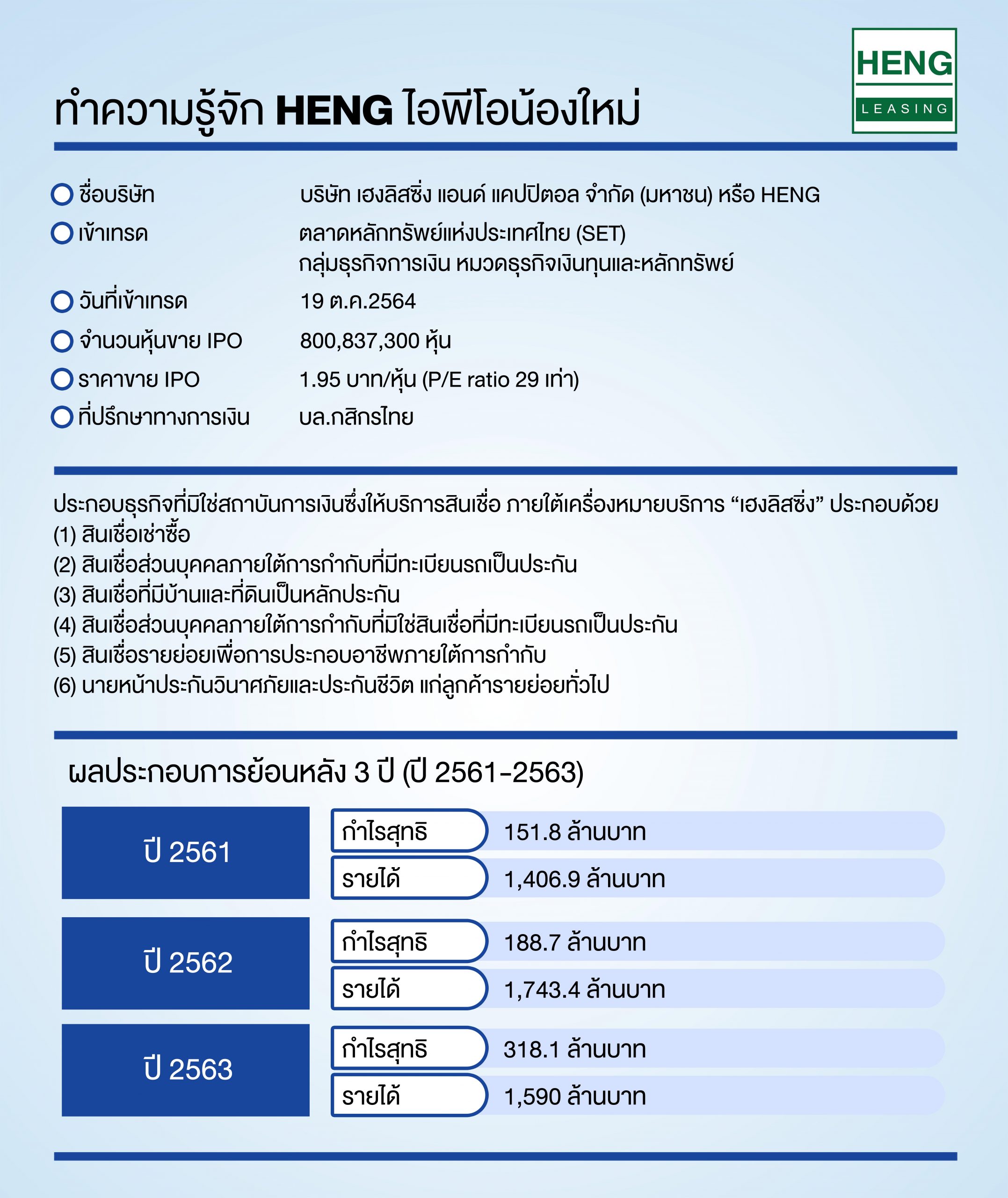 However, on October 14, 2021 Mr. Wichai Suphasatitkul Co-Founder and President HENG It was revealed that KASIKORNBANK (KBANK) has offered to purchase 381,000,000 shares of HENG's existing ordinary shares from shareholders of Taweeheng Group and Pattanasin Group through trading on the Big-Lot Board, amounting to 381,000,000 shares, or 10% of the shares. All sold shares of the Company at the same price as the initial public offering (IPO) of 1.95 baht/share on the date that HENG has listed the securities on the Stock Exchange of Thailand (SET) for the first day. On October 19, 2021, which made Kasikorn Bank one of the major shareholders
The fact that KBANK becomes one of the major shareholders of HENG reflects confidence in the Company's operational potential. And such cooperation will strengthen the company. to expand the customer base product development and new information technology platforms to meet all the needs of customers The company believes that such cooperation will be beneficial to shareholders, investors and create long-term growth.
In addition, the shareholders of Thawee Heng Group will sell 186,210,000 existing ordinary shares, representing 4.9% of the Company's total issued shares, to nine high-profile investors for long-term joint ventures with the Company through the Big Board. -Lot Board at the same price as the IPO of 1.95 baht on the day HENG listed on the Stock Exchange of Thailand for the first day as well. with an agreement not to sell shares for a period of 1 year
sideMrs. Suthanthip Phisitphanthoon Chief Executive Officer of HENG said that the company aims to become a leader in integrated credit services in Thailand for stable and sustainable growth. It brings together the strengths of experience, expertise, management team and employees who understand the behavior of capital needs. To offer suitable credit products and meet the needs of customers Along with having a branch network of more than 5,100 used car tent operators and brokers, it is another important force that is a channel to present products and pass customers to HENG's branches in each area. And create an opportunity to offer more types of credit products to customers.
In addition, HENG also has a plan to invest in enhancing its competitiveness with an aim by 2023 to increase the number of branches to 830. Focusing on expanding in the Northeastern, Eastern and Central Regions to support the plan to expand the product portfolio of supervised personal loans with car registration as collateral and nanofinance to push the total loan portfolio to 1.48 billion baht from the present with a total portfolio of 8.42 billion baht