January-August 29% of last year's sales… This year's trading volume is expected to be at an all-time low
As the real estate transaction cliff intensified, the number of apartment sales in the Gyeonggi region recorded an all-time low in August.
According to the Gyeonggi Real Estate Portal operated by Gyeonggi Province on the 3rd, there were only 2,767 apartment sales in the province in August this year.
This is the lowest figure since Gyeonggi Province released related statistics in 2006.
By city and county, compared to Pyeongtaek-si (286 cases), Hwaseong-si (192 cases), Suwon-si (184 cases), Yongin-si (170 cases), and Goyang- si (166 cases), there is a clear downward trend in the number of transactions in Seongnam-si (50 cases).
From January to August this year, the volume of flat transactions was 35,217, which is only 29.3% of the same period last year (12449).
It fell to 3,445 in January this year, then gradually rebounded and rose to 6,647 in April, but then declined again, breaking the record low in August following 2,902 in July.
As the deadline for reporting real estate transactions is within 30 days of signing the real estate sales contract, the September sales volume will be completed one month later.
As the result of rising domestic and foreign interest rates and the economic downturn continues, the annual apartment transaction volume is also expected to record its lowest this year.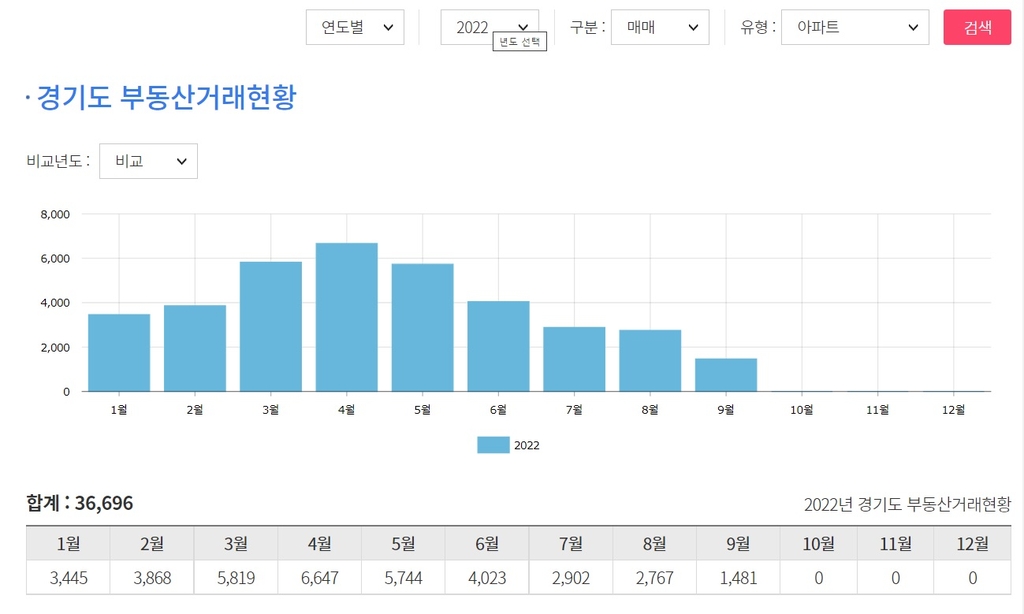 If this trend continues, the number of apartment transactions this year is expected to be lower than in 2012 (94,615 cases), 10 years ago, when the real estate market suffered an all-time stagnation following the global financial crisis .
Not only apartments, but the real estate market as a whole is in decline.
The number of real estate transactions (houses, land and construction) in the province between January and July this year was 215,531, down 41.0% from the same period last year (365,390).
Among them, housing transactions were 76,308, down 57.1% from last year (177,772).
As a result, Gyeonggi Province's procurement tax collection, which accounts for more than 60% of local revenue, was 5,422.4 billion won between January and July this year, 16.9% higher than the same period last year (6.523.6 trillion earned). 16.9%), and local finances are also in crisis.
An official from Gyeonggi-do predicted, "As solvency is reduced due to high interest rates and loan regulations, the weakening buying trend and downtrend in the real estate market will continue for now. "
/happy news