Hwang Hee-chan of Wolverhampton © AFP=News1
Hee-chan Hwang, who plays for Wolverhampton in the English Premier League (EPL), is expected to return in February next year due to a hamstring injury. Unless the situation improves quickly, the 2022 FIFA Qatar World Cup Asian final qualifying rounds 7 and 8 cannot be played.
On the 28th (Korean time), Wolverhampton announced on the club's official website that "Hwang Hee-chan, who suffered a hamstring injury in the match against Brighton, is scheduled to return in February next year."
Hwang Hee-chan suffered a hamstring injury during the 2021-22 EPL Round 17 match against Brighton on the 16th. After the injury, Hwang Hee-chan played a little more, eventually felt something wrong with his body and was replaced.
After the game, Wolverhampton manager Bruno Lagge said, "It is very sad news for Hwang Hee-chan's departure."
Wolverhampton took an emergency due to Hwang Hee-chan's departure. Hwang Hee-chan quickly adapted to scoring his debut goal after the transfer and established himself as a key striker in the team.
It has become an important attacking resource for Wolverhampton, which pursues a fast counterattack, and it is a huge blow for Hwang Hee-chan to be unable to play until January or February next year, when the fierce middle-class fight will unfold.
The unfortunate thing is that most of the games that are going on right now are being postponed due to the rapid increase in the number of new coronavirus infections (COVID-19) in Wolverhampton.
Wolverhampton said, "We are preparing to play games from January next year by thoroughly locking down the training ground and isolating the players.
Hwang Hee-chan's injury is expected to affect 'Bentu' as well. The Korean national football team, led by coach Paulo Bento, will face Lebanon on January 27 next year and Syria on February 1 next year in the 7th and 8th games of the 2022 Qatar World Cup Asian Final Qualifier.
Hwang Hee-chan, who suffered a serious hamstring injury, cannot attend the national team call during this period. Hwang Hee-chan's absence, which is an essential offensive resource for the national team, such as scoring the winning goal in the match against the United Arab Emirates (UAE) on November 11, is a big blow.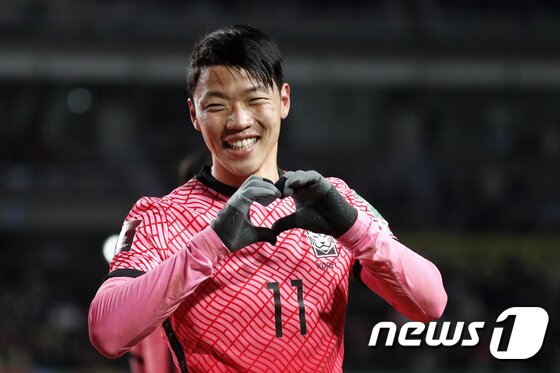 Hwang Hee-chan of Korea, who scored the first goal from a penalty kick in the match between Korea and the United Arab Emirates (UAE) in the final qualifying match for the 2022 FIFA World Cup in Qatar, held at Goyang Sports Complex in Goyang-si, Gyeonggi-do on the afternoon of the 11th, rejoices. 2021.11.11/News 1 © News1 Reporter Lee Seung-bae