Wednesday, October 13, 2021, 7:30 p.m.
At 2:00 p.m. on October 13, 64, Prof. Dr. Suchachwee Suwansawat Chairperson of the Council of Engineers Assoc. Prof. Anek Siripanichakorn, Vice Chairman of the Coordinating Committee on Disasters with staff Rush to survey the damage and take lessons in demolishing the building, safe, standardized, reducing the risk of affecting the surrounding people. and people passing through After the incident, the backhoe driver To demolish an 8-storey building on Prachachuen Road, Nonthaburi, Bang Khen Subdistrict, Mueang Nonthaburi District While being demolished, the rest of the building collapsed onto the backhoe. As a result, Mr. Wichai Nikamo, 43, the driver was injured and trapped inside the car. Po Tek Tung Foundation staff It took more than 3 hours to help out. Taken to Pak Kret Chulalongkorn Hospital, Nonthaburi Province.
Prof. Dr. Suchachwee Suwansawat President of the Council of Engineers said that as far as the information from the project owner The building is an old apartment. This method is to beat to Build a new building to be high or want to use commercial space. This will happen more because the land is more expensive. In the past, this place was a suburb, so it was not built high, but now there are more communities passing by trains. It was demolished in order to build taller buildings, both commercial and residential. We will encounter this more and more due to the development of Bangkok and its vicinities. Because of this case, society pays attention because it may be close to someone's home. Fortunately, no one lost their lives.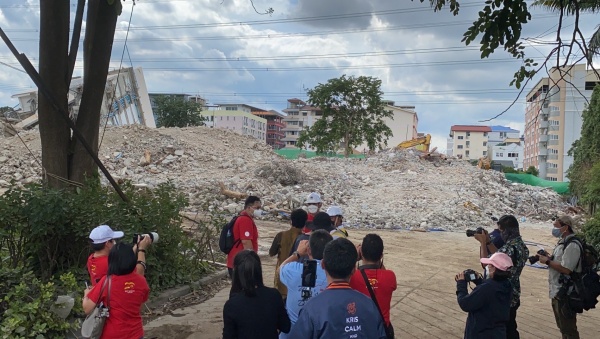 Prof. Dr. Suchachwee said that he still remembers the demolition of an old hotel in Huai Khwang at that time. In this case, it's clear that demolition is not engineering. According to the principle of demolition, the first demolition method must be clearly sequenced. Demolition must be designed by a skilled engineer. Not a typical engineer must have an understanding of the structure Construction is difficult and demolition is more difficult. As far as I can see, there are no plans for demolition. This kind of incident has already been warned. But I can't believe it will happen again.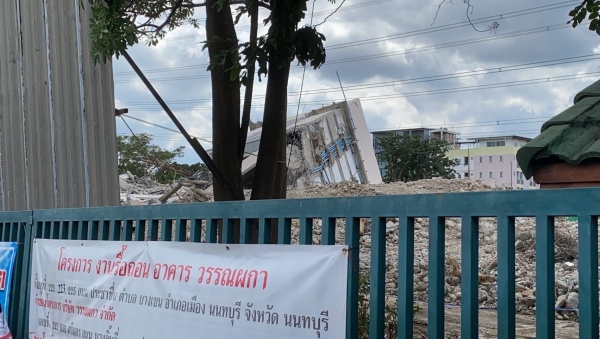 This event, many people will see a clip of a backhoe trying to intercept the pole below the building. Which would have understood that the extraction of the lower pole and the building would collapse vertically, but in fact, which is not what he thought. Which is dangerous is that there is no engineering schematic. If it's only 1 degree across, if there is a house or a place to stay, what will happen? It can be seen that the backhoe that enters the extraction has short arms. According to the mechanical principle to enter must use a long arm. Enter to extract from the upper floor first to reduce the height.