A 'Patient Room' is open for patients near the National Cancer Center in Goyang-si, Gyeonggi-do. Jo Yoon PD sang jopd@hani.co.kr
news-box">
news-box">
'If you get seriously ill, go to Seoul.' Every year, 30% of cancer patients living in non-metropolitan areas, the leading cause of death in Korea, and 70% of pediatric cancer patients go to major hospitals in the metropolitan area, such as Seoul. Patients with weak stamina take four to five hours to visit the hospital, or get a place next to the hospital and start living in Seoul. Since the mid-2000s, accommodation for patients has been built one by one near major hospitals in the metropolitan area, and now it has become a 'patient village' with gosiwons, gositels, share houses, and nursing hospitals. For three months from November last year, "The Big 5" covered the actual conditions of patient rooms in the vicinity of a major hospital in Seoul and the National Cancer Center in Gyeonggi-do, taking advantage of the vital local medical vacuum. In addition, for three months from November last year, 46 local cancer patients and their carers who were being treated in Seoul were interviewed, and a survey of 188 people was conducted. Based on the results, after consulting 10 experts, the reality of regional medical inequality in Korea and measures for essential medical care and medical delivery system are reviewed four times. editor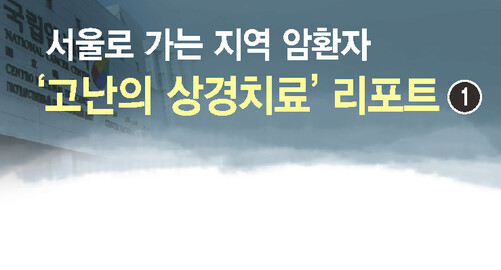 We can feel the cold from the window the size of two books facing the head of the bed in a hospital near Samsung Hospital Seoul in Gangnam-gu, Seoul. As I lay down to sleep, I heard a sneeze from the next room. I picked up the remote and turned the TV down. A room with a space of about 6 square meters and even a bathroom full of it. A room with kitchen and washing machine shared by about 10 people costs 40,000 won per night. It is a so-called 'sick room' where many local cancer patients and guardians who come to the Seoul hospital for treatment wait. Gosu-dong (76), a resident of Nohwa-do, Wando-do, Jeollanam-do, was diagnosed with esophageal cancer in May last year and began living in Seoul to receive treatment at Samsung Seoul Hospital. Since then, she and her son Go Bok-joo (49), who is a guardian, have been living in two or three patient rooms near the hospital, including this go-site and a studio. In recent years, cancer nursing hospitals that provide specialized medical services, wards, and anti-cancer meals have been growing rapidly in this field in the form of advanced patient rooms, but patients like Su-dong who they are covered by expensive private insurance. or with guardians entering the market The barriers are high. Whether it is because there is no medical staff or because a famous hospital in Seoul is preferred, the extra cost when a local patient is treated in Seoul is entirely up to the individual. The government only supports medical costs for some seriously ill patients, such as low income families, and does not take care of the 'disproportionate cost' that individuals pay for public medical care in vulnerable areas.
The local medical 'unequal cost' is paid by the individual
Near major hospitals in Seoul and Gyeonggi-do, there are huge waiting rooms where patients come to receive treatment from the region. There are many cancer patients, and depending on the treatment method, they must find a place to stay for as little as one day or as long as several months. This is because large hospitals usually only allocate rooms to critically ill patients, surgical patients and emergency patients. Naturally, accommodation and studios were created around large hospitals. Amugae Kwon (77), who runs a patient room near the National Cancer Center in Goyang-si, Gyeonggi-do, said, "Cancer patients have to go until 8 am to receive blood tests and treatment for chemotherapy, so accommodation has to create "Patients are coming," he said. Accommodations in front of major hospitals are said to have increased significantly over the past 20 years. The CEO of ㅇ Real Estate, which runs a second-generation family-owned real estate brokerage business near Seoul Samsung Hospital in Gangnam-gu, said, "Since the mid-2000s, as patients have flocked to Seoul, there has been a demand for accommodation. Landlords caught on to that trend and started renting rooms to patients."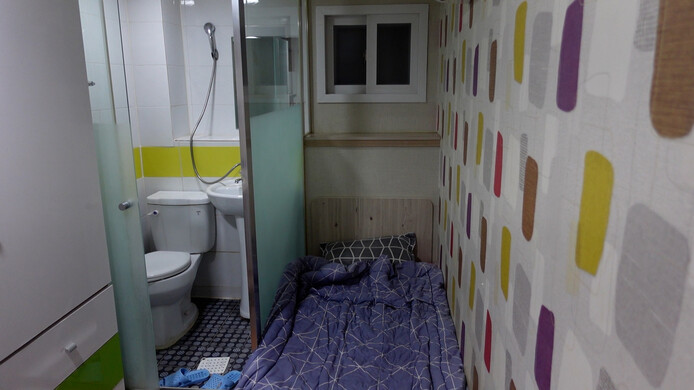 Gositel near Seoul Samsung Hospital in Gangnam-gu, Seoul, mostly used by patients. Reporter Park Joon-yong
Accommodations for patients and guardians, commonly referred to as 'patient rooms', were formed around the 'Big 5' in Seoul and the National Cancer Center in Gyeonggi-do. In particular, near Samsung Seoul Hospital and Asan Medical Center, many accommodations are operated as patient rooms with signboards such as ○○ Gositel, ○○ Residence, and ○○ House. As a result of the on-site coverage, there were at least 4 Samsung Medical Centers and at least 5 Asan Medical Centers within a 1km radius. In the case of patient rooms operating near the National Cancer Centre, at least six of them operated with a sign saying 'Patient Room'. Each accommodation operates from a minimum of 3 to 4 rooms to a maximum of 30 rooms. There are many places that function as patient rooms without signboards. From the last 2 days, if you look at the shared accommodation platform, it is promoted to patients as 'the closest accommodation to the hospital'. As of the 2nd, there are more than 10 such houses near Asan Medical Center and more than 20 around Samsung Medical Center. Those looking for short-term accommodation use hotels and motels in Bangi-dong, Songpa-gu, Seoul (Seoul Asan Medical Center), Hyehwa-dong, Jongno-gu (Seoul National University Hospital), Seocho- dong and Yangjae-dong, Seocho-gu (Samsung Seoul Hospital and Seoul St. Mary's Hospital), and Sinchon-dong, Seodaemun-gu (Sinchon Division Hospital). Patients and guardians who require long-term treatment stay in studios around the hospital. ㅇ The real estate representative said, "There are about 100 one-room and two-room units near Samsung Seoul Hospital, and 80% of them are patients." He added, "When elderly patients come, they usually ask for 'cheap rooms', and children of patients look for 'comfortable rooms'."
30,000 won per day ~ 1.3 million won per month for cositel and studio
Accommodation near major hospitals has a clear hierarchy of cost. A hotel costing between 30,000 to 50,000 won per day and a cancer nursing hospital costing more than 5 million won per month show a difference in the size of living space and convenience facilities as well as medical services, just as much with the price paid. . After covering 5 places with signboards for patient rooms near the National Cancer Center, I managed to find a room of 5 to 10 square meters averaging 30,000 won per day and 600,000 to 700,000 won per month. Around Asan Medical Center and Seoul Samsung Hospital, even for the same single room, at least 40,000 won per day and about 600,000 to 900,000 won per month. Studios, which are one step above cositels, are more spacious and allow you to cook and wash individually, but the prices are not too high. Studios near Seoul Samsung Hospital and Seoul Asan Hospital range from 800,000 won to 1.3 million won per month. Short term contracts are sometimes 10 to 15 per cent more expensive than the surrounding market price due to the vacancy charge. The family of Ko Soo-dong, a patient with esophageal cancer, initially stayed in a hotel because he earned 40,000 a day near Samsung Hospital Seoul, but since they lived in Seoul longer, they signed a contract for a studio for three months from August . last year. I paid 1.1 million won per month and 100,000 for maintenance each for the room. "For 4-5 months living in Seoul, I think I spent about 20 million won in total, not including medical expenses. I spent more than 5 million won on accommodation alone. The cost of food for patients and guardians alone is more than 1 million won per month, as well as living and transportation costs. " (son of Go Su-dong, Go Bok-ju)
Earn millions to 10 million per month Nursing hospitals
Recently, the number of cancer nursing hospitals targeting cancer patients receiving treatment in major hospitals in the metropolitan area is increasing. Medical staff provide health care, such as immunotherapy, and various programs are also available for mental and physical stability. When going to a major hospital for treatment or treatment, it even provides a pick-up service, making it a top priority for cancer patients who can afford insurance. The success of nursing hospitals is also reflected in statistics. Songpa-gu (Seoul Asan Medical Center), Gangnam-gu (Seoul Samsung Hospital), Seocho-gu (Seoul St. Mary's Hospital), Seodaemun-gu (Sinchon Division Hospital), and Jongno-gu (Seoul National University Hospital), where the 'Big 5' are located, last 10 years (2013-2022) There are 22 oriental medicine hospitals that play similar roles to 21 liver nursing hospitals. Considering that 8 nursing hospitals and 2 oriental medicine hospitals were established between 2003 and 2012 in these 5 areas, this is a major change. Nursing hospitals seem to be the best shelter for cancer patients coming from the region with a sick body, but cost is often the problem. Patients with high-level cancer insurance can claim the cost of a nursing home from the insurance company, but it's a difficult option for those with less or no insurance. Kim Gwi-seon (67), a cervical cancer patient who lives in Geochang-gun, Gyeongsangnam-do, spent a total of 24 million won for 4 and a half months in a nursing hospital near a major hospital in Seoul. There was no insurance that guaranteed hospitalization, so I spent 3 to 7 million won a month on nursing hospital expenses alone, including uninsured treatment like immunotherapy. The head of a nursing hospital in the metropolitan area suggested, "The nursing hospitals in the Gangnam area of ​​Seoul tend to recommend uninsured medical services to patients because of the high rent." Some of these are ultra-luxurious nursing hospitals that provide hotel-level hospital rooms and customized anti-cancer meals, and some cost 10 million won per month per room. Wouldn't it be lucky if I found a place to stay, even if it was a studio and a hostel, rather than a nursing hospital? Around midnight on the 4th of last month, in the lobby of one of the 'Big 5' hospitals, Amugae Kwak (74), grandmother of a patient with a rare pediatric disease from Busan, was preparing on a chair in the waiting room. room. "Is your accommodation far from here? This is the first time I've been here, and I can't even find anything like that." His daughter was in the hospital with his granddaughter, and he decided to spend the night in the lobby helping them. Kwak, who used a padded sweater as a quilt, tossed and turned and couldn't sleep until after 1:00 that morning.
news-box2">
news-box2">
● Those who gave advice (in alphabetical order)
Professor Kang Jeong-hoon, Department of Hemato-Oncology, Gyeongsang National University Hospital, Jeong-Hye Kwon, Professor, Department of Hematology-Oncology, Sejong Chungnam National University Hospital, Dong-Eun Kim, Professor, Department of Otorhinolaryngology, Keimyung University Dongsan Hospital, Sung -Joo Kim, Representative, Korea Cancer Patient Rights Council, Se-Hyeon Kim, Professor, Department of Hematology-Oncology, Seoul National University Bundang Hospital, Young-Ae Kim, Deputy Director, Central Cancer Survivors Center, National Cancer Center Youn Kim, Professor Medical Management, Seoul National University Hyeri Kim, Professor, Department of Pediatrics, Asan Medical Center, Youngho Yun, Professor, Department of Family Medicine, Seoul National University Hospital, Jeongsoo Lim, Director, National Cancer Program Management Division, National Cancer Center
Reporter Park Joon-yong juneyong@hani.co.kr